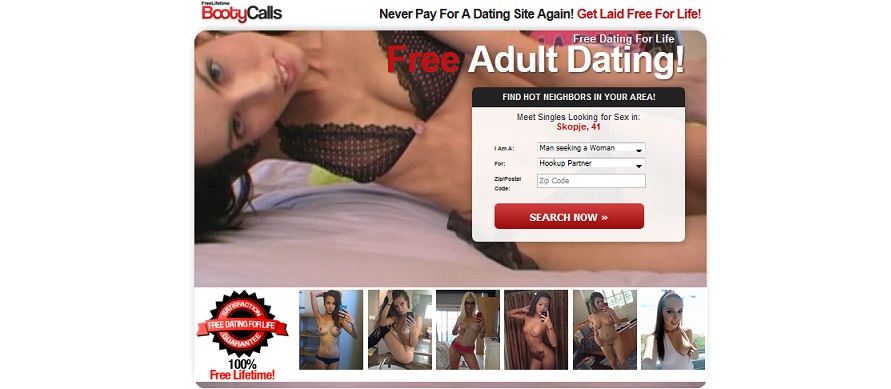 Seriously! How many more "Free Lifetime"-type of dating sites are there? So far we have encountered many of them, and somehow had a feeling that FreeLifetimeBootyCalls.com will also turn out to be a scamming website that cheats you to take your money. If you are reading this review, we hope that it's before you've fallen into the scamming hands of FreeLifetimeBootyCalls.com. Why we say this? –Find out in the text below!
Learn the truth about FreeLifetimeBootyCalls.com
During our FreeLifetimeBootyCalls.com research, we were able to spot many irregularities that made us suspicious of the true nature of this online dating service. But, it wasn't until we went to read the Terms and Conditions of Use agreement that we discovered proof to back up our suspicions. The real problem is that nobody reads the terms of use and just clicks "I agree", and that's how you get scammed.
1) Dating Profiles Are NOT Real People
We did find it suspicious that this site claims to have so many members from our local area that somehow we have never encountered. Now, this may not be suspicious for someone who lives in a big city, but our location is in a smaller town, where most people know each-other. With the terms of use we confirmed that FreeLifetimeBootyCalls.com fabricates dating profiles of women and calls them "Love Stars". These profiles are completely made up and created by the site to fill it up with plenty of beautiful women – since there aren't any. None of the profiles we checked were real women and we checked many. Basically, everything you can see on a dating profile, from photographs, to personal interests and information is completely fake.
TERMS AND CONDITIONS OF USE EXCERPT: "You understand, acknowledge, and agree that some of the user profiles posted on this site may be fictitious or models or bots related to our "Love Stars" (LS) program. You understand, acknowledge, and agree that the information, text, and pictures contained in the LS profiles do not pertain to any actual person or member, but are included for entertainment purposes only."
2) Using The Site Is NOT FREE
Although this site tends to claim over and over again that it offers free lifetime memberships, in reality you get charged big time. When you are taken to the payment page and asked to fill in your credit card information, they claim it's for security reasons, to verify your identity and to make sure you are of legal age to be joining a dating website. However, this is a complete lie and your information will be used to charge money off your credit card. In fact, if you scroll to the bottom of the payment page you will discover that you are subscribing to a recurring membership on FreeLifetimeBootyCalls.com and to two other sites.
$49.95 for a monthly subscription to FreeLifetimeBootyCalls.com
$39.61 for a monthly subscription to VibeVideo.com
$28.87 for a monthly subscription to VideoErotic.com
3) Electronic Messages And Notifications
FreeLifetimeBootyCalls.com sends computer automated messages through the fake "Love Stars" profiles. We experienced this scam on our own, as we started receiving chat and email messages immediately after signing up. The weird thing was that we didn't have any information, text or photos on our profile when we started getting these messages (we didn't think we needed any since it's just a test profile). Later, we found out that FreeLifetimeBootyCalls.com hopes you don't notice the scam and upgrade you membership by paying a subscription fee. Also, you are blocked form reading any of the messages you receive or contact anyone on the site without paying for a monthly membership first.
TERMS AND CONDITIONS OF USE EXCERPT: "You further understand, acknowledge, and agree that, from time-to-time, LS may contact Website and Services users and members via electronic messaging, including for example, email, instant messages, and SMS, for purposes of encouraging further or broader participation in our site's Services and/or to monitor user activity."
4) No Physical Meeting EVER
FreeLifetimeBootyCalls.com is aware you cannot meet anyone on the site, since there only fabricated "Love Stars" profiles contacting you through computer-automated messages. We are now starting to question whether FreeLifetimeBootyCalls.com should even be called a "dating site" when it has no intention to bring people together. This site operates with one goal and that is to take your money while offering nothing in return.
TERMS AND CONDITIONS OF USE EXCERPT: "You understand, acknowledge, and agree that no physical meeting will ever take place between you and LS, and that the exchange of messages between you and a LS is for entertainment purposes, as well as to encourage further or broader participation in our site's Services and/or to monitor user activities."
The verdict on FreeLifetimeBootyCalls.com
This is one website that is completely illegitimate. They claim to offer a free membership for a lifetime, but they are actually charging big money from your credit card for months until you notice that you are being ripped off and cancel your membership. We kindly advise you to stay away FreeLifetimeBootyCalls.com. And also, warn your friends to help prevent them from falling for the scamming and deceiving tactics of this site.
FreeLifetimeBootyCalls.com Scam Questions
Want to know more? Send us your questions through the comments section below and we'll provide a personal and prompt answer. You are also welcomed to share your personal experiences with FreeLifetimeBootyCalls.com and help others by sharing your story.
FreeLifetimeCheaters.com Scam Questions
Address: Stasinou, 1 Mitsi Building 1, 1st floor, Office 4 Plateia Eleftherias, Nicosia Cyprus 1060
Email Contact: cs@freelifetimebootycalls.com
Phone Number: 877-597-3436
Report and File a Complaint
If you feel you have been deceived and overcharged by this site, there is something you can do. Contact the Better Business Bureau to file a complaint and report the site after you cancel your paid membership.