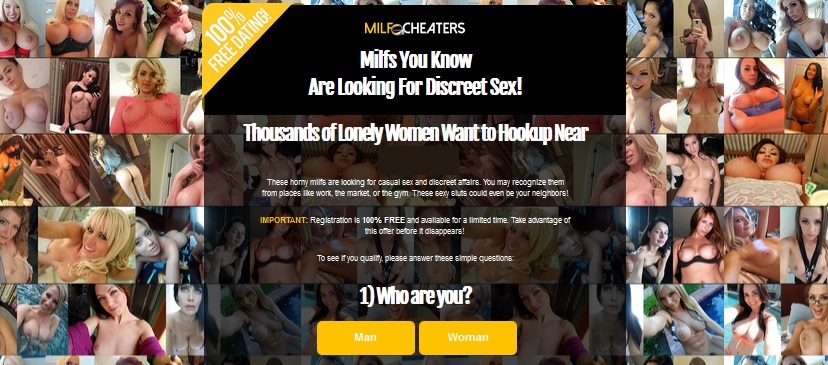 MilfCheaters.com is just one between hundreds of websites that focus on connecting older women with younger men. When we accidentally encountered this site we thought it's worth to be checked out. After our investigation, we have come to several conclusions that you can read all about in the review blow. Here, we expose the truth about the spammy and conning MilfCheaters.com dating service.
What MilfCheaters.com asks you?
On the first landing page of MilfCheaters.com, the site offers to help you narrow down your search and help you find your ideal match using the information you should provide to them through a questionnaire. The questions and offered answer-choices are:
Who are you? –Man/Woman
Who are you looking to meet? –Man/Woman
What's your date of birth? –Month-Day-Year
Do you enjoy receiving oral sex? –Yes/No
Have you tried anal sex? –Yes/No
Are you looking for a discreet encounter? –Yes/No
After the results are calculated, the result is always 1000+ members from your area whose profiles match your answers no matter how you answer the questions (we tried answering differently several times). This way MilfCheaters.com deceives you to believe that it offers a genuine matchmaking service that truly tries to create the perfect matches for you and all other members.
How MilfCheaters.com scams you?
Many things about MilfCheaters.com just seem too real to be true. You would get about 20 emails only within a few days of signing up which is hard for us to believe since we found out that they create fictitious profiles of women to make the whole scam seem real to you. This kind of dating websites will go above and beyond to reach their goal-to trick you into reaching for your credit card and paying a monthly membership fee.
1) You Need To Pay For Membership
Remember that while signing up it said "100% Free"? Well, it's not really! MilfCheaters.com asks for your credit card info claiming they need to verify your identity and make sure you are mature enough to join an online dating site. But, the reality is that they don't need your credit card information to verify your identity. If you pay attention to the right side of the payment page and read the text written in small letters, you will understand that MilfCheaters.com is not free of charge AT ALL! Here is how much you will be charged:
$49.95 to purchase a monthly subscription to MilfCheaters.com
$39.61 to purchase a monthly subscription to VibeVideo.com
$28.87 to purchase a monthly subscription to VideoErotic.com
2) Fabricated "Love Stars" Profiles
When you start receiving emails form Milfs on MilfCheaters.com, you will see that each one of those profiles is labeled with the "Love Star" logo. This is the proof that women's profiles are fictitious and created by the website to lure you into paying. All dating profiles marked with the "Love Stars" sign are completely fake, and the bigger problem is that all the dating profiles we encountered were Love Stars profiles. Moreover, if you go to the terms and conditions, you will realize that MilfsAffair.com admits to not being legitimate.
EVIDENCE OF SCAM: "You understand, acknowledge, and agree that some of the user profiles posted on this site may be fictitious or models or bots related to our "Love Stars" (LS) program. Our LS work for the site in an effort to stimulate dialogue with users and to stimulate user participation on the Website and Services. You understand, acknowledge, and agree that the information, text, and pictures contained in the LS profiles do not pertain to any actual person or member, but are included for entertainment purposes only."
3) Legal Reuse Of Your Profile Information
From the moment you start creating your personalized dating profile on MilfCheaters.com, the site gains all legal rights to freely reuse and distribute these profile data (as well as anything you post on a public area of the site). Once taken, your information including photographs, description, hobbies, and correspondence can be re-worked and even translated, and then, distributed throughout their affiliated sites.
These actions explain why the profiles you see on MilfCheaters.com are not real people, but fabricated profiles created with the taken data from other members of MilfCheaters.com or any other website within their network who ever created a profile. So, even if you believe you are talking to a real person – you can never know for sure. People's profiles on MilfCheaters.com are not managed by genuine people and just as their profiles made it on this site – yours can end up on another.
EVIDENCE OF SCAM: "By posting Content to any public area of FuckSwipe, you automatically grant, and you represent and warrant that you have the right to grant, to FuckSwipe an irrevocable, perpetual, non-exclusive, fully paid, worldwide license to use, copy, perform, display, and distribute such information and content and to prepare derivative works of, or incorporate into other works, such information and content, and to grant and authorize sublicenses of the foregoing. Specifically you agree and acknowledge that your profile and related information and content may be utilized and displayed on other sites which are owned by related companies or authorized services providers ("Network websites")."
The verdict on MilfCheaters.com
From the very start, we had our doubts about the legitimacy of this site. But, it wasn't until we carefully read through the Terms & Conditions page that we found solid evidence for the fraudulent actions of MilfCheaters.com. We do not recommend this sit to anyone and advise you to always be careful when registering to an online dating service in the future.
MilfCheaters.com Scam Questions
We hope you found our review and evidence we provided helpful and that it is not too late when you are reading about the scams this site uses to get to money. If you do, however, have anything else you'd like to ask, feel free to post in the comments section below. You can also share a personal experience as a former member of MilfCheaters.com, make sure you warn and help other readers.
MilfCheaters.com Contact Info
Address: Stasinou, 1 Mitsi Building 1, 1st floor, Office 4 Plateia Eleftherias, Nicosia Cyprus 1060
Email Contact: cs@milfcheaters.com
Phone Number: 877-597-3436
Report and File a Complaint
Contact the Better Business Bureau and file a complaint if you were scammed from this company.