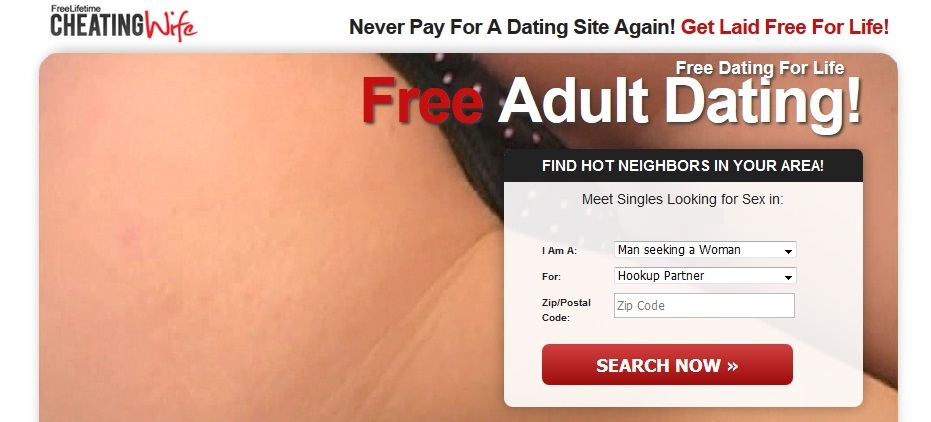 Yet another one of the 'Free Lifetime'-type of online dating websites, FreeLifetimeCheatingWife.com is also run and owned by the Nautell Capital Limited Company. All other "FreeLifetime" dating sites we investigated so far were proven to be absolute fakes. So, will FreeLifetimeCheatingWife.com be another fraudulent dating platform that deceives its members to rip them off? In this review we explain all you wanted to know about this site and the, we invite you to share your questions and at the end of the page.
What is the truth about FreeLifetimeCheatingWife.com?
It says "Free Dating" but it's NOT Free
It uses computer-automated messages from bots
It fabricates women's dating profiles to fill up the site
You are required to provide your credit card information
There is no meeting any wives in person
Revealing FreeLifetimeCheatingWife.com's Scamming Tricks
To be honest, after reviewing so many dating sites from this network, we didn't even expect to encounter a legitimate one. The scamming workings that we expected to find during our investigation were all there! Although we gathered most of our proof while we were using the site as a free member, we found many valuable evidence in the Terms and Conditions of Use page. The details follow below.
1) Dating Profiles Are "Love Stars"
In the terms of use it is confirmed that FreeLifetimeCheatingWife.com fabricates dating profiles of women and calls them "Love Stars". These profiles are completely made up and created by the site to fill it up with plenty of beautiful women – since there aren't any. None of the profiles we checked were real women and we checked many. Basically, everything you can see on a dating profile, from photographs, to personal interests and information is completely fake.
TERMS AND CONDITIONS OF USE EXCERPT: "You understand, acknowledge, and agree that some of the user profiles posted on this site may be fictitious or models or bots related to our "Love Stars" (LS) program. You understand, acknowledge, and agree that the information, text, and pictures contained in the LS profiles do not pertain to any actual person or member, but are included for entertainment purposes only."
2) No Free Dating
FreeLifetimeCheatingWife.com doesn't really offer a free lifetime membership to its members. After you sign up and create your profile, you are taken to the payment page and asked to fill in your credit card information. Don't be fooled by the claims that it is done out of security reasons or to verify your identity. Once you enter your credit-card information you will be automatically charged money on a recurring monthly basis.
It is good to always read the whole content of the page before giving your data online. And, for example, if you scroll to the bottom of the payment page you will discover that there is a small text informing you that you are subscribing to a recurring membership on FreeLifetimeCheatingWife.com and to two other sites for as long as you don't cancel your membership.
$49.95 for a monthly subscription to FreeLifetimeCheatingWife.com
$39.61 for a monthly subscription to VibeVideo.com
$28.87 for a monthly subscription to VideoErotic.com
TERMS AND CONDITIONS OF USE EXCERPT: "For your convenience, the costs and duration of your membership are supplied to you on our registration page on signup. The then applicable monthly subscription rate may be reserved against the Member's available credit card limit."
3) Computer-Automated Communications From Love Stars
Minutes after creating your account, you start getting emails, chats and other communications from other members of FreeLifetimeCheatingWife.com. However, the only information you can see is who sent the email and the subject line. When you try to open the messages or respond, you are once again asked to pay for a membership upgrade. These computer-sent messages are yet another mechanism FreeLifetimeCheatingWife.com uses to get to your money by deceiving you.
TERMS OF USE AGREEMENT: "Our LS work for the site in an effort to stimulate dialogue with users and to stimulate user participation on the Website and Services. You further understand, acknowledge, and agree that, from time-to-time, LS may contact Website and Services users and members via electronic messaging, including for example, email, instant messages, and SMS."
4) No Actual Meeting Will Ever Take Place
FreeLifetimeCheatingWife.com is aware you cannot meet anyone on the site, since there are no real people contacting you. Can FreeLifetimeCheatingWife.com even be called a "dating site" when they have no intention to bring people together? This site operates with one goal and that is to take your money while offering nothing in return.
TERMS & CONDITIONS EXCERPT: "You understand, acknowledge, and agree that no physical meeting will ever take place between you and LS, and that the exchange of messages between you and a LS is for entertainment purposes, as well as to encourage further or broader participation in our site's Services and/or to monitor user activities."
The verdict on FreeLifetimeCheatingWife.com
We kindly advise you to stay away FreeLifetimeCheatingWife.com. Also, warn your friends to help prevent them from falling for the scamming and deceiving tactics of this site. This is one website that is completely illegitimate. They claim to offer a free membership for a lifetime, but they are actually charging big money from your credit card for months until you notice that you are being ripped off and cancel your membership.
FreeLifetimeCheatingWife.com Scam Questions
Did we not answer anything else you wanted to know? Well, feel free to ask us your questions in the comments section below. We also appreciate your feedback, so if you found this review helpful we'd be happy to know.
FreeLifetimeCheaters.com Contact Info
Address: Stasinou, 1 Mitsi Building 1, 1st floor, Office 4 Plateia Eleftherias, Nicosia Cyprus 1060
Email Contact: cs@freelifetimecheatingwife.com
Phone Number: 1-818-591-4518
Report and File a Complaint
If you feel you have been deceived and overcharged by this site, there is something you can do. Contact the Better Business Bureau to file a complaint and report the site after you cancel your paid membership.