How goes it, my friend? It's the Dating Cop here once again to lay down the law of dating online! I've recently come across a site called GetAnAffair and although the girl on the cover was super hot, she was far too hot for me to not look into. See most people see a smoking hot female on a website and their judgment gets pushed to the side. Letting this happen is especially dangerous if you're trying to have an affair or a relationship outside of your marriage or whatever.
The fact of the matter is that good affair dating websites are super tough to come by and you shouldn't just join any of them. While it might seem fun and exciting, joining the wrong site can expose you for good which can wreak havoc on things in your personal life. For that reason, I've decided to write a review on Getanaffair and share it with you.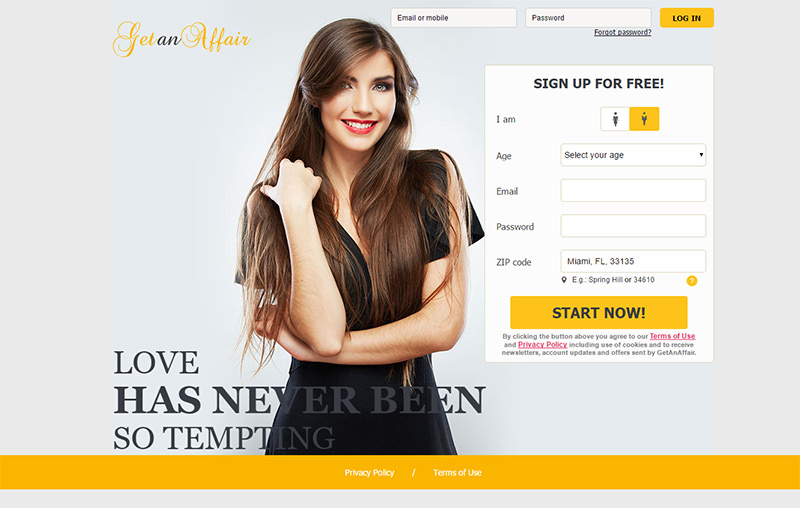 Getanaffair Official Dating Report
Here's what I'll do first, like always I'll be sharing a brief overview of things, discussing the overall feeling that I get from this site and then diving deeper into each aspect of things that you need to know.
For starters, here is an overview of the features that you get when joining Getanaffair. Actually, before I get into that, I want you to know that I don't think very highly of this site as of now. I'm not convinced that this is a great site to join. Now for the features:
Match Updates: They've got a section that shows you all the nearby updates and matches.
Like Photos: Connect with members by "liking" their photos and showing your interest in them.
Activity Update: You can see who's sent you winks and virtual gifts.
Friends List: They have a basic friend's list where you can block, add, or do whatever you'd like.
Now for the areas that I'm going to be covering:
Auto Messaging
The Profiles
Photo Usage
The Terms
Privacy
Company Info
Let me kick things off by sharing some info on the messaging.
Yes, They Send Auto Messages
One thing that any real horny person trying to have an affair hates to hear is that a dating service sends their users' automated messages. If you choose to register, you will quickly notice that the site sends messages that are produced by bots. These messages are in no way shape or form real communications from people that actually want to meet for sex.
It's all a simple trick to get you to upgrade your membership. Should you decide to do so, then you'll be sorry. These messages are primarily from computers but in some cases, companies may send them out by hiring actual employees to sit in a room and respond to people. Whatever you do, I suggest you not partake in any of those antics.
Fake Profiles On The Site
Would you be shocked to learn that some of the women may be fake on this site? Likely not, am I correct? Chances are, you'll eventually stumble upon a profile or two that you think is real, but it's nothing but a simple decoy.
The site goes as far as to show you that someone may have been interested enough to browse your profile, however, they don't allow you to determine who that was without upgrading your membership. My guess is that these are completely fake alerts and messages that don't actually exist because they're fake girls all together. Remember, that is just based on my personal opinion only and nothing more.
The Photos Aren't Unique
Another thing that I noticed about Getanaffair was that they use images from other sites around the Internet. Do not be surprised if you come across a photo of a girl that you've seen elsewhere online.
Want to know I know this? Easy, I have access to image verification software that I use to test all this. It allows me to determine whether a photo was taken from somewhere online or not. I'd have to guess that these are what most would consider being "dummy profiles" and they don't get you anywhere.
Site Terms and Conditions
If you're interested in reading the terms then you might be the only one out there doing so. Most people have zero interest in reading terms and conditions which is why they completely miss the boat on all this stuff. Believe it or not, many sites reveal everything that they do, whether it be good or bad and they do so for legal reasons only.
They literally tell you that they create fake profiles and that they send auto messages to others. That's the honest to god truth! If you were to read the terms, you might be disgusted with what you've read and maybe even enough to turn you off from dating completely. What I'm trying to say is that no all dating companies do this. Some are really great, but others totally suck. You need to find a good one that doesn't rip you off.
Company info
Looking to reach out to the company in charge of Getanaffair? Then you're in luck because I've got plenty of contact info for you. I suggest emailing them first.
Email: payment@getanaffair.com
Addresses: P.O. Box 146 Trident Chambers, Road Town, Tortola, British Virgin Islands
Phone: 1-800-868-5182
Conclusion: GetAnAffair Is A Bad Dating Site
The bottom line is that this site isn't for anyone that wants to get laid. The reason I say that is because they are not going to be successful if they do join. I've been exploring and reporting on hundreds of dating sites and this affair dating site might be one of the worst that I've seen in a while.
If you're looking to truly meet someone for sex, then you need to try one of the sites that I've listed below.