I'm out on a mission to share everything that I know about Localsgowild.com. I've been spending a lot of time policing many of the casual hookup sites and passing this one up was not an option. Localsgowild.com was a bit suspect, to say the least.
I'm not going to just leave it at that though. Instead, let me get to the bottom of things here and give you a number of reasons why you might wish to pass up on joining this dating website. But first, let me share some information that I've recently discovered about Locals Go Wild.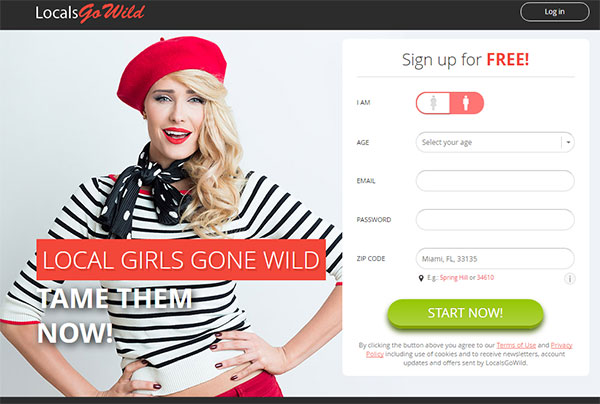 My Personal Review of Localsgowild.com
Before I break things down with regards to the issues that I came across and my personal experience, I'm going to go over the basic site features.
There are a few things that you need to understand about this dating website. For starters, they do have some features that you'll eventually come across if you join the site.
Chatting – They offer a number of chat rooms that allow you to chat with other members in a group setting.
Forum – The site has a moderated forum section where people make posts on topics such as sex, hooking up, and even sharing erotic stories.
Local Matching – You'll notice that the site offers local match feeds which display some of the members that may be online and close by.
Friends – Of course, they've got a typical standard Friends List which allows you to add people you want to bang. Pretty basic stuff.
Hot or Not – There is a hot or not gallery of pics which allows you to vote on people you think are ugly or smoking hot.
The Basics
Here are some of the basic facts that you need to know about Localsgowild.com. First off, the site has been around for a few years now. I believe it started sometime in 2013 and it's still up and running today. However, it might not be the best dating site option out there today. Sure, you want to hook up with locals and the site makes it seem like it's relatively easy to do so, but it's not all that simple. Here, let me shed some light on things for you here…
Here is a simple rundown of everything that I've learned about this site and why you should avoid it like crazy!
Suspect Contacts Being Made
The first thing that I want to cover here is the lack of detail provided on my part and the repetitive messaging on the sites behalf. Now, I'm not a genius, but I am the dating cop and I know when something is fishy and that's what my gut is telling me here.
I barely completed my profile and I no sooner started getting messages from tons of girls in my local area. Nope, I did not even add a photo or tagline to my bio. I mean, when this happens you better start thinking skeptically about things. Why on earth would anyone ever want to connect with someone without knowing anything about them? I'm talking not even being able to see them or do know anything about them.
I challenge you to test this out yourself. If you think for a second that someone is going to contact you just because of a name or location, you're out of your mind my friend! What's happening here is the company is most likely using auto bots to reach out to new users. It's a pretty shady tactic but quite common amongst those in the industry.
If a member is contacting you and they have no information about you at all, it's a fake person doing so!
Empty Profile Keeps Getting Messages
If any empty profile continues to receive messages then your best bet is to not waste your time with it. Now, it gets even worse when you can't reach out to respond to the women supposedly messaging you! This is the kicker here. They basically want you to see all the incoming messages but they won't allow you to read them until you upgrade accordingly.
Misleading "Winks"
Even worse, they may send you misleading "winks" in order to get you to upgrade to premium status. This type of thing really makes me angry as it's a waste of literally everyone's time and effort. Sending winks to new members to entice them to upgrade is dishonest and deceitful at best.
Fake Girls
So, I was finally able to find out the truth about the site and everything that they do. They have something known as "Primary Profiles" and these are fictitious women on the site. Yes, they lay out everything they do here within the terms and conditions but it's still absolutely unacceptable as far as I'm concerned. The company behind these profiles is called, Massinteractive Services Limited and although they divulge this information, I think it's absolutely unacceptable.
Company Info
Want to cancel your membership or maybe reach out to the company and give them a piece of your mind, then, by all means, go for it. Here is the company contact information that you need.
Email: support@localsgowild.com
Phone: 1-800-489-6091
Address: Trident Chambers P.O. Box 146, Road Town, Tortola, VG
Conclusion: Do Not Join LocalsGoWild.com
There is nothing wild about this site other than the fact that they rip you off completely. The site legit tells you everything wrong that they do and should you be so gullible to still join after I've shared this with you, then I don't know what to say.
Best bet is to stay the heck away from this site. A smarter idea would be to opt for a few other local dating sites that actually work.