There are a lot of people in this world that are good at things. Some of those same people are good when it comes to online dating. but how many are really great? Going from good to great dating online isn't impossible. it's very doable and I've done it myself. Don't worry though, this article isn't going to be some fucking boring Jim Collins read. Nope, not even close! This is going to be a great piece of literature that you're going to want to read once or maybe twice if you have the time to. So, buckle your chin strap pal and put your reading glasses and thinking cap on because shits about to get real!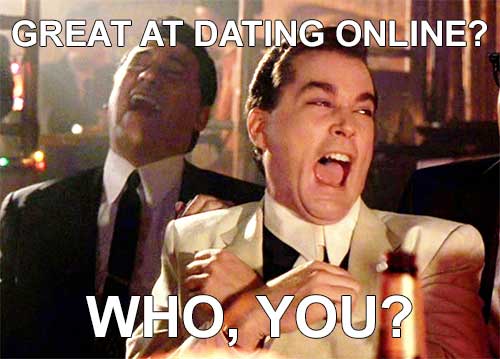 How To Go From Good To Great Dating Online
Realization
The first step in excelling at something is to fully understand where you are at any given point in time. That means, knowing exactly what stage or status you war at and acknowledging that. For example, if you're currently okay with the ladies and you get laid occasionally, don't make it seem like you're a fucking stud! Instead, be humble and understand that you are okay but not great. This is the first step in getting better at anything and it can be applied to the smallest things, even getting your dick wet.
Do Work
You've seen the show Rob & Big that previously aired right? It was about a professional skateboarder and his bodyguard Big Black. If you never saw the saw, then you might not understand this but Big Black preached every single show how important it was to "do work, son!" and that stuck with me to this day. Big Black was right. In fact, he was so right that he spoke about doing work all the time and how important it was to do so. Well, if you want to go from good to great dating, then you better do work! I'm talking about joining the best adult dating networks, sending girls messages, following up with girls, taking them on dates and being prepared to bang. You want to be great at something you've got to put in the work for it!
Use Data To Your Advantage
Most people look at dating online and they think that it has nothing to do with data. I've got to be honest and tell you that data is powerful as fuck and it can get you fucked six ways to sideways if you use it to your advantage. What am I talking about here? Well, that's easy really. I'm talking about you taking note of the data that you've gathered such as the best first contact messages that led to the most responses, the best username and tagline that led to the most winks or taps or whatever it's called all the site that you join. The important thing is that you use the data, analyze it and determine what works. If you don't do that, you're not going to get anywhere great in life. Heck, you may not even get laid.
Practice Banging
If you want to be an online dating stud then you need to be a king in the bedroom. That means you've got to bang like a pro or perhaps even a college stud in every way possible. I wasn't always great in bed. It took lots of practice but once I got better at it I started to notice that more girls were spending more time with me and that they were going on second and even third dates with me. You'll soon be great at fucking if you put in the effort.
Going from good to great isn't impossible. It's very possible and it's often one of the easiest things to do since you've already got a bit of momentum. I'm suggesting that you put forth as much work possible when it comes to dating online and that you join at least one new site that I recommend! It might mean the difference between goodness and greatness! You've been warned.