Today I'm here to share some insight on a website that I came across. I guess it's best known for attracting those that are looking to hook up with cougars. The name kinda gives it away since it's called Hookup Cougars. Don't just right in just yet, please. I want to share a few things about this website that I quickly discovered.
Before I do any of that, let me give you a rundown of things and some of the website features that the company supposedly prides itself in having. Keep in mind, that's not to say I fully believe in these features or anything of that nature.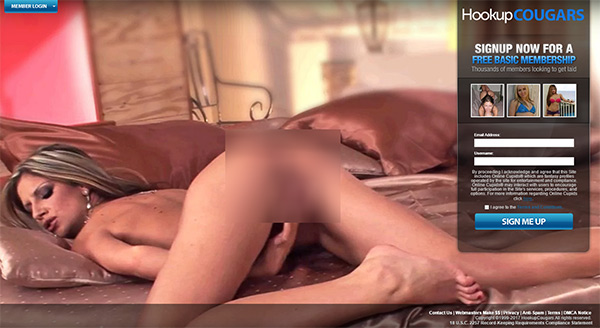 Some of the things that the Hookup Cougars site claims to offer are the following features:
The ability to see who is online at that very moment.
You can find members and search photo galleries to help connect with them.
Use the live cams to check out webcam models on the site.
Chat live with other members in one-on-one chat sessions.
Create your own buddy list or better access.
Now given that I've just shared a number of things with you, I don't want you to run off just yet to join the site. That would be really foolish of you if you did. I'm going to tell you exactly why right now.
Hookup Cougars And Why You Must Avoid This Site!
Here's what is really important! I'll cover the following topics in my review below:
Online Cupids
Emails Galore
Fake Buddies not FuckBuddies
Annoying Chats
The Terms
I'll kick things off right away with the online cupids, which is one of the main reasons why I can't stand using this site.
Online Cupids Ruin This Site
Not familiar with what an Online Cupid is? It's just a term used by the comapny to describe the usage of fake profiles and contracted workers to fill up the website. When joining the website, you must agree to the terms and conditions which basically means you're agreeing that the company can use fake females on the site to enhance your experience.
Honestly, this is a crock of crap if you ask me. It's one of the many things that I simply cannot tolerate when it comes to using online dating websites. In my personal opinion, any company using this technology to fill up their database is nothing but unethical. Simple as can be. I don't deal with it well, nor should you! On to the next issue…
Emails From Cupids
Guess what, when you agreed to the suage of these cupids, you also agreed that the company could incorporate a bunch of fake email delivery as well. Yes, they're possibly wasting your time sending fake emails to you from Online Cupids. How annoying is it to have to sort through all the bullshit in order to find a real woman to chat with?
You're probably wondering how the company actually does this. Well, it's all likely done via software and programming. No one is actually on the other end of these emails sending messages to you. Don't be foolish thinking that's happening!
Fake Buddies All Over The Place
Once you join, you will be hit with more buddy requests than you will know what to do with. These are most likely all fake buddy requests that will never end up being true fuck buddies. They are not people that are geniunely trying to become your friend. Nope, not a chance! Once you start to communicate with these people, you'll then be prompted to upgrade your account from free to premium status, bummer they want your money! Shocker, I know!
Super Annoying Chats
Have you ever been online and had someone totally annoy you to the point that you had to sign off from chatting to avoid them? Yup, that'll happen here I'm sure of it. The Online Cupids of Hookup Cougars tend to send fake chat messages to users. These caht bots pop up all the time and 99% of the time they're not real. In fact, there is evidence that this is the case. Honestly, I'm not going to give the company satisfaction in showing it to you. Instead, I'd rather spend time sharing what sites you should actually join for success instead.
The TOCs
All this nonsense is in their terms and conditions. It's all right there and in the fine print. The company thinks giving you the opportunity to read it is enough but in my opinion, it's completely unacceptable. I'm all for hooking up with real users and not having to decipher real from fake. Read their terms and you'll run for the hills, I promise!
One thing I want to point out to you is the agreement that you make when joining the site. See the screenshot below? Notice how I've zoomed in on the fine print on the homepage. That's what they expect you to read and acknowledge when you initially join the Hookup Cougars site. It's absolutely ridiculous!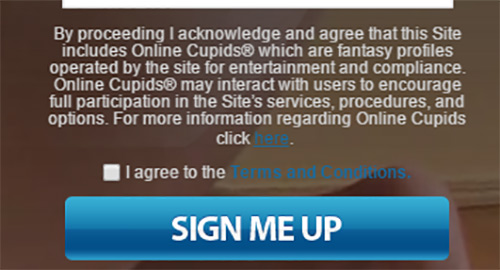 Looking To Contact Them?
If you want to reach out to the company, then do yourself a favor and check out all the information I've shared below. Everything you need is right there! Email them before you do anything else.
Address: Dositheou, 42 Strovolos, P.C. 2028, Nicosia, Cyprus
Phone: 1-888-649-9178
Email: support@hookupcougars.com
Conclusion
I think you understand that Hookup Cougars is nothing but a colossal waste of time and money. In the event that you join the website, you'll find yourself scratching your head wondering why on earth you did so! I can almost guarantee that you'll kick yourself for joining. Instead, my advice would be to check out Fling.com or one of the other sites listed below. You'll definitely get laid using them and they do not use those stupid Online Cupids at all!