I recently stumbled across what I would consider a pretty rotten move by any company. It all stemmed from visiting Adult Locals in hopes of finding that special someone to bang. I'll waste zero time here and simply cut to the chase. Adult Locals is a complete waste of time. It's definitely not a good hookup site.
In the event that you decide to check it out, you'll be doing a huge injustice to all the reliable and honest dating sites on the planet. What they do is quite simple and I'm surprised that more people haven't figured this out just yet. I'll explain everything in my official review, just keep reading below.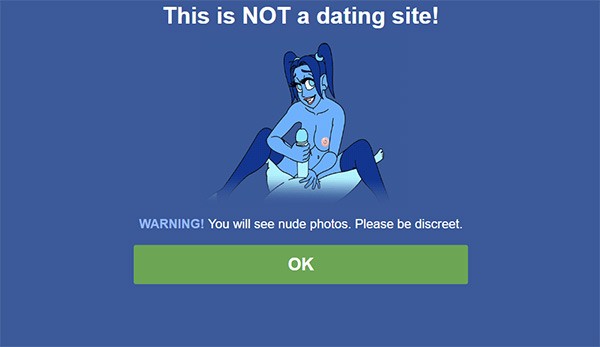 What Does Adult Locals Do To Consumers?
The main thing they do is try to get you to click into another site. What happens is that you land on this site with some weird cartoon looking girl that looks like a smurf, lol. She's giving some dude head and sure it looks enticing but it's all bull if you ask me.
See that big green button in the screenshot above? That's what they want you to focus in on. What they do is send you on a wild goose chase with some crazy questionnaire. The specifics that they ask are showing below as well.
Once you're done going through the entire questionnaire, they redirect you to a site called Freelifetimefuckbook.com. The real problem here is that this site isn't any good either. In fact, in my personal and very humble opinion, I'd have to say that FLFB is muddy waters with fake female profiles all over the place. The site just looks shady, but please understand that this is only based on my personal opinion. You'll have to make your own judgments.
Determining The Fakes
There are ways to determine whether or not a dating site is using fake profiles. one of the things that I do is read the terms and conditions. Chances are you'll not find better insight than right within those terms.
How do I know this? Well, I've read enough of them to know what to look out for and where to find it. One thing I can say about this site is that FreeLifetimeFuckbook.com uses something called "Love Stars" which are paid contractors and employees that pose as real users.
It would be in your best interest to not contact a single Love Star ever. Trust me, they will not sleep with you. They are paid to interact with paid members in order to enhance their experience. That's literally all they do. Either that or they're just fake bots. Tough to say until you get them on video chat. Anyway, don't waste your time with any of that please.
Contact The Company
If you ended up joining the site by accident, then I suggest contacting them for a refund. Don't worry, I've got you covered.
Local Address: 1 Stasinou Ave, Mitsi Building #1 , First Floor, Office 4 – Plateia Eleftherias, Nicosia Cyprus 1060
Telephone: 877-597-3436 or 866-952-1215
Email Address: cs@freelifetimefuckbook.com
Conclusion
Don't let the smurf looking girl or the others on the redirect fool you. This site is a complete waste of time and effort. Having spent thousands of hours and dollars using dating sites, I can tell you that Adult Locals is one you want to avoid at all costs.
Which Sites Actually Work?
Looking for sites that are legit, then you need to check this list below. I can confirm that each one is worth joining as I use them daily.