I'm on a mission to let my voice be heard today! Ending up on UpforSex may be fate given my agenda today so I'm just going to roll with it. Yes, I've done my fair share of digging into this casual dating website and company. Reason being, I wanted to determine whether or not it was real or fake. It's literally that simple and the way that I went about determining that is nothing out of the ordinary with regards to what I typically do.
Before I get into the details of UpForSex and everything that goes along with it, I want to give you a quick rundown of what I'll be discussing today.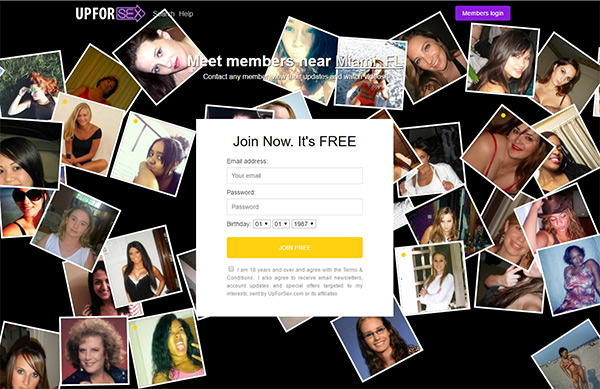 UpForSex Personal Review and Site Rundown
I'll be discussing the following things during my report today. If you plan on spending any money joining a dating website, then chances are you have a few minutes to spare. My suggestion would be to take the time to read this entire review before taking any further action at all. Here's what I'll be covering:
Cost
Fake Profiles
Lots of Bots
Online Flirts
Terms
Now, it's only right for me to at least share some of the so called features of the site with you today.
The Center – The site does have a Dating Center that allows you to view everything from one place on the site. I guess you can consider this your dating dashboard of some sort.
Messaging – Yes, they have a way to send and receive messages. Pretty standard feature across all dating sites.
Searches – You can search for local women using specifics such as age, zipcode, country etc.
Webcams – They offer webcams where you can watch women live on cam but you do have to pay extra money for this.
Activity – Yes, they've got an activity feed similar to thousands of other sites out there.
Now for the meat and potatoes of this report.
The Cost
I like to discuss cost on every review so that people understand just how much they are paying for a membership, especially when it's a membership to nothing if the site sucks.
If you want to try UpforSex out for just a single day then you'll need to join via the free trial. Guess what, that'll rebill at $39.95 within 24 hours.
Should you decide to join the monthly subscription offer, it'll cost you $29.95 for the month. The last option they have is the $59.95 subscription which buys you a 3-month subscription.
My advice is to keep your CC in your pocket until I'm done…
Fake Profiles All Over The Place
I love looking at attractive women online and I do it pretty much all day long. However, when they are fake, it kills the excitement of it all. That said, based on my personal opinion only, I'd have to say that a ton of the profiles on UpforSex are completely fake.
I've literally seen famous people in profile photos on the website. I'm not saying that all of them are fake, but when I did a reverse image search on the website, I found lots of the same photos across pages of results. Strange? I think not! While I hate to accuse a site of cheating people, so I won't, it just seems odd to me that the same photos would be all over the internet. I'm not going to take the time to list everything out here but if you want to do the image searches yourself you'll likely get the same results.
Auto Bot Messages
Based on my experience, there are lots of bots on this website. It's actually a very common practice that dating sites put in place to make it look like the sites more active than it really is. It's basically a tactic to get you to want to communicate with more women.
However, the kicker is commonly that when you upgrade, the women mysteriously go silent. These auto bots help disperse the messages to people and even worse, the site actually admits to using these bots (which is complete crap if you ask me).
Online Flirts Are The Kicker
Okay, so these Online Flirts are the kicker if you ask me. They just told you exactly why you should never join this website, it's because of the Online Flirts. See, these are literally fake profiles or simply profiles of people that will never, ever bang you. It's absolutely insane to think that someone would want to waste their time using a service that even has this type of thing going on!
Terms and Conditions
The most discouraging thing about all of this is that every person has the option to read the terms and conditions. However, they choose not to do so because they don't want to waste their time. Well, if they read the terms, they would understand that they are simply wasting their money and time by joining.
So many negative things are explained in the terms that I'm not sure where to even begin. Just do yourself a favor and read them before taking any action.
Company Information
If you've already joined and you want to cancel today, then reach out to the comapny immediately. There are a couple of ways to do that. Try one of the following listed below. I suggest email then call.
Email: support@upforsex.com
Phone: 1-844-515-2440
Address: 2 CityPlace Drive, Suite 200, St Louis, MO 63141, US.
Conclusion
It shouldn't come as any surprise that UpForSex isn't up for anything except ripping you off with Online Cupid profiles and more. I'd suggest totally avoiding this site like the plague if you're smart. A better option would be joining a reputable dating site that guarantees you to hookup. Yes, they exist and I'm even taking the guess work out of it all. Check one site out below from the list…