Are you horny?  Like, all the time? Then perhaps the Horny.net is the site for you. Actually, let me step back for a second… It's best that you check out my FULL review before jumping right in head first. I'm sure you know what happens when you dive in too soon – you get burned. That's exactly what happened to me with the WellHello.com network.
If you're a guy, I pretty much guarantee you are and if you say you aren't, you're a liar or dead. And, if you're a guy who is horny and not lying or dead, you're probably looking for a dating site that will hook you up with hot women quickly and with none of those pesky strings that make dating miserable.
There are so many dating sites on the market, it can be confusing as to which ones are worth your time and which ones you should avoid. Since I'm a horny guy who doesn't lie and isn't dead, I decided to give the site Horny.net a try. Here's what I think about this site that caters to people who enjoy sex and fun without a commitment.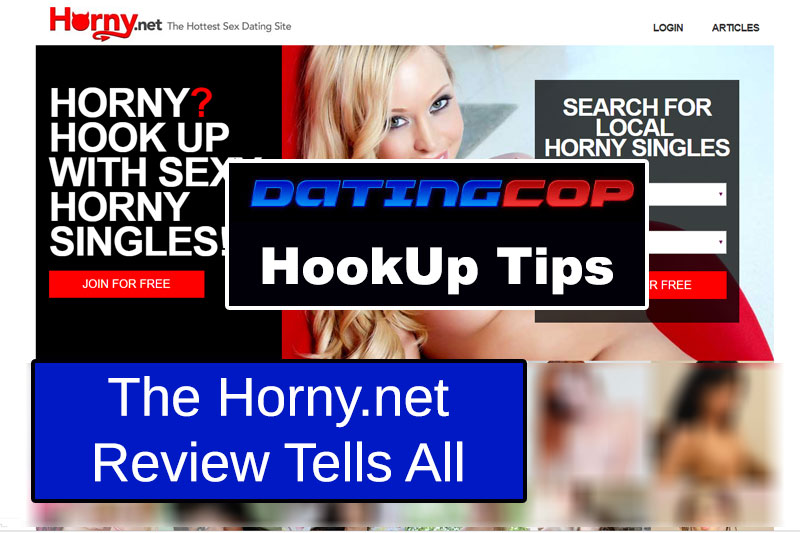 Joining Horny.net – My Personal Review
Horny.net is a site that lures you in with a smokin' hot blond showing off her ample assets and giving you the "come hither" look. If you're like me, you'll be tripping over your fingers to get those signup questions answered so you can become a member. It really only takes a few minutes at the most and you're a free member.
As a free member of Horny.net, you can set up a profile, browse other member profiles, do a basic member search, and join a handful of free chat rooms. Otherwise, the only contact you can have with other members is by purchasing a paid membership or replying to a message a premium member sent to you.
Just like other dating sites, you really only get the true feel of a site if you join with a paid membership. What does a paid membership get you? Keep reading to find out.
Paid Membership's on Horny.net
Paid memberships are truly the only way to go when you join a dating site unless you're just into browsing. With Horny.net, paid memberships get you a much wider variety of benefits, which include:
• Various profile add-on's
• Standard members can contact you
• One-click searches
• Priority customer service
• Unlimited adult movies
• Flirts and ice breakers
• Start a blog and read thousands of others
If that's not enough for you, you also get the benefit of using instant messaging, over 1000 chat rooms, use of your webcam for sexy chats, advanced/more in-depth searches, access to private profile features, and you'll get featured in searches before other members. See why it pays to become a paid member?
Pricing of Horny
If you're interested in joining Horny.net as a paid member, you are probably wondering what it will cost you. Thankfully, Horny.net is pretty affordable and is right on par with most other sex dating sites out there. Here's the breakdown of what it costs to be a paid member of Horny.net:
Gold Membership
• $29.99 per month
• $59.96 for 3-months ($14.99 per month)
Horny.net Add-On's
Adult Movies
• $18.99 per month
• $38.47 for 3-months ($12.99 per month)
• $119.98 for 12-months ($9.99 per month)
Allow standard members to contact you
• $19.99 per month
• $35.97 for 3-months ($11.99 per month)
• $107.88 for 12-months ($8.99 per month)
Highlight your profile in searches
• $9.99 per month
• $26.97 for 3-months ($12.99 per month)
As you can see, it pays to spring for the extended timeframes if you decide to add on anything to your membership. Now, you absolutely do not have to go for the add-on's, they are just a nice option to increase your fun and the chances of finding a partner or three, but you can certainly get laid without all the extra expense.
Paying for Horny.net is easy as well. They take most major credit cards, direct debit, electronic checks, and even money orders, so you have a variety of options there as well.
FAQ's About the Horny Network
Did you have success on Horny.net? I don't want to waste my time.
I did have success with Horny.net. I actually found that the women on there are completely ready to go and don't want to have long, drawn-out conversations just to turn me down. If the chemistry was there, they were open to meeting pretty quickly and I've had a bunch of dates so far.
Are there are a lot of members on Horny? I hate dating sites that are so boring that you can hear crickets chirping.
Well, I can't guarantee that you're going to have a million horny women in your town if you live East-of-Nowhere, but if you live in a decently sized town, or even better if you can travel a little bit, you're going to have better success. That's with any dating site, though.
Do I have to include pictures of myself on Horny.net? I'm kinda doing this on the sly.
You never have to include a picture of yourself on any dating site, but would you contact a profile that had no pictures? I mean, you have absolutely no idea what that person looks like. And if you're a guy, the chances of any women contacting you without a picture is very slim. Women aren't stupid and sorry, but if there's going to be sex, there has to be some attraction there.
My advice for you is to take a picture and post it, keep your profile a secret, and make sure you're not logging on to Horny.net on the same computer as the person you're sneaking around on. Or, maybe end that relationship, bro. Just sayin'.
Is Horny.net easy to use? I don't have time for complex dating sites.
Horny.net is very easy to use and as long as you know how to turn on your computer, you're going to find that Horny.net is a piece of cake.
Final Verdict on "Horny"
I've used many a dating site and I find that not only is Horny.net easy to use, has a nice membership base, offers up some freebies as well as decent paid features, and is relatively affordable, it provides results. In the grand scheme of things, isn't that pretty much what we all want when we join an adult dating site? Definitely give Horny.net a chance, I don't think you'll regret it.
Is it the absolute best? Hell no! If you're looking for the best of the best, then you must stick to the top sites listed below. That's how I typically roll bro…