As the DatingCop, you know that I due justice for consumers and set out to learn the truth about some of these scammy dating websites. It's my job to do so and I take pride in my work. I've recently done this with InstantFuckBook and I'm here to share my thoughts on everything with you and every other consumer who cares to learn more. I will start off by saying that this site reminds me of the WellHello.com network for reasons you'll soon understand. Here's a rundown of everything you need to know about this website…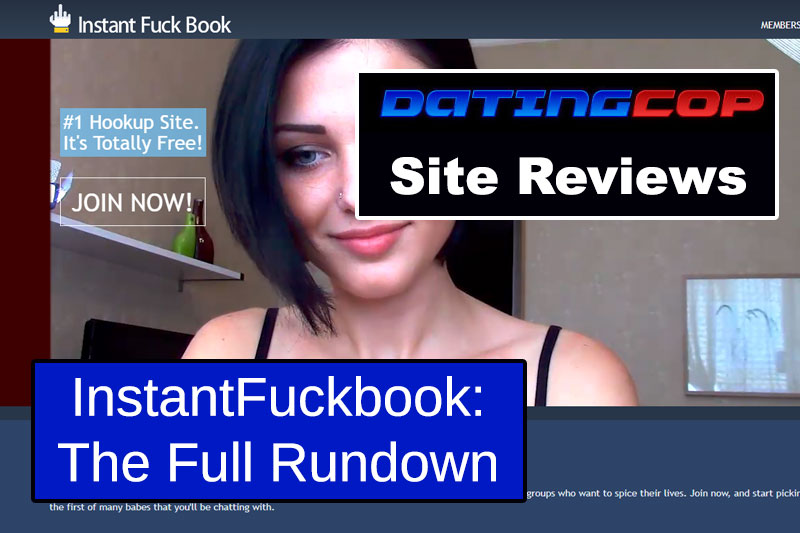 My Review of InstantFuckbook
This review is pretty straightforward with zero fluff and nonsense. You'll find the answers that you're looking for and if not, then reach out to me should you need more intel…
If you've found yourself on InstantFuckBook, then you should turn around immediately. They don't have anything for you. They're just going to rip you off. They start trying right away and they never really stop. The biggest problem is that there are no real people on the site.
It's just fake profiles and guys who are getting scammed. It doesn't get any more complicated than that. You have to watch every single thing that you do on this site. One wrong move is going to run you a whole lot of money.
On top of the initial charge, you're going to be getting hit with the bill every single month after that. You'll have to manually go in and deactivate all of your memberships. It won't be an easy task. You'll just be out a ton of money and a ton of time.
They Need Your Credit Card
The very first scam comes when you sign up. You're told that you need to give them your credit card information to verify your identity. That's a lie. When you get to the page, you're going to be preselected for a few offers.
They're memberships to porn sites that you don't really want. On top of that, they're really expensive. You'll easily be out over a hundred dollars. The memberships will also be recurring. You'll get hit with the charges every single month until you cancel. It's a whole lot of money to be spending.
You Get Fake Messages
After that all goes through, you're going to start getting hit with the fake messages. They're going to be coming from fake profiles. You'll be able to read them, but you won't be able to respond to them. To do that, you have to upgrade your account. That's even more money out of your pocket.
Once you do that, all of the messages are going to stop. The people sending them were never even real in the first place. It's all there just to convince you that paying to respond is a very good idea. It's not.
Check Out The Pictures
All you have to do to convince yourself is a reverse image search on any profile picture you want. Run the search and you'll see it all over the internet. They're mostly going to be on porn sites. The company buys them and slaps them on fake profiles to have the bots send you messages. It's a very common scam and these guys are running it on you.
Conclusion: Stay Away From InstantFuckBook
InstantFuckBook has nothing for you. They're just going to cost you money in return for nothing. If you see them in an ad, ignore it. It doesn't matter how badly you want to hook up with someone. That's not what they offer. They just want to get you on the hook for monthly fees and that's it. You'll be better off spending your money anywhere else. Try any other site before you try this one. It's a big scam.
If you're looking to avoid big scams like this, then the only recommendation I have for you is to check out this page here. Those sites are the only ones I can confirm that you will not have issues like this.