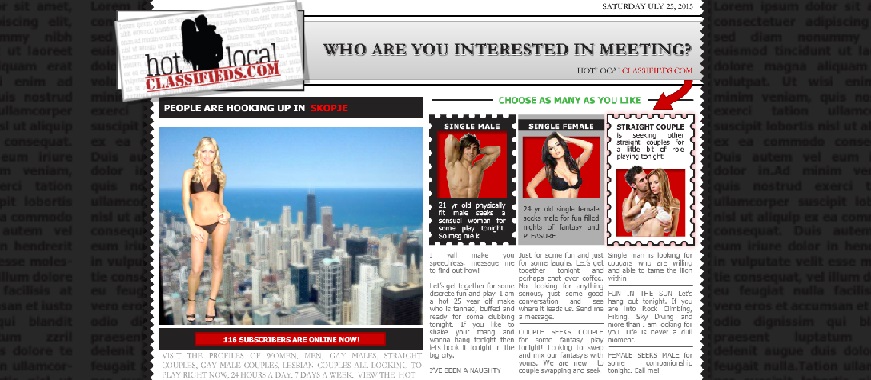 Is HotLocalClassifieds.com a legitimate and trustworthy site or just another online dating scam? We were wondering the same, so we set out to use the site for a test period and explore how it works and what it has to offer. In this review, we will tell you about our findings and help you decide whether you can trust HotLocalClassifieds.com or not. We invite you continue reading and get answers to all your questions regarding HotLocalClassifieds.com.
What smells fishy on HotLocalClassifieds.com?
Your uploaded personal info are taken and lawfully reused for the site's purposes
Automated messages are sent to you by computer software
You have to pay to use HotLocalClassifieds.com services and features
Profile data are modified and distributed as profiles of other members
Proof of HotLocalClassifieds.com Fraudulent Acts
When signing up and creating a profile on any dating site, always read the terms and conditions of use document. Dating services such as HotLocalClassifieds.com tend to hide the evidence of conning tricks within this document. Remember this, since it may save you from a lot of headaches later on.
1) HotLocalClassifieds.com Takes and Reuses Your Information
As scary as this fact sounds – it is. In the terms of use page we read a paragraph in which it is explained that by simply uploading information on your profile, you are providing HotLocalClassifieds.com with all rights to take, reuse, copy, translate, distribute, broadcast, and sublicense all personal information that you post on your profile. Everything from your personal photographs, name, 'chat up lines', to description of interests is no longer yours once you upload it on HotLocalClassifieds.com. Your personal info can be freely reused and shared on any other dating services or networks affiliated with the company that owns HotLocalClassifieds.com.
TERMS OF USE EXCERPT: "By posting content to any area of hotlocalclassifieds.com, you automatically grant, and you represent and warrant that you have the right to grant, to hotlocalclassifieds.com and its Members, an irrevocable, perpetual, non-exclusive, fully-paid, worldwide license to use, copy, perform, display, and distribute such information, rights of publicity, and content and to prepare derivative works of, or incorporate into other works and other media, such information and content, and to grant and authorize sublicenses of the foregoing."
2) Online Emissaries Are Fabricated Profiles
We found the evidence that suggest HotLocalClassifieds.com creates fake dating profiles of women and fills them up with fake photographs, made-up personal information, fictional interests, and other information extracted from the profiles of other real members. These profiles are called "Online Emissaries" and you can be sure that the person you see on the photos is most likely not the one behind the profile.
If you are wondering why HotLocalClassifieds.com needs Online Emissaries, there are a few reasons:
To fill up the dating site with member's profiles, since there aren't enough real people using the service.
To attract you to communicate with these profiles, for which you have to pay a membership upgrade first.
To send you messages through software and deceive you into believing other members are interested in you (you'd have to pay to reply).
TERMS OF USE EXCERPT: "HotLocalClassifieds.com UTILIZES VIRTUAL PROFILES THAT DO NOT CORRESPOND TO ACTUAL MEMBERS: An ONLINE EMISSARY may be a digital actor, an avatar or a synthespian (e.g. a computer generated "person" or "character"). You acknowledge that You understand that some of the profiles and Members displayed on them are not actual members of the site."
3) Automated Communications from Online Emissaries
We already mentioned that HotLocalClassifieds.com create fake profiles from which they send to you and other real site members electronic messages to engage you into communication. Basically, the email and chat messages you receive are automatically sent to all free members on the site. The goal is to lure you into paying a membership in order to use the site's services. We advise you to be cautious and don't get fooled into believing that those women are interested in you and want to communicate with you. If you do respond, you are basically communicating with computer software.
TERMS OF USE EXCERPT: "The ONLINE EMISSARY services can include the posting of information, pictures and/or communications directed to You. The ONLINE EMISSARY may contact both free Members and paid Subscribers via text based communication either within the site and/or via email notifications. ONLINE EMISSARIES may be employed by hotlocalclassifieds.com or a third party to enhance Your online experience."
It turns out that not only does HotLocalClassifieds.com generate computer-automated messages; they hire and pay people to start conversation with you or respond in case you send messages directed at Online Emissaries profiles on HotLocalClassifieds.com. While these people may only be doing their job, they are employed to string you a long and make you believe they are real people you might meet in real life.
4) Extortion Of Money And Recurring Billing
As mentioned above, HotLocalClassifieds.com have no interest to be going through so much trouble with creating fake profiles and using employees or bots to further deceive you, unless they are getting money from scamming you. You are free of charge to become a member of the site, but you are blocked from using any features of the site, reading messages you get in your inbox or sending messages to other site members – unless you pay for subscription. Here are your payment choices:
SILVER Membership
$1.95 to buy a 3 day trial membership period
$29.95 to buy monthly membership on the site
$59.95 to buy 3 months of membership on the site
GOLD Membership
$34.95 to buy monthly membership on the site
$69.95 to buy 3 months of membership on the site
$149.99 to buy 12 months of membership on the site
*NOTE that at the end of your initial subscription period, HotLocalClassifieds.com will automatically renew your paid membership by charging your credit card again and again. The most controversial subscription period is the 3 day trial Silver membership, since it renews at $99.95 for 6 months of subscription. In fact, HotLocalClassifieds.com will keep charging you until you finally notice what's going on and cancel your paid membership.
The Verdict on HotLocalClassifieds.com
HotLocalClassifieds.com does not qualify as a legitimate dating service and we advise you to be careful if you are a current member of the site or receive spam messages in your inbox that invite you to join the site and start dating. We kindly advise you to always read the terms and conditions of use when joining an online dating site – this is where the evidence of scam are hiding.
HotLocalClassifieds.com Scam Questions
We hope that we answered all your questions about the workings and legitimacy of HotLocalClassifieds.com. However, for any further questions and if you have anything else you'd like to add, feel free to post in the comments section below. Also, we welcome your personal experiences if you are a past user of the site.
HotLocalClassifieds.com Contact Info
Address: PO Box 1058, Basseterre, St. Kitts, East Caribbean
48 Constant Spring Rd, Kingston 10, Jamaica
42 Dositheou Street, Strovolos, Nicoisa 2028, Cyprus
Email Contact: support@hotlocalclassifieds.com
Report and File a Complaint
Contact the Better Business Bureau to file a complaint and report the site if you feel you have been deceived, conned, and/or overcharged.