I decided to check out the JustGetNaughty.com dating site after a friend mentioned the name to me. I visited the homepage and new then and there that I had to do a full investigation of the dating services. I'll start with my overview of the site itself and what immediately jumped out at me during the investigation.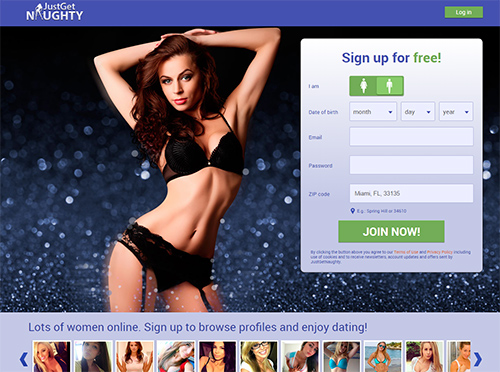 My JustGetNaughty.com Official Review
Before I get knee deep into things, let me explain what I did. I joined the site as a free user just like any other new member would do. Next, I upgraded to see what they offer premium members. I found out that most of what they offer is complete bullshit. It's a bot filled mess with fraud written all over it. Here are some more details of what I was able to discover.
Profiles Incomplete Yet Messages Galore
After creating the most basic profile known to man, I found myself receiving a ton of messages via their online mailing system. What would possess someone to send messages to a profile that doesn't have anything other than a date and a username? No profile pic, no bio intro, no exact location. The only thing this site was showing was my username and preferred gender. Soon as the messages started rolling in I knew that this was filled with fake bots. It doesn't take a rocket scientist to realize that this is a scam. If I had to count, I'd say over a dozen messages were sent to me. That's just the beginning of it all .
More Bots And "Winking"
JustGetNaughty.com has a winking system where they allow users to send you "winks" and other auto services. They have bots send winks from other profiles to make it seem like users are interested in you. This is complete bullshit giving the circumstances and that they expect you to pay for this.
Fake Profiles
Yes, there are a lot of fake profiles on this site. In fact, they steal photos from other sites online and use those photos to build profiles on their site. Now, the owners of the site mention this in their terms and conditions, but I still think it's absolute bullshit.
Not to mention, they have customer support employees that they pay to communicate with members as if they are real users looking to get laid. Unacceptable isn't the word I should use to describe this!
If you're wondering where they get the information to create these fake profiles, they literally find them online and repost them onto their dating site. They take images from all over the Internet and use them to create a larger database of fake users.
Other Red Flags
Some other red flags about Timespace Holdings Limited are all on the homepage of the site. For starters, the homepage looks like it was built by some third-world designer. It's so damn cookie cutter and basic that it's unbelievable. There are a ton of completely clothed women on the site too. You and I both know that when a site has "get naughty" in the brand name and the girls aren't looking even close to naughty, it's a scam.
Contact Info
If you're a member of the site, check out below and contact them if you need to!
Address:
Trident Chambers
P.O. Box 146, Road Town
Tortola, VG
Email:
support@justgetnaughty.com
Phone:
1-800-489-6091
Final Verdict: Stay Away From JustGetNaughty.com
The only conclusion that I was able to draw on this site is, it absolutely sucks big time. JustGetNaughty.com is nothing but a total scam. It's one of those scams that many people can't seem to get out of once they've been suckered into joining. Sure, if you like fake profiles, chatting with employees and people stealing your personal information to get ahead, then, by all means, go for it. However, it's just not one of my things and I'm not going to subject myself to use a shitty dating site.
If you want to join a few sites that actually work, then I suggest checking out some of the top ranked sites that are listed below. You will get laid using any of them…