Okay, so I've recently discovered a new dating site called SmashYourFriends. I had no idea what it was or who created it, which is part of the reason why I wanted to investigate things further. The site layout looked familiar but nothing that I was able to recall off the top of my head. At any rate, I felt it was my duty to investigate things on this site and determine whether or not it was worth joining. Before I get into the full review, let me share some pricing information with you.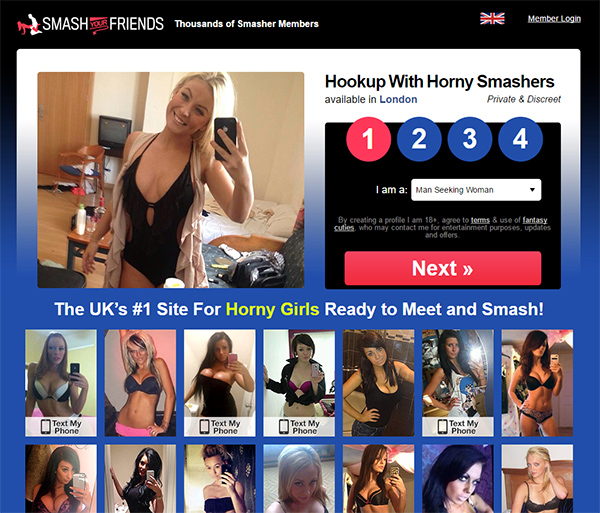 No, this dating site is not free to use. Sure you can join it for free but it's going to cost you money to get anywhere with things. The cost is roughly between $9 for a trial and $119 for a half year membership. On average, this site is going to cost you about $35 per month.
My SmashYourFriends.co.uk Overview and Investigation
This site is one that you're going to want to read the fine print on before joining. I took a look around and noticed that they did have some features that help you navigate and better utilize the site. However, it wasn't until I took a closer look at the terms that I realized what a rip off this site actually was.
I'll be as straightforward as possible here. SmashYourFriends.co.uk uses fake profiles to fill up their member's area. These profiles are specifically referred to as Fantasy Cuties and they are literally fake people. The profiles are either created by contractors of the site or employees tasked with creating them.
The Reason they create these profiles is to enhance your personal experience. That's what they say at least. I can't think of anything more annoying than having to sift through a shit ton of fake profiles to find one that will actually get me laid.
Stolen Pics
To top things off, it seems as though this company steals images from the Internet to create these profiles. How would you like it if they stole your Facebook picture to create a fake profile for the dating site? I can almost guarantee that you'd be beyond pissed off if you had to deal with this.
Fake Messages
Shocker, they send fake messages to get you to interact with the Fantasy Cuties that they write about in section 4.3 of their terms and conditions. I've used lots of dating sites and it seems like the company associated with this site is known for these shady marketing tactics. I can't stand the fact that these people do this.
Company Details
Here's some of the personal company info if you wish to cancel your website subscription.
Address:
Plymouth Associates Ltd.
Heywood House
South Hill, Anguilla
Phone:
800-564-9432
Email:
Support@TrustedAssist.com
Final Judgement: SmashYourFriends.co.uk Is A Huge Ripoff That Doesn't Work!
If you're thinking of joining SmashYourFriends.co.uk, then you best think again. It's one of the sites that I would strongly advise against joining. In fact, this site and any other site owned by Plymouth Associates, Ltd. should be avoided at all costs.
If you want to join a site that works, then I highly recommend that you try joining one of the sites listed below. They do not create any fantasy profiles and all the girls are real. Not to mention, they have a 6-month guarantee that you will get laid. What's not to like about that? Give them a shot and you will not be sorry!