I'm here to talk to you about one of the most popular mobile messaging apps on the planet. The app is called Kik and there is a specific dating site that claims to help connect you with girls using this app. The site's called Kikfriender and it's one that you need to know about before you start using Kik at all.
Whether you've been hearing people talk about the many nude girls on Kik or if you're just coming across this app and you're curious what it has to offer, I want you to learn all about it before trying it out. Find out everything that I've learned about Kik Friender.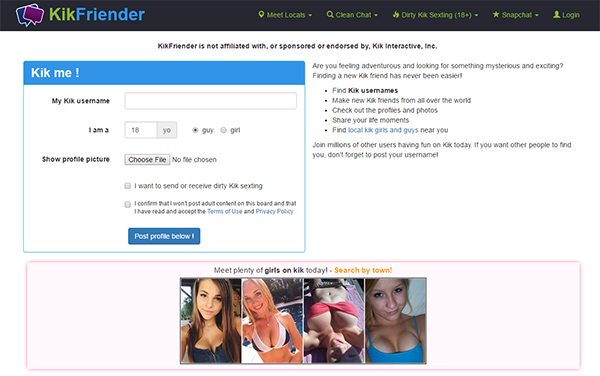 My Investigation Using KikFriender To Meet Girls Online
Here's a quick rundown of what I'm about to cover during this review. For starters, you need to understand a couple of things about this site. The topics I'm covering have been listed below:
Spamming
Fake Female Users
Copied Pictures
What They Do
Redirecting URLs
Domain Details
That's just a quick overview of everything I'm going to be discussing with you today. Let's not waste anymore time here. Instead, I'll get right into the issues that I have with the spamming.
Does This Site Spam You?
What you need to know about KikFriender is that it's a hub to help you discover new kik girls. You can search for appealing dirty usernames that you might want to connect with. That's where it all starts. The problem is that these users can create as many profiles as they'd like and as a result, they can spam you all day long.
As soon as you start adding their girls on the Kik app, the spamming starts right away and it doesn't stop, ever.
Fake Users
Based on my own personal research, in my opinion, this site is associated with fake Kik user names and girls that don't really exist. What happens is people try to create fake user profiles. If you look at the Kik Friender site, you'll notice that tons of users are smoking hot. If you think that all these dirty kik girls are real then you're a complete knucklehead! The more fake users the site has, the better the chances of them getting your credit card information.
Copying Photos From Sites
You'll notice that some of the photos on Kikfriender look familiar. That's because they are possibly stolen images. I wouldn't be surprised if the company came out and admitted to stealing photos from amateur porn sites. Far as I'm concerned this site is nothing but a marketing ploy.
What Do They Do Exactly?
Here's what the site does to try and get money from you. They present you with a bunch of hot women on KikFriender. They may promise to send you nude photos if you take action such as clicking a link or downloading an app. When they do this, they earn money from your action. Once they've got your money, you never hear back from them again. That's my guess as to what happens here.
URL Redirects
You'll notice that some of the messages they send have bit.ly URLs in them. These redirecting URLs where they send you to an app to download or to insert your credit card information. That's the ultimate objective.
Domain Details
The domain is on Godaddy's servers at this IP addresss, 104.27.130.43 and if you're looking for more information on it, it's going to be next to impossible for you to find it.
Conclusion: Don't Use Kikfriender.com Unless You Want To Waste Money
Meeting girls on Kik is not a great way to hookup. It's not an official dating app and that's why it sucks so much for this type of activity. I would strongly suggest that you avoid this website and many other kik dating sites that promise to share usernames with you. It's nothing but a total scam, at least that's what I think!
If you're looking for the best sites to join, just take a look below. You'll find everything that you need right there below…