I recently came across this interesting dating site which caters to moms that want to meet younger guys to hookup with. The site is called Moms Get Naughty and it's not one that you'd likely come across unless you're searching for this type of "cougar meets cub" dating. I'm not saying that this was a good or bad site just yet. Instead, I want you to read my review to learn about the site ran by Ldate Services Ltd.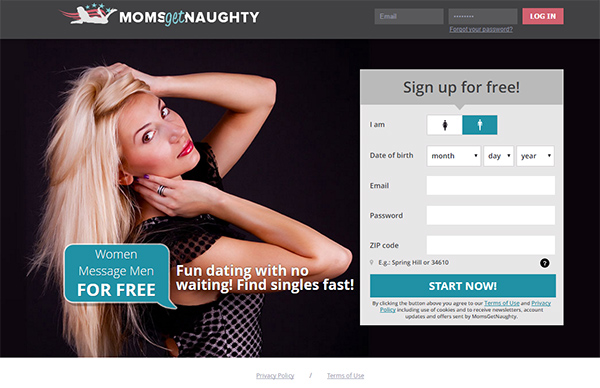 Overview of Moms Get Naughty Dating Site (Personal Review)
Here's everything that I know about the Moms Get Naughty website. I'm going to give you a rundown of things that I know about this site. You'll want to understand them before trying to set up a booty call with any member of the site. Let me start with the cost of them.
This site costs anywhere between $3.18 to $83.94 for only 6-months worth of access to the site. The typical average monthly price costs $24.99 per month.
Now, let's talk about site features. There's a feed that exists, which displays that various potential matches online that might help you easily connect with people.
The site also has chat rooms and an activity feed that allows you to see who's viewing your profile, winking at you, and more.
Now, for the most important things that you need to know about this site. For starters, the company that owns this site also owns Affairdating.com, OneNightFriend.com, and many other sites such as Fatty Chaser. What you need to know is that this company does not produce the best Internet dating services. Here's what I can tell you about the site…
Fake Messaging
Staff Runs Profiles
Terms and Conditions Are Ridiculous
Scam Adviser Risk
That's a quick rundown of the most important things you need to know about the site. I'm going to cover them more here right now for you.
Fake Messaging Does Exist
Based on my personal research, it's possible that fake messaging most definitely exists on this website. The messaging might come from what's known as automated robots. This is a script that the company has in place which has been created to help encourage users to boost their activity levels.
You'll most likely get fake messages and emails that have been sent to you automatically. The kicker here is that regardless of whether or not your profile has been completely filled out or if you've only just signed up and done nothing other than that, you will still get messages.
Staff Run Profiles
Guess what, this site creates profiles that they post in the same member's area where your profile is shown. This makes it more difficult for real users to connect with other real users. Instead, they need to weed their way through fabricated profiles. If you read the terms and conditions of the site, you'll soon realize that they have made it loud and clear that they use this.
One thing that really sucks about this site is that you can't determine which are real and which are staff driven profiles. I'm completely against this type of activity.
The Terms Are Insane
You really need to read the terms and conditions of the site before joining the site. I've read so many dating terms and this site might take the cake in terms of wild terms. What exactly do they admit to doing?
Creating profiles ran by customer support reps and contractors
Automated chats
Profiles may be completely fake
Multiple profiles for any given photo
Sending of communication to members to encourage upgrades
Scam Adviser Risks
The infamous site ScamAdviser.com has listed this site as being potentially risky. Moms Get Naughty might have some of the same traits that many scamming dating sites have. The site has been around for over two years now and it's possible that they've scammed people that have joined, based on only my personal opinion. If you're looking for scam free sites, then check this page out.
Contact The Company
If you want to contact the company for any reason at all, then I suggest you check out the information below:
Address: P.O. Box 146 Trident Chambers, Road Town, Tortola, British Virgin Islands
Phone: 1 (800) 867-3170
Conclusion: Stay Away From Moms Get Naughty Site
This local mom dating site is not what it seems. I'm not going to give anyone the green light for joining this site. In fact, I've got plenty of other recommendations for people that want to actually get laid. Do your wallet a favor and stay away from MomsGetNaughty.com because there are no moms that I know of which actually get naughty. At least based on my research, it didn't work for me.
What should you use then? Good question, I suggest you join one of the sites shown below instead.