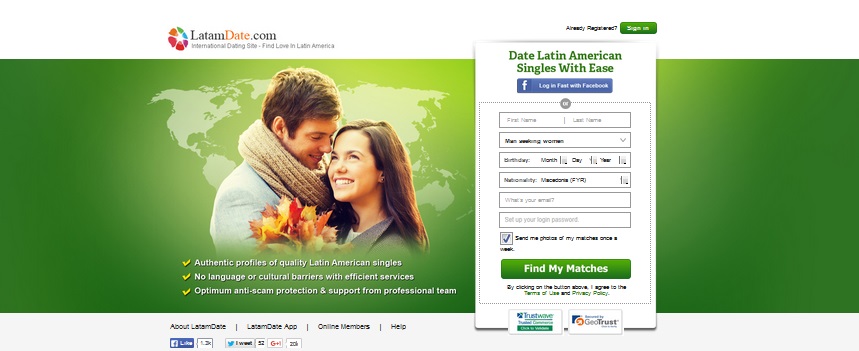 LatamDate.com is another one of the Qpid Networks family of online dating websites that have several different sites offering international dates aimed at different ethnicities. LatamDate.com is a site where men can sign up and create a profile that will help them find women from Latin America and promise to provide a language-and-cultural-barrier-free dating platform. By reviewing the other sites owned by the same company, we have to say that our hopes for the legitimacy of LatamDate.com are not high. But, we will do our thorough research to uncover the true facts. So, continue reading.
Important questions to ask yourselves to reveal scam
1) What LatamDate.com offers?
There are several services and features LatamDate.com offers to its users who can use them to get in contact with their chosen Latina in different ways. The list of services includes:
Admirer Mail – read introductory text before you initiate communication with a lady
Call Lady – talk over the phone directly or by a three-way translation service
Cupid Date – face-to-face meeting
EMF Mail – emailing service that helps you overcome language and cultural barriers
Gifts & Flowers – send gifts and flowers from shops and florists local to ladies
Lady Call Me – give authorization for a lady to call you
Live Chat – an instant messaging service for chatting in real-time
Request Contact Info. – take your communication outside of the website
Video Show – check out ladies' home made video
Virtual Gifts – sending of digital cards and animations with personalized words
2) What you get on LatamDate.com?
It would be wonderful if the dating on LatamDate.com really was that genuine and simple. It takes just a little digging to discover that you are basically never in direct contact with the women and all communication with a language barrier goes through the translation agency. Moreover, agencies are the ones who provide services and create women's profiles – not women themselves. Women supply their photographs, personal data, descriptions and details, and then these agencies that are somehow contracted with LatamDate.com display the profiles. The process gets tangled and there are simply not enough questions answered on the website.
FROM THE 'ABOUT US' PAGE: "Agencies (service providers): LatamDate works with trustworthy and reputable local dating agencies in Latin America. Agencies are legally and economically independent from LatamDate, but their professionalism and enthusiasm in providing services to our members is not sacrificed. The agencies carry out special roles, including providing professional translation services and relationship consultations."
FROM THE 'FAQs' PAGE: "LatamDate.com provides an online communication platform and the profiles listed on the site are submitted by local agencies with whom we cooperate. The authenticity of ladies' profiles are primarily in the control of the agencies. Ladies' profiles go through a verification and validation process carried out by the agencies. Before we post them on our site, screening and verification process is also taken by our verification team."
3) How LatamDate.com uses your info?
You should be aware that LatamDate.com has the legal rights over all information from the moment you post or upload them on the site. Then, they have an exclusive right to do whatever they want with your photographs (distribute them to other dating services, modify them in any way, etc.) and even transfer them across border where they pass under other countries' law system.
FROM THE 'PRIVACY POLICY' PAGE: "Some of the uses and disclosures mentioned in this Policy may involve the transfer of your information to various areas around the world that may have levels of privacy protection different from that of your residence country. By submitting your information via LatamDate, you consent to such cross-border transfers notwithstanding the restrictions imposed by applicable law / rule / regulation to the contrary."
4) What you should know about LatamDate.com?
a. We have found before that another one of Qpid Network's websites had its agencies publish ads in which they seek women to become site members for a compensated monthly amount. The woman should get 50% of whatever men pay for in order to communicate with her.
b. This is not a free dating service and you will pay for every step you take on LatamDate.com and for every feature and service you'd like to use. Sending an email costs you money, as well as opening a response you received to read it. The "Lady Call Me"-feature doesn't mean she will just call you if you request it, but she will call you if you pay her to do so.
c. You can never be sure that the women you see on the photos are the ones communicating with you. Moreover, we have found comments from past members of LatamDate.com who claim the women backed off and stopped communicating when video chatting came in question. Also, she can simply refuse to give you her private contact info – since she earns money from communicating through the website.
The verdict on LatamDate.com
It seems that it's all about the money on LatamDate.com. You can never be sure or trust the ladies or the service. Also, if LatamDate.com was a genuine dating site they wouldn't make its male member pay for every service they use. It is clear that this is a money-making service and not a dating service, and unfortunately naive people are the ones who end up scammed and ripped off.
LatamDate.com Scam Questions
For any questions you might want to ask or if you'd like to add something, feel free to post in the comments section below. We'd love to read about your personal experiences on LatamDate.com or answer any additional inquiries you may have.
LatamDate.com Contact Info
Address: Unit 1317-1318, 13/F, Delta House, 3 On Yiu Street, Shatin Hong Kong
Email Contact: service@latamdate.com and Contact Us Page
Phone Number: N/A
Report and File a Complaint
Contact the Better Business Bureau and file a complaint if you feel that you have been scammed or ripped off.