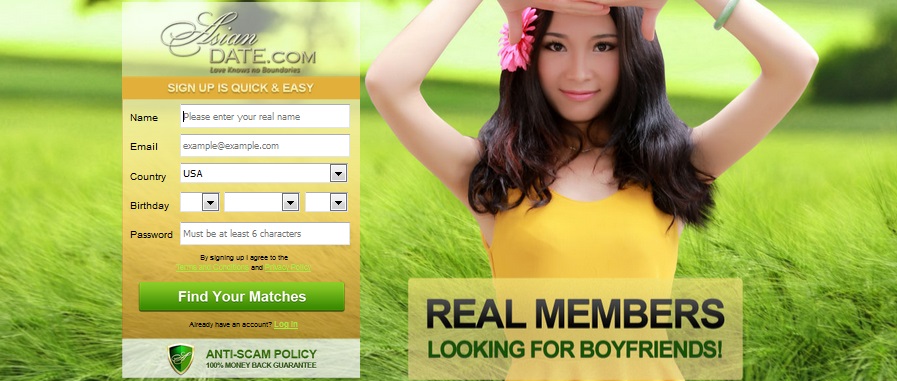 AdoreAsia.com is an online dating site offering people from around the world to meet and date sincere and openhearted Asian women through their service. At the beginning of our review we went online to read what other people had to say about AdoreAsia.com and were surprised by the great number of positive reviews and comments from satisfied members. Sounds too good to be true? –We thought the same, so we set out to do our own investigation and uncover the truth.
AdoreAsia.com positive online feedback
We have seen this done with other dating sites. When you check their name online and see how others liked using the site, you can only find comments and reviews that say the best words. There are two possible options to these stories:
Every person that became a member of AdoreAsia.com was so pleased with the service and features of the site that they went online to write how great it was and recommend it to others.
These are not legit reviews and comments, written by the site's employees or by PR agencies hired by the company. This is not a rare thing and actually many sites do this to boost their online presence and attract more members.
What we found out about AdoreAsia.com
Writing a detailed review requires a firsthand experience with using the site, as well as looking into obvious places where no one else has looked. That's why we created a dating profile to better investigate AdoreAsia.com, but also read through the Terms and Condition and Privacy Policy.
1) Free Reuse Of Your Profile Content
The first revelation regarding the legitimacy of the service of AdoreAsia.com involves the legal rights over the information you share and post on any public area of the site. AdoreAsia.com gains all legal rights to freely reuse and distribute your profile data and anything you post on the site throughout their affiliated sites. You shouldn't be surprised to find an identical profile, as well as your intimate videos posted on other dating websites. AdoreAsia.com t protects itself from any legal actions because they have stated in the terms of service that by agreeing to the terms of service they can pretty much do whatever they want with your personal information the moment you post them on the site.
Also, this fact raises the possibility that the profiles and videos you see on AdoreAsia.com are not real people, but fabricated profiles created with the data taken from other naive people who once created a profile. So, even if you believe you are talking to a real person – you can never know for sure.
TERMS AND CONDITIONS EXCERPT: "By posting Content to any public area of AsianDate You automatically grant, represent and warrant that You have the right to grant to AsianDate an irrevocable, perpetual, non-exclusive, fully paid, worldwide license to use, copy, perform, display, and distribute such information and Content and to prepare derivative works of, or incorporate into other works, such information and content, and to grant and authorize sublicenses of the foregoing."
2) You Are Not In Direct Contact With Women
So, let's suppose that there are some real women on AdoreAsia.com. You are never contacting them directly! AdoreAsia.com claims this is because of some language-barriers which may disrupt your communication process, but the profiles are not even created by the women you see in the photographs. AdoreAsia.com (or AsianDate.com) pays agencies called "Suppliers" to take information from women and create a profile for them on the site. They also translate your messages to the women and vice-versa. The thing is that sharing personal contacts that may take your conversation outside of the website are not allowed. Basically, you can only talk to a woman using AdoreAsia.com's services and you can never meet her in person.
TERMS AND CONDITIONS EXCERPT: "To provide the Service, AsianDate purchases services from various agencies (collectively, "Suppliers"). The Suppliers are independent contractors and are not agents, or employees of AsianDate. Suppliers provide full, correct and quality translation of all correspondence of their female Members and their prospective soul-mates, Members of AsianDate."
3) Using AdoreAsia.com Is Pricey
To use AdoreAsia.com you pay for everything you do on this website. AdoreAsia.com operates on a credit-based system and will even charge you for sending or reading emails. This means you pay a certain amount of money for a number of credits on the website, and their correspondence system works on a message-per-credits basis. Here are the prices of credits:
40 cents per credit to buy 1000 credits at once
50 cents per credit to buy 500 credits
58 cents per credit to buy 320 credits
60 cents per credit to buy 160 credits
70 cents per credit to buy 80 credits
75 cents per credit to buy 40 credits
15 cents per credit to buy 20 credits
Now, what's important to know at this point is that if you buy for example 1000 credits on AdoreAsia.com, you will be billed 40 cents per credit which adds up to $399.00 cost. To open and read a message sent to you or to send a message to someone will cost you 10 credit points, or $3.99. To us almost $4 per read and sent email seems like a true rip off, especially when your correspondence will never actually lead to a real life meeting.
TERMS AND CONDITIONS EXCERPT: "Your membership will continue indefinitely until cancelled by You. After Your initial purchase of membership, and again after any subsequent membership period, Your membership will automatically renew for an additional equivalent period, at the price you agreed to when initially purchasing the membership."
The verdict on AdoreAsia.com
Affiliated with AnastasiaDate.com, Amolatina.com, ArabianDate.com and AfricanBeauties.com, AdoreAsia.com (or AsianDate.com) is a part of a bigger dating websites family. Just like the other websites, AdoreAsia.com too is obviously not a legitimate dating service aimed at joining people together to have some real-time fun. We kindly advise you to carefully read the terms of use when joining an online dating site, and especially before giving them your hard-earned money.
AdoreAsia.com Scam Questions
Got any other questions that were left unanswered? We welcome you to post the in the comments section below and we will try to provide a personal and prompt answer to all legitimate inquiries. Also, feel free to share any personal experiences with using AdoreAsia.com, since your story may help prevent other from falling into the hands of this scamming site.
AdoreAsia.com Contact Info
Address: 450 Spring Park Place Suite 100 Herndon, VA
Email Contact: unsubscribe@Adoreasia.com
Phone Number: +1 (800) 311-7598
Report and File a Complaint
Contact the Better Business Bureau and file a complaint if you feel that you have been scammed or ripped off.