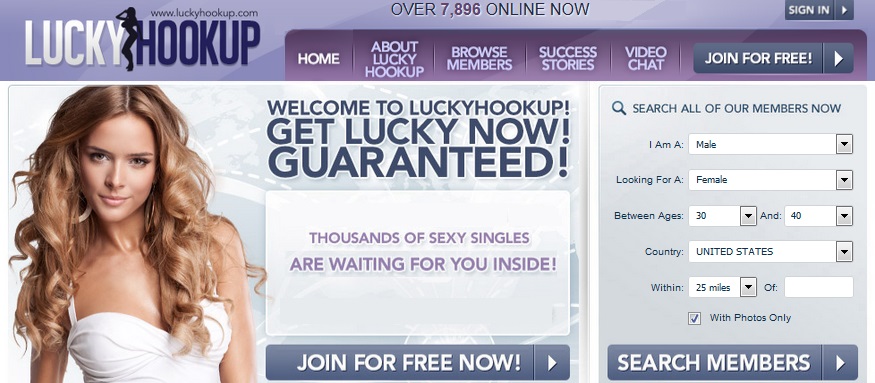 Can you really get lucky on LuckyHookup.com? We look carefully into the working mechanism of this dating website and inform you without bias about the legitimate working or scamming tricks of matchmaking services. In which category will LuckyHookup.com be listed? We invite you to continue reading to find out.
What's so lucky about LuckyHookup.com?
If you are still wondering after reading the following text, we will be more than happy to answer any additional questions in the comments section at the end of the page. Now, we present to you our findings from using and investigating the dating site aimed at men finding beautiful women to meet called LuckyHookup.com.
1) Fabricated Profiles Instead Of Real Members
The profiles you see on LuckyHookup.com are called Love Stars or LS are more scamming profiles than dating profiles. They are created using other people's photographs, which are not the people using the profile. Their personal information are also taken and now reused or completely made-up to make them seem like real and genuine people. These profiles are utilized to send computer-automated messages to you via the service and have you believe people are really trying to contact you. If you find this hard to believe feel free to read this excerpt from the terms and conditions agreement here, or open the document on the LuckyHookup.com website and double check the info.
EVIDENCE: "You understand, acknowledge, and agree that some of the user profiles posted on this site may be fictitious or models or bots related to our "Love Stars" (LS) program. Our LS work for the site in an effort to stimulate dialogue with users and to stimulate user participation on the Website and Services, advertisement of the Website and Services, and the creation of user profiles. You understand, acknowledge, and agree that the information, text, and pictures contained in the LS profiles do not pertain to any actual person or member, but are included for entertainment purposes only. You further understand, acknowledge, and agree that, from time-to-time, LS may contact Website and Services users and members via electronic messaging, including for example, email, instant messages, and SMS, for purposes of encouraging further or broader participation in our site's Services."
2) Subscription Fees and Recurring Payments
If you are wondering why an online dating website would go through so much trouble to create false profiles and generate electronic messages, you should know that LuckyHookup.com is NOT a FREE dating service and will take your money if you are not cautious. They deceive you by flaunting the word "Free" on their home page, but LuckyHookup.com is anything but a free of charge dating service.
The catch is that when you see a woman and try to send her a message – you are asked to upgrade to a paid membership. Also, when you receive a chat, email, or instant message – you are asked to pay for an upgrade to be able to read it and respond. Here are your payment options:
$49.95 for a monthly subscription to LuckyHookup.com -GOLD
$36.61 for a monthly subscription to VibeVideo.com
$28.87 for a monthly subscription to VideoErotic.com
*Note that these are not one-time charges and you will be charged automatically at the end of each month for another month of subscription for all these accounts. The membership is automatically renewable and it may be too late before you discover that you need to specifically cancel your membership upgrade to stop being charged over and over again.
3) The Biggest Fraud Of All
You should be aware that LuckyHookup.com has the legal rights over all information from the moment you post or upload them on a public are of the site (that includes your profile). Then, they have an exclusive right to do whatever they want with your photographs and personal information, including: to distribute them to other dating services, modify them in any way, give other dating networks the right to reuse them, etc. As you may imagine, the take down procedures are very difficult since your photographs may already be featured in other dating sites and attached to various profiles.
EVIDENCE: "You are solely responsible for the Content that you publish or display (hereinafter, "post") on the Service, or transmit to other Members. By posting Content to any public area of LuckyHookup, you automatically grant, and you represent and warrant that you have the right to grant, to LuckyHookup an irrevocable, perpetual, non-exclusive, fully paid, worldwide license to use, copy, perform, display, and distribute such information and content and to prepare derivative works of, or incorporate into other works, such information and content, and to grant and authorize sublicenses of the foregoing."
The verdict on LuckyHookup.com
We believe we can safely say that LuckyHookup.com is a complete scam and rip off. We hope this review will help you avoid getting in financial trouble. We also kindly advise you to always read the Terms and Conditions of use before you start using, or at least when you give your credit card info to a site on the internet.
LuckyHookup.com Scam Questions
For any questions you might want to ask or if you'd like to add something, feel free to post in the comments section below. We'd love to read about your personal experiences on LuckyHookup.com or answer any additional inquiries you may have.
LuckyHookup.com Contact Info
Address: Stasinou, 1 Mitsi Building 1, 1st floor, Office 4 Plateia Eleftherias, Nicosia Cyprus 1060
Email Contact: cs@luckyhookup.com
Phone Number: 877-597-3436
Report and File a Complaint
If you feel you have been deceived and overcharged by this site, there is something you can do. Contact the Better Business Bureau to file a complaint and report the site after you cancel your paid membership.