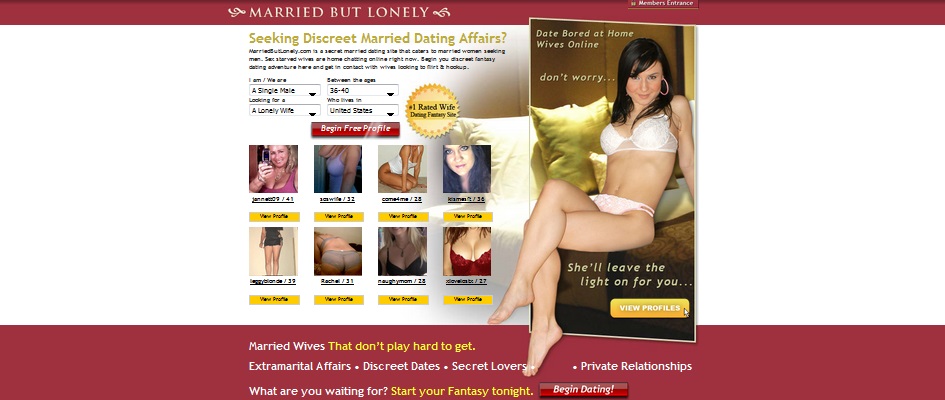 Are you already a member of MarriedButLonely.com or thinking of joining the site? There are several things you might want to know before you sign up and start exploring this dating service for married people. In this review, the Dating Cop team will reveal all the findings from our investigation. So continue reading to learn more as we uncover the hidden fraudulent workings of MarriedButLonely.com.
What we discovered about MarriedButLonely.com
At the beginning, when signing up for a free basic membership on this site, you are agreeing to the MarriedButLonely.com Terms of Service. But, did you read the content of this document? If not, we will point out the evidence that support our suspicions of scam and fraud.
1) Beware Of The Fabricated "Elite Flirts"
The "Elite Flirts" profiles are fictitious and completely made-up, created by MarriedButLonely.com to help them achieve their goal and rip you off. "Elite Flirts" have fake photographs, invented personal information and interests, and no real people behind these profiles. MarriedButLonely.com needs "Elite Flirts" because there are no real women using the site. However they have to populate it somehow because no one would be using it otherwise.
PROOF OF SCAM: "You understand, acknowledge, and agree that some of the user profiles posted on this site may be fictitious, and are associated with our "EliteFlirts" service. Such profiles are designated with the following logo: Elite Flirt. You understand, acknowledge, and agree that the information, text, and pictures contained in the EliteFlirts service profiles do not pertain to any actual person, but are included for entertainment purposes only. Nothing contained in any EliteFlirts service profile is intended to describe or resemble any real person – living or dead. Any similarity between EliteFlirts user profile descriptions and any person is purely coincidental."
2) Electronic And Scripted Communications
After the site shows you there are a lot of gorgeous married women on MarriedButLonely.com who are ready for an affair, they have to convince you this scam is actually real. That is when they start sending you messages through the Elite Flirt service which sound like someone is genuinely interested in you and would like to move things forward. Problem is, these messages, just like the profiles they are coming from are completely fake.
Moreover, after a short while the automated messages start to make no sense, so MarriedButLonely.com needs to make the communication as natural and as real as possible. That is why they hire and pay people to chat you up, flirt with you, and string your along for as long as you keep paying them.
PROOF OF SCAM: "Our EliteFlirts service is part of Our efforts to stimulate conversation with users, in order to encourage further and broader participation in all of our Site's services. Initial messages from our EliteFlirts service may be automatically generated with no human involvement, and, messages and/or correspondence thereafter may be generated by third-parties hired or contracted by Us. You understand, acknowledge, and agree that no physical meeting will ever take place between you and the individuals providing our EliteFlirts service, and that the exchange of messages between you and the EliteFlirts profile is for entertainment purposes."
3) Charging You To Use The Service
The site actually does the billing quite dishonestly in a process that is aimed to scam unexperienced visitors and extort money. MarriedButLonely.com will seek your credit card info as early as the sign up process with an excuse to verify that you are not a minor and have over 18 years of age. But, the hidden scam is found lower on the same page where you can read that by providing your credit card data, you are automatically agreeing to get initially subscribed to the 3 day trial membership. After these three days pass, your membership will be automatically upgraded to a monthly subscription and charged accordingly. From then on, your credit card will be charged each month until you notice something is wrong and cancel your paid membership.
The costs for an upgraded membership on MarriedButLonely.com:
$1.87 to purchase 3 days of trial subscription
$34.95 to purchase monthly automatically recurring subscription
PROOF OF SCAM: "If you pay for a subscription by credit or debit card (or other payment method involving an automatically renewing subscription) and you do not cancel your subscription prior to the end of the term, your subscription will be automatically extended at the end of each term for successive renewal periods of the same duration as the original subscription term."
The verdict on MarriedButLonely.com
MarriedButLonely.com is not an online dating site, it's rather an online dating scam aimed at getting your money and not providing the services you paid for. The take home lesson is to always read the terms of use before you agree to them, or at least when you want to pay your hard earned money – you need to know what you are paying for.
The 5 facts we can conclude from investigating this site are:
com uses fantasy profiles called "Elite Flirts"
The "Elite Flirt" service is used to send you Automated Chat and Email Messages
com is not a free dating service and will charge you money
Employees of the site are communicating with you, as well as computers
You are very unlikely to meet anyone real on MarriedButLonely.com
MarriedButLonely.com Scam Questions
Please scroll down to find the comments section where you can post your thoughts and questions regarding MarriedButLonely.com or other scamming dating sites. We appreciate your feedback and try to answer promptly and personally to your enquiries.
MarriedButLonely.com Contact Info
Address: 7040 Avenida Encinas STE 104 PMB 300 Carlsbad, CA 92011
Email Contact: support@contactusonline.com
Phone Number: 1-800-218-7142
Report and File a Complaint
Visit the Better Business Bureau to file a complaint and report this site if you feel that you've been the victim of scam and rip off.