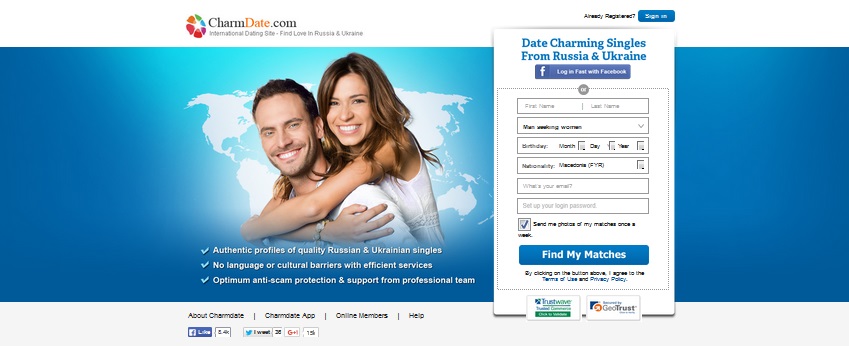 CharmDate.com is an online dating platform that claims to be the most popular international online dating network where men from all over the world can meet gorgeous women from Russia and Ukraine. But, is this a legitimate service or are there significant clues that prove CharmDate.com is using scamming tricks to rip off its members? We review here, and welcome you to continue reading and learn the truth.
Investigating the legitimacy of CharmDate.com
CharmDate.com is owned by a company called Qpid Network, a company that also owns and runs other sites for international dating such as ChnLove.com, IDateAsia.com, and LatamDate.com. Knowing this, we set out to carefully read the terms and conditions of use that everyone agrees to when signing up on this site.
1) Ladies Are Members Of Agencies
These are local agencies set in Russia and Ukraine where women can go to become members and have their profiles created. There, they provide their photographs, personal details and descriptions so the agencies can create their profiles on CharmDate.com. These agencies don't only help Russian and Ukrainian women create their profiles, but also provide translation services and basically the whole communication. The thing that we find suspicious here is that such gorgeous and beautiful women would need such services and that they would go to an agency to hand over their photographs and all information about themselves just to find a man.
ABOUT US SCAM: "CharmDate works with trustworthy and reputable local dating agencies in Russia and Ukraine. Agencies are legally and economically independent from CharmDate, but their professionalism and enthusiasm in providing services to our members is not sacrificed. The agencies carry out special roles, including providing professional translation services and relationship consultations."
2) Ladies Are Compensated For Their Work
We went online to see what other users, past and present, of CharmDate.com had to say about this dating site. And, one particular testimony stayed in our memory. They provided a link from a site written in Russian and translated the text in English. Here is what it said about the process for creating women's profiles and signing up on CharmDate.com.
Q: What guarantees the payment of money?
A: Women get exactly 50% of the amount that a man spends on communication with her. In a month a woman may be paid any amount: if you earn $20 a month – you will be paid $20, if you earn $1000 – you will be paid 1,000. It all depends on the willingness to work. Payment date – after the first month of operation, without delay.
Q: What is the timetable? Is there a minimum yield for a girl?
A: Schedules are free, without any restrictions.
Q: Can you describe the pricing details for the girls.
A: For the site http://www.charmingdate.com:
For every incoming and outgoing email (whether the man reads it) – $0.75
A 5-minute chat with one man – $0.5 (minimum time for chat with men – 5 min)
5 min chat-enabled web Cameo – $ 1 (minimum time for chat with men – 5 min)
The first presentation video download – $10
Each subsequent viewing by a man – $1.5
Q: What you need to correspond about with men?
A: Communicate about everything possible (the weather, politics, fashion …). The main thing is – to interest a man communication. Erotic, intimate topics prohibited by the site for violating the ban and a girl (or a man) who initiates such topics is removed from the system.
Q: What do we want from all of this?
A: If the girl is paid 50% of the correspondence, we take the remaining 50%.
The verdict on CharmDate.com
Just to send and read replies on CharmDate.com will cost you 0.75 cents per email message. Chat costs 0.60 cents per minute just to keep you active in the chat. Phone calls cost a lot more. You should be careful when signing up to use this site, since it serves as a tool for women, agencies and the website itself to make money off of you by falsely promising you that you will be able to genuinely meet and date a Russian or Ukrainian woman. If you are not carful you may end up with a maxed out credit card or with thousands of dollars debts just because of using CharmDate.com.
CharmDate.com Scam Questions
Now, we welcome you to post your inquiries in the comments section below and we will try to provide a personal and prompt answer. Also, feel free to share any personal experiences with using CharmDate.com, since your story may help prevent other from falling into the hands of this scamming site.
CharmDate.com Contact Info
Address: Unit 1317-1318, 13/F, Delta House, 3 On Yiu Street, Shatin Hong Kong
Email Contact: charmingdateqpid@gmail.com
Phone Number: N/A
Report and File a Complaint
Contact the Better Business Bureau and file a complaint if you feel that you have been scammed or ripped off.
Other Dating Sites That Actually Work
Don't waste a single penny on this site. I strongly sugges that you attempt to join one of the sites that I've listed below. I personally use all of those daily that are listed in the top 3 spots. Give one a shot for gosh sakes! You've got nothing to lose I promise!