Every time I see the word "Fling" in a dating site name, I automatically jump at the opportunity to try and test the waters. Reason being, one of the best sites I use every day contains that term. In fact, it's this one right here. The site I came across is called "My Secret Fling" and it's supposedly a sex hook up network. My guess is that it's the type that allows you to connect with people looking for a quick fling and nothing more. That's exactly why I jumped at the opportunity to join.
However, what you think isn't always what it seems. I can't tell you how many sites I have tried out knowing that the name is awesome, only to be completely disappointed to the fullest extent of the meaning. I'm not saying that's what happened when using MySecretFling.com, but what I am saying is that you'd be a fool not to take into consideration everything I'm about to share with you today.
Before I get started, I'll give you a quick rundown of all the site features and everything that they claim to offer in terms of things that help you get laid.
Profile – Yes, they give you a profile where you can add as little or as much info about yourself as you'd like.
Flirt Section – There is a section where you can see who has sent "flirts" to you. My guess is that these users are looking to hookup with you.
Favorites Section – You can add people to your fav list which allows you to easily access their profiles when you're logged into the site.
Settings Section – You can update your setting and change emails etc on this part of the site.
Message Center – This is where all messages from other members can be read. You'll need to upgrade to do this, fyi.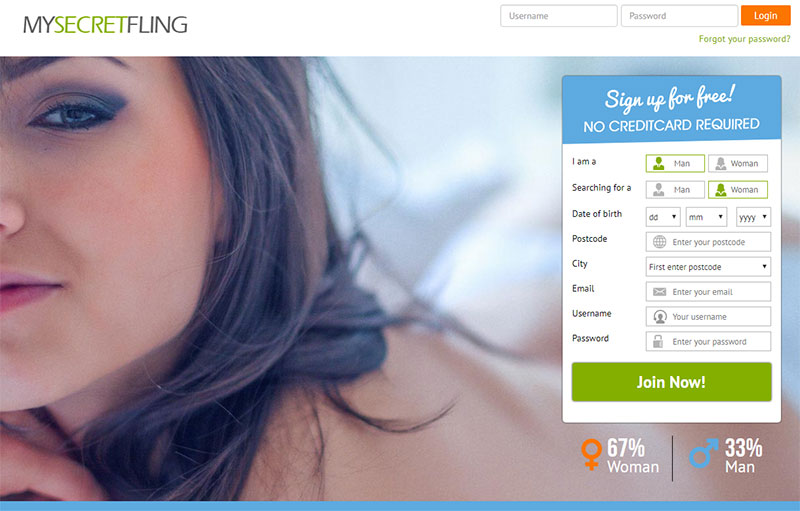 My Review of My Secret Fling Website
I'll start by giving you a quick overview of the site and everything I learned at first glance as well as after using it for about two weeks.
The first thing I noticed was that the site had been connected with a number of other dating sites that I've tried in the past. Some of the other sites do things that I'm not to fond of such as fake messaging, auto flirting, and even completely fake profiles in general.
Don't stop reading, it gets even worse. Here's everything I'll cover over the next few minutes about My Secret Fling.
No Profile Effort
Fake Emails
Fake Flirts
Fake Profiles
Repurposed Images
Horrible Terms
No Guarantees
My Profile Was So Bare Bones
The first thing you'll want to know is that I put absolutely zero effort into creating my profile on this site. I did this for the mere fact that it allows me to uncover various tactics that scummy sites have in place. What I did was fill out the minimum and shockingly enough, I had people that were contacting me and messaging me even without a profile photo. It's incredible that someone would want to do that given everything that they knew about me or barely know, right!?!?!
Lots of Fake Emails
The first thing that I noticed when joining the site was that fake emails started flooding my internal message inbox. In my personal opinion, I feel like My Secret Fling sends out fake emails to user in order to get them to upgrade their membership. The kicker here is that they do not let you read them until you've completed the upgrading process. It's absolutely insane to think that they even do this, but they do. There's no secret about that, I can tell you that much.
Fake Flirting From Members
I noticed that a lot of members were flirting with me but none of it made much sense. That's when I ended up reading into it and sure enough I was able to determine that the flirting was coming from fake users. How do I know they were fake? Simple, I didn't do anything at all to make them want to reach out to me. I mean, I hadn't even uploaded a profile photo. Totally absurd that they'd do this.
Fake Profiles For Sure
All this talk about fake flirting and messaging, it should not come as a shocker that there are fake profiles on the My Secret Fling website. How do I know this? Well, a simple reverse image search tells me just that. It's a method that they use to make the members area look larger and more abundant than it actually is.
The Repurposing Of Images
I can tell you without a doubt that the Mysecretfling.com site likely uses images that can be found around the Internet. How do I know this? Well, first off, I'm the dating cop and I know everything about this stuff. Secondly, there is software that I can use to uncover this type of thing.
The Terms Are Horrible
If you take the time to read the terms of this website, you'll soon realize that they can do everything and anythign that they want due to you agreeing when you signed up. All the fake messaging and self-created profile talk is all mentioned in the terms. Read them before you take action.
No Guarantees To Hook Up
Some sites offer a guanrantee but not this one. If you think they'll guarantee that you get laid then you are out of your mind. Furthermore, I don't like using sites that don't guarantee anything in terms of sexual encounters. Therefore, I'm not touching or recommending this site to anyone!
Contact Info
If you want to connect with mysecretfling.com, then all you need to do is email them at support@mysecretfling.com and ask them to cancel your subscription as well as delete your account completely.
Conclusion: My Secret Fling Is Horrible
The proof is in the pudding, the My Secret Fling is not the site I thought it was. I'll never advise any individual to join this site so long as I live. It's filled with fake profiles, messages, and so much more that boils my blood just thinking about it.
If you want to check out a real fling site that works then you need to try Fling.com. – Click here for more info on it.