In this article we will review UnfaithfulSociety.com and we hope our findings prevent other site users from getting scammed and ripped off. We invite you to continue reading as we uncover the conning tactics and tools UnfaithfulSociety.com in running its online dating scam.
Why does a free dating site need your credit card info?
UnfaithfulSociety.com only says you can sign up for free. But turns out that scams begin even in the sign up and registration process. In order to access the site we were asked to provide them with our credit card information in order to confirm that we are over 18 years of age. What they don't let you know is that UnfaithfulSociety.com starts charging $34.99 for every month you stay subscribed on the site. Moreover, they will continue charging monthly fees without notifying you until you notice it yourself and cancel the subscription. On top of that expense, they will charge you:
$1.90 to buy a 3 day trial period on the site
$49.90 to but 1 month of membership on the site (until canceled)
$69.90 to buy 3 months of membership on the site (until canceled)
What are you paying for?
1) You are Paying to Meet Fabricated Female Site Members
The female dating profiles on UnfaithfulSociety.com are fabricated and these women are not real members of the website. They are marketing tools, also called "HunnyBuddies", used to lure you into thinking you can really meet people on the site. All of these gorgeous and beautiful ladies seem to be ready to connect with you and have fun. However, this is all a lie. Everything from their pictures to their personal interests and information is made up. UnfaithfulSociety.com works really hard to make these fake profiles look as real as possible. Sometimes, it would be hard to distinguish them from real women, unless they were labeled with the "HunnyBuddy" logo.

EVIDENCE FROM THE TERMS OF USE: "You understand, acknowledge, and agree that some of the user profiles posted on this site may be fictitious, and are associated with our "HunnyBuddy" service. Nothing contained in any HunnyBuddy service profile is intended to describe or resemble any real person – living or dead. Any similarity between HunnyBuddy user profile descriptions and any person is purely coincidental. Please also note that a single HunnyBuddy may be associated with more than one (1) profile on our Site."
2) You are Paying to Communicate With Site's Employees
Later in our investigation we found out that there were some real people on the site. But, as UnfaithfulSociety.com confesses in the General Terms of Use document, they are employees of the site, which are hired and paid to communicate with YOU (real site users) and deceive you into believing this site is real. Once again, you use the HunnyBuddy profiles to interact with you and lure you into paying a monthly membership fee for as long as possible.
EVIDENCE FROM THE TERMS OF USE: "Initial messages from our HunnyBuddy service may be automatically generated with no human involvement, and, messages and/or correspondence thereafter may be generated by third-parties hired or contracted by Us."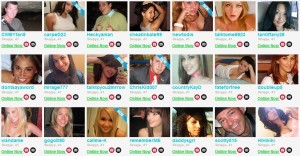 3) You are Paying to Receive Automated Messages
Any emails or instant messages that you receive from women on UnfaithfulSociety.com are 100% fake and are actually automatically generated email messages that have no human involvement. You will start getting emails and chat messages almost instantaneously after creating your "free" profile on the site. Basically, you give your hard earned money to communicate and chat with their computer software.
EVIDENCE FROM THE TERMS OF USE: "You understand, acknowledge, and agree that, from time-to-time, HunnyBuddy profiles may contact both free users and paid users via computer-generated Instant Messages or emails for purposes of encouraging further or broader participation in our site's services and/or to monitor user activity."
UnfaithfulSociety.com is not a legitimate dating site
We can safely say that this site is not a dating service, simply because its purpose is to scam you and get your money and NOT to help you meet someone online. Once again, they admit to committing this fraud and we encourage you not to trust anything or anyone on this site.
EVIDENCE FROM THE TERMS OF USE:  "You understand, acknowledge, and agree that no physical meeting will ever take place between you and the individuals providing our HunnyBuddy service, and that the exchange of messages between you and the HunnyBuddy profile is for entertainment purposes."
The verdict on UnfaithfulSociety.com
All the fake "HunnyBuddy" profiles are created to scam you and rip you off. Be careful around dating sites like this one and make sure you always read the Terms and Conditions of use page. UnfaithfulSociety.com claims their site uses "HunnyBuddy" profiles for entertainment purposes, but we cannot see how such a scam can be funny or entertaining to anyone.
UnfaithfulSociety.com Contact Info
Email Address: unfaithfulsociety.com
Phone Numbers: 1-844-836-6742; 866-592-6678
Skype: 0843-00389
Report UnfaithfulSociety.com
Contact the Better Business Bureau and file a complaint if you feel that you have been scammed or ripped off.