I hate to be the bearer of bad news, but sometimes I just need to call out bad dating sites. This time it was a must and for so many reasons. The site I'm referring to is called NSAFinder and it's one that I just hate to see even in existence.
I'm not going to beat around the bush here at all. Instead, I'm shooting straight from the hip with everything that you need to know about this dating site. I'll tell you right now that it's nothing like the sites that I recommend joining.
This one is HORRIBLE!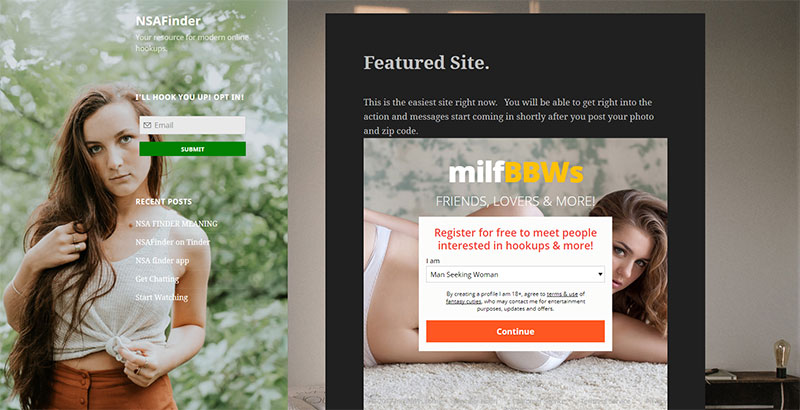 Why NSAFinder Is A Waste Of Time
If you take a close look at the homepage, you'll notice that it's got this amateur look and feel. That's because they want you to think that NSAfinder.com is an amateur dating site. Trust me, it's not anything close to that.
You'll see that they have some "Featured Site" that they showcase and they do a good job of roping you in with the MILFBBWs text. However, what you need to understand is that there are no milfs or bbws on this site at all. Instead, it's simply a marketing ploy to get you to register for a shady dating service.
Take a close look at the underlined text on the homepage and you'll see that the site they're recommending incorporates fantasy cuties into the site (as does this site here). If you're not familiar with what that is, it's a type of fake user profile used to lure people in and get them to upgrade. They are upfront about the fantasy cuties contacting users for entertainment purposes, offers and other types of things. My advice would be to avoid going through the process of registering.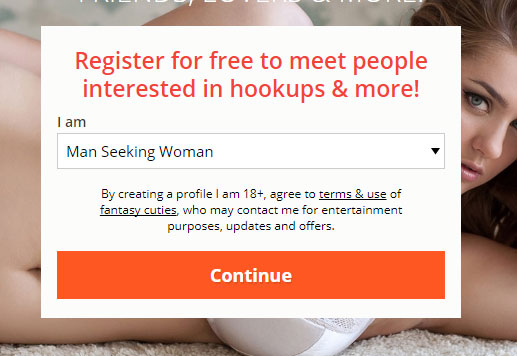 If you take a closer look at the site, you'll notice that they have some really short blog posts which have been published on the site. Things such as the meaning of NSAFinder, finding people using Tinder, using the NSAFinder app and more.
Oh, one other thing you'll notice is that there is a girl on the sidebar in the photo on the homepage. Don't let that girl fool you. I'm almost positive that she does NOT use the site they're promoting. In fact, it's nothing more than a stock image.
Now, I know I didn't have much to share with you about this but that's all I got for you. There isn't much more to be said about this horrible dating tactic. NSAFinder.com sucks big time and you'll want to avoid it at all costs.
Oh, don't even get me started on the collecting of emails that the site slyly manages to do. Basically, they collect your email address and end up spamming you with every single dating offer under the sun. They want you to take on one or two of them and they get paid. Simple as that really and one of the many reasons that you need to be careful who you share your email info with. If you're looking to be taken for a ride and to simply waste all your money, then sign up.

What Actually Works?
Sick and tired of using sites that absolutely do not work? Then you're not alone. I've summarized the best of the best for you on this page here. Stop wasting your (already limited) time and join a dating network that will get you laid guaranteed!