I've been known to go above and beyond when it comes to investigating dating sites. That's basically the only way that I can approach any dating site. it is because I have made a promise to help society and the dating community not get scammed. That's why you'll find so many scams listed on Datingcop.com. One of the most recent scams that I've uncovered is known as NSATonight.
Most individuals out there wouldn't even notice the issues with this site that I was able to uncover. That's not their fault at all. I've had far more experience using these sites and that's the main reason why I was able to discover this scam. I'll get right into things and specifically identify the issues I see with NSATonight.com. Thee are many so you'll want to set aside 5 to 10 minutes to read this review.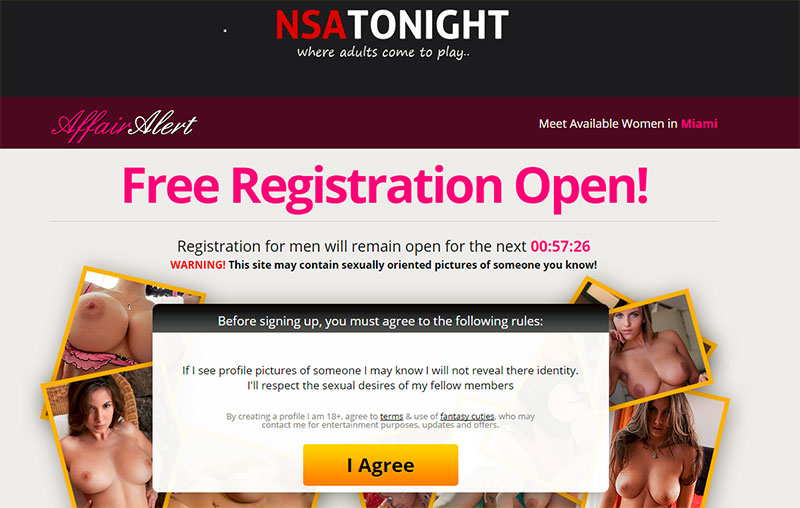 NSATonight Website Investigation (My Personal Review)
When you first land on this homepage, you'll notice that the site displays a nice big logo smack dab in the middle of the page. It's the NSA Tonight logo that you'll see and a tagline that reads, "Where adults come to play." You're probably wondering what the heck NSA even means. If you're not familiar with the acronym, it stands for "no strings attached" and it's terminology commonly used today. In other words, it's targeting people that have the urge to just have sex without having to deal with any commitment issues.
Anyway, back to the review…
If you take a closer look at the site, you'll notice that another site logo exists called "Affair Alert." This is an affair dating site which has been known to rip people off in a way. Well, they don't literally steal money from users, but they do charge you to communicate with fake users. I'll get into the details of all that below, just keep reading.
But first:
Allow me to point out a few topics I'd like to cover in this review today:
Countdown Clock
Fantasy Cuties
Framed In Website
Free Registration
Fake Timer/Countdown Clock
The NSATonight website displays a countdown timer clock. This clock is not real. In fact, it's simply a fake countdown timer that the site uses to try and entice you to register right then and there. Once you refresh the page, the time restarts. This type of thing would never happen on a real dating site. The timer should never reset itself. If it does, it completely voids the point of having a timer, to begin with.
The Fake Users Are In Your Face
If you take a close look at the terms right above that big registration button, you'll notice the word "fantasy cuties" which is something that you without a doubt want to avoid. These are fake users that NSA Tonight and Affair Alert incorporate to keep you entertained. Why do they do this? Well, because like I said, it makes the website look more abundant.
These fantasy cuties will end up sending you messages to get you to upgrade. I'm telling you right now, you need to forget about messaging them back or communicating with them in general. It is the biggest waste of time ever. They'll also send you instant messages and inbox chats. Don't waste your time.
It's All An iFrame
The NSAtonight.com website literally has an iframe in place with overlays the site. They do this so they can connect Affairalert.com to the site. It's a way to get surfers to think they're using the nsa site but they are really just viewing the Affair Alert website.
One other thing I want to mention about the iframe is that there are photos of women displayed. These photos are all of the women without tops on. Do you really think these women upload photos of themselves on the site? Heck no, these are all photos of the fantasy cuties and most likely photos they paid for.
Free Registration Scam
The site incorporates a free registration scam which is simply a ploy to get you into the site. Once registered, there's nothing that you can do aside from looking at fake users pics. Even doing that is very limited to a certain extent. In fact, you can't do anything without upgrading your membership. So what they do is "rope you in" to register for free then they bombard you with one of the many pre-made fake messages they created.
Conclusion: NSATonight Is Fake And Ineffective
The website NSATonight is the is a completely fake dating site. There is no real site attached to this. It's simply a sneaky way of getting you to join AffairAlert.com. Knowing what I do about that affair site, I cannot suggest joining it. Your best bet would be to avoid this site and any site associated with it completely. If you want to join a site that actually works, then I suggest you read this page.