There are sites acronyms that are born as time progresses. OnlyDTF.com was created around one of those acronyms. DTF stands for "down to fuck" and it became popular back in the day with Jersey Shore was on MTV. Fast forward to 2016 and we've got this so-called dating site that was born. I took some time to investigate the OnlyDTF dating site and I'm now exposing them for good. Everything you need to know is written in this review. I'll start by sharing a few main things I don't like about the site.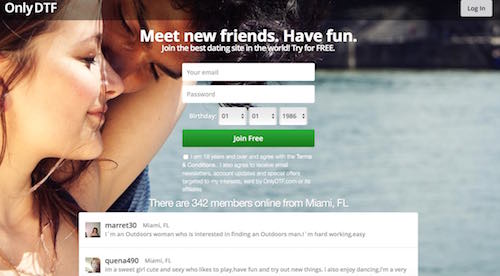 Overview of OnlyDTF.com And What Makes It Fake
First off, I want to start by saying that the company that operates this website also runs a few sites that are known for shady practices. They run XDating, GonnaBang, and XMeeting. The OnlyDTF site and the three others mentioned all operate in the same untrustworthy manner. As far as I'm concerned, they aren't even useful enough to be called legit dating sites. All it took was just a little bit of work and strong analysis to uncover what's going on here. So, without further delay, here are the main points you need to fully understand when it comes to this site.
Fake "Fantasy" Profiles
This site does exactly what you don't want them to do. They create fake profiles. That's right, they literally have profiles of phony women on the site that cannot and will not ever meet up with you. The company pays a staff to create user profiles in order to flood their membership are with fake users.
Now, it makes literally no sense for any using a dating site to want to see this type of thing. No real Internet dating company would do such a thing. OnlyDTF.com does have standard features that allow you to communicate, search and navigate but who cares. The fact that a site functions nicely doesn't mean shit if the users plastered all over the site don't even exist.
Real female members are more crucial to a dating site than any other technical feature that exists. As the staff posts "fictitious profiles" the real users begin to think that more people are living in their area to connect for sex. That's not the case though. Instead, you're stuck messaging some fake profile for days on end without ever connecting for sex. To that I say a big FUCK THAT!
If your interested in learning more about these fake or fantasy profiles, then I suggest you check out section 6 of the terms and conditions page. This is where the site admits to everything "fake" that they do. They legit tell you that they send automated messages generated by code, that they create "Online Flirt" profiles to enhance your experience and they also mention how false these profiles are and things that the people they hire are saying to others.
Content For Virtual Profiles
After digging deeper into the profiles on the OnlyDTF site, I was able to determine that the "Online Flirt" profiles were created by grabbing other content on other sites and using it. They take this content, add it to the site and make it seem like they are real users. This is completely unacceptable as far as I'm concerned.
A simple investigation was done with a reverse image technology. They investigation concluded that some images that are being used on the profiles are also being posted on other sites on the Internet. They do this to get you to pay for a membership.
Automated Messages
The site also uses auto messaging to communicate with their users. They want you to think that they are real members but they most definitely are not real. In fact, in section 6 of the terms and conditions, they state clearly that they are doing this and that the users don't really exist.
Employees and Staff
There are employees and staff members that interact with you in a an effort to get you to upgrade your membership. It's very deceiving as far as I'm concerned. No one wants to chat with a staff or paid employee. Fuck that shit!
Company Information
If you want to contact the company, then I suggest you take a look below and you'll find everything you need.
Addresses: 19C Troley SQ, Wilmington DE 19806, US.
Email: support@onlydtf.com or legal@dginternational.com
Final Verdict
Nobody has time for bullshit games that OnlyDTF plays. The amount of time spent on this site by paying members is likely triple the amount of time necessary to actually get laid on real hookup sites. There's nothing more frustrating then trying to meet someone that's down to fuck and not ever connecting with anything because they don't exist.
The solution is rather simple, all you need to do is join a hookup dating site that works. You can easily find real girls if you use the right website to connect with girls.