Okay, I'm a huge fan of hooking up with milfs. In fact, I can't think of anything else I rather do than bend a hot and horny milf over. After crossing paths with FreeSnapMilfs.com, I'm a bit disgusted with what I've learned. I'll go into as mush detail possible here but before I do, I want you to know how important it is that you read my review on the Free Snap Milfs dating site before you decide to register as a user. I'll waste no time here are get right down to brass tacks…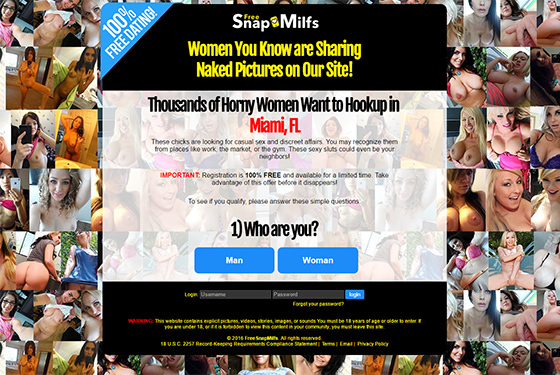 My Full Investigation Of FreeSnapMilfs.com and Everything I Learned
I'll start with a breakdown of everything that FreeSnapMilfs offers their members. Don't let the hype fool you, though. It's nothing special. The site offers users the ability to update their profile page with pretty standard stuff. You know, the bio summary, uploading pictures, and all that basic shit. They also have a notifications feature that notifies you when people are trying to communicate with you on the site. Anytime you get a message, email or even if someone checks out your profile, you will be alerted. This gets old really quickly given the fake users and bots contacting you all day long.
They've got an "online now" feature as well as some "half ass" webcam videos that people have posted. Not great content in my opinion. They also have a simple search which definitely doesn't separate them from the rest of the pack.
As far as price is concerned, be ready to pay and I'm not referring to the typical subscription price. They tack on some additional charges that will make your head spin.
What I Discovered In A Nut Shell…
First and foremost, this website is not a legit hookup website. It's actually just a site that seems to be okay with practicing shady tactics and false promises. That statement is not one that I've just pulled out of thin air either. It's after deeply researching things and coming up with a specific set of criteria that I feel makes them like scamsters. This is the part where I should mention that they have a bunch of other sites they operate as well. For example, you're going to want to proceed with caution with SwipeFlirts.com, EasySnapSex.com, MeetBangNow.com and others. They've got plenty of others but that's just to name a few for you to look into.
Shady Billing Tactics
When you pay for a FreeSnapMilfs.com membership, rest assured that you will be charged an addition $70.00 from the get go. This is due to the fact that the site immediately makes you a member of two porn sites. The charges seem low initially with a simple charge less than $2.00, then the rebills kick in for close to $70.00 total. You likely don't give a fuck about these sites as you're looking to bang milfs, not jerk off to porn. Be aware that this is what happens when you join.
Fake Messaging And Communication From "Love Stars"
I need to you understand one very important thing about this so-called Internet dating site. All the profiles on the site are not 100% real. This company hires girls known as "love stars" which are nothing more than employees sitting at a desk creating dating profiles. They create fake profiles and communicate with members acting as if they are real girls looking to get laid.
Truth to the matter is that they are not looking for anything other than to keep you paying. Now, the site does legally cover their ass here by letting you know that the "Love Stars" are paid to communicate with you. They even go as far as specifically stating whether or not a profile is one of a love star. Frankly, I don't give a shit whether or not they tell you in the profile or in their terms and conditions. It's nothing but a bunch of fabricated dating profiles that aren't going to help you get laid.
I'm not going to repeat exactly what's stated in the terms. Instead, I'll break things down for you to make it easier. This site is definitely not a real dating site. The terms state that fictitious profiles are created by employees to help improve your experience as a member. You're never going to have sex with these girls. Also, the company admits that they send messages in order to entice you to upgrade your membership.
The Verdict
This site is absolutely horrible. It's not going to get you laid. In fact, you've got a better chance going to a bar than finding someone to fuck on this site. I would never recommend joining a site that hires love stars to communicate with users. The number of notifications is mind boggling and a pain in the ass given they are all fake users. Steer clear from FreeSnapMilfs.com. Instead, I suggest you join one of the best dating sites that I've ever used in my entire life! There are plenty of horny milfs on the sites looking for dick right now.
Contact Info
Phone:
1-866-568-7284
Address:
Nautell Capital Ltd
12-14 Kennedy Avenue
1st Floor, office 107
P.C. 1087
Nicosia, Cyprus
Email:
cs@freesnapmilfs.com
If you want to meet real milfs then I strongly suggest that you use this site instead. It's way better than FreeSnapMilfs.com because you can actually get laid using it!