I've been craving older women lately. Lots of older women and I've been digging into the sites that are out there featuring women over 40 years of age. That's not to say that I am shying away from my typical college flings, not a chance. Instead of going for the typical site, I went for Over40only. Granted, I'm not over 40 but I didn't care at all. Instead, I'm going for these women aged women instead. Before I get into the good, bad, and ugly of it all, I'm going to tell you a few things about this site.
Over40Only.com Overview and Personal Investigation
Let me start by going over some of the features of this site. A few things that you'll be able to do if you join this site are:
See Who's Online
Check Out Other Members
Create A Buddy List
Watch Live Cams
Chat Live With Users
Watch Amateur Sex Clips
Those are all the main features of the site, but before you start gawking over each of them, I should tell you a few things about it that I was able to discover pretty quickly. Brace yourself, some of the things are not fantastic and you will not like what I'm about to share with you (maybe you won't). Regardless, you need to pay close attention before joining this site. That means you must read this review in full, please. Topics I'll be covering are…
Cost To Join
Using Online Cupids
Messages
Images
Terms
Contact Info
Without wasting any more of your precious time, I'll dive right into things getting the money aspect out of the way…
What's The Cost?
As far as money is concerned, this is going to cost you anywhere between $1.95 and $69.00, depending on the subscription length that you plan on purchasing. The most common subscription costs $29.95 and it's for a 30-day run. Don't whip your wallet out just yet, though. Doing so will be a really bad idea, trust me on that one!
Online Cupids
When you join Over40Only.com, you will without knowing agree to the site's terms and conditions. What the site doesn't tell you is that they have "Online Cupids" which are essentially fake user profiles. The site operates these profiles by creating fake usernames and filling out profiles featuring random women that don't really exist.
Messages
Oh, it gets much better, you can get a ton of messages from these online cupids. Once you create your user account, you will then have access to chat with users. The only problem is that you will begin receiving messages from women in a matter of minutes. However, the messages are not sent from real users but instead, they're completely fake. Those online cupids send automated messages to you and other scammed users. This is all part of their horrible marketing campaign.
Images On Site
If you take a minute to look at the images on the site, you'll notice that they don't seem unique at all. In fact, I ran a couple of them through a reverse image finder and determined that many of them are posted on other websites on the Internet. For example, you will notice that this one girl is on many other sites such as cheaters.net and erica-lightspeed.crocogirls.com. Check out the screenshot that I've provided below.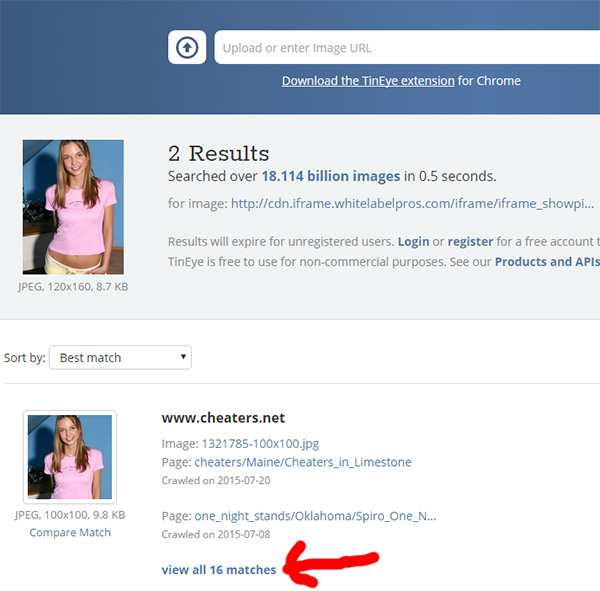 Terms And Conditions
I'm not a fan of being scammed into accepting terms and conditions with unnecessary legal jargon. It's just not what I'm into doing and I'm sure you're not into it either. Do yourself a favor and read the terms from top to bottom and you'll want to leave the site immediately.
Contact Information
Looking to cancel your membership or maybe just yell at the company for having such bad policies and terms? Great, then check this out…
Address: Dositheou, 42\nStrovolos, P.C. 2028, Nicosia, Cyprus
Phone: 1-888-649-9178
Email: support@over40only.com
Conclusion
The only thing I can say about this site is that you'll likely never meet a real older woman if you join. Chances are that majority of the profiles are completely fake. If you want to meet older women that want to bang, then might I suggest using Milfplay instead. Whatever you do, I highly suggest you not waste your money on this website! In my personal opinion, Over40Only.com is a huge waste of money.
Now, should you decide to use a more generic adult dating website, then might I suggest checking out any of these scam free sites that I've listed here.