If you've seen Bangder, then you're likely one of the many that have come across this site. They advertise on many different websites using banners with explicit graphics in them. Basically, what they're doing is paying sites for their traffic and ad space. Now, I'm not against doing any of that to be honest, but what I am against is the redirecting efforts that they had in place. I'll tell you everything that this site is doing.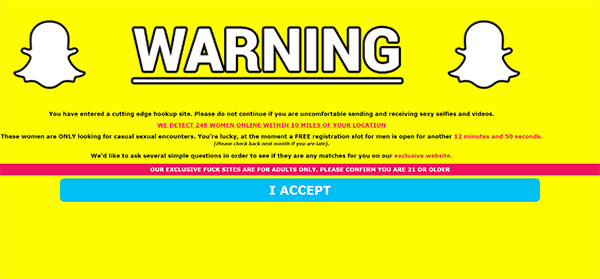 What Is Bangder All About?
First off, Bangder.com is all about sending traffic to other dating sites. The site itself is not a genuine dating website. It's simply a landing page that takes you to a number of other dating site options for you to join. As of now, the site currently takes you to Swipefuck.com, which is a site that I most certainly do not recommend. Here is a run down of everything that Bangder does wrong that I simply do not agree with and why you should think about avoiding it completely…
Reasons To Avoid Bangder
The main reason you need to avoid Bangder is because they are what many would perceive as being a dating scam. Full disclosure, the sites I use are completely scam-free. Given the fact that they send you to Swipefuck.com (which in it of itself is fake), that gives me every reason to believe that this site is fake as well. If the individuals that own Bangder wanted to not scam you, then they would create their own dating site and allow you to join it. Instead, they're trying to persuade you to stick around long enough to develop an interested in hooking up. That's when they ship you off to somewhere else!
SwipeFuck.com Members
The real issue here is with Swipefuck.com and their ridiculous Love Stars. That's the main reason why I can't endorse this site, period. It's because Swipefuck uses terrible fake users and they mix them in with regular users. That's just the tip of the iceberg, though. See, what they do is send you fake messages via bots and even request you via webcam. My guess is that this all takes place simply to get you to join the site. It's all a bunch of bullshit if you ask me really.
Garbage Terms and Conditions
Once you get past all the B.S., you'll quickly realize that the terms and conditions lay everything out for you. Swipefuck.com isn't stupid. They know legally if they cover their ass within the terms, then they are good to go. People don't understand the basic concept of TOCs and what they're agreeing to. This is why there are so many people not getting refunds when they join I bet.
Long story short, what you're agreeing to is the sites ability to upload fake user profiles for your entertainment, messaging you as love stars, and you're agreeing that it's okay that none of these love stars will ever meet you in person. Trust me, they will not want to bang you.
Verdict: Avoid Bangder.com Completely
The verdict here is black and white, Bangder pretty much is good for nothing. You'll accomplish absolutely nothing using this site. Do not even attempt to visit the site or you will be sorry.
If you want to meet and bang someone, then do it by joining one of the sites listed below. You can't go wrong any of those show…