Although I'm not the biggest fan of using Instagram for dating, I will admit that I'm an avid user for one reason, to connect with pornstars. There are some absolutely incredible pornstars using Instagram in order to post safe for work content and share their daily life experiences. I'm not one to boast or brag, but I've done plenty of research on this topic over the years.
Having spent about 120 hours doing nothing but communicate with adult film stars, I know which are the most responsive and active on Instagram. Which is why I've done my part to share every account that I recommend using.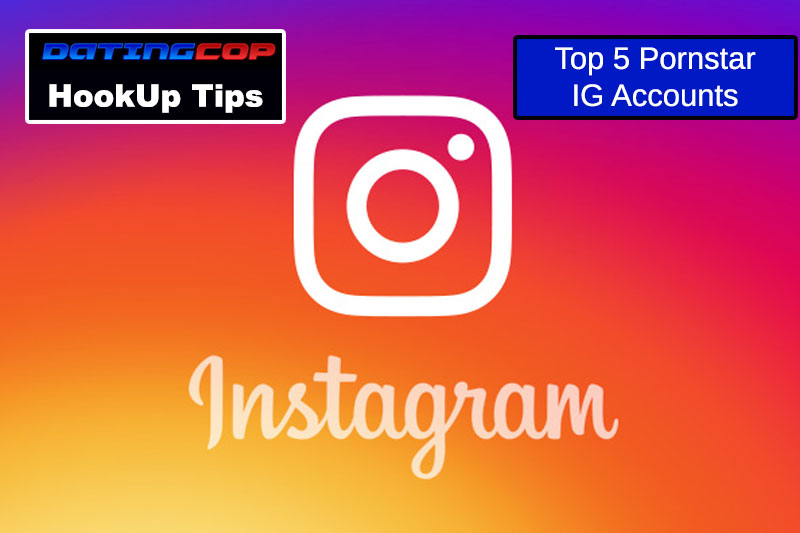 Best Pornstar Instagram Accounts You Must Follow
Before getting started, here's what I suggest doing. You should know that these girls on Instagram will not send naked pics or nude videos to you. They won't go out of there way to do that because it could get their account banned.
Instead, you should think about joining the new and improved version of Instagram that a dating company created. They've made the sending and receiving of pics/streaming acceptable. Check out Dating Cop's full report on this brand right here. Now, time to get to the Pornstar Instagram accounts…
Jesse Jane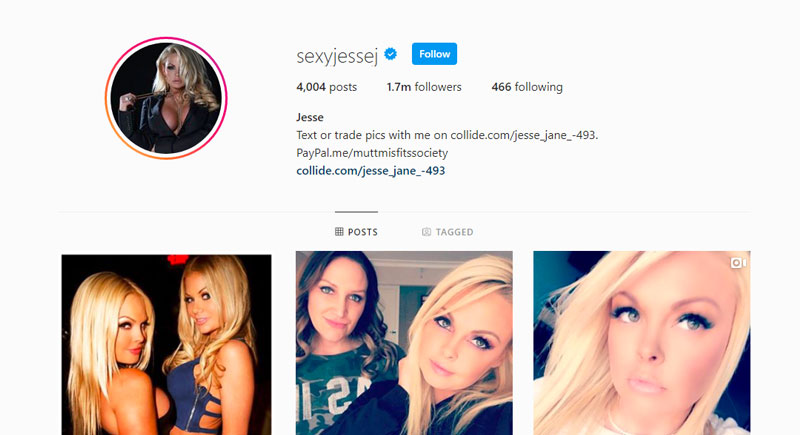 The first Instagram account of these hot pron stars that I suggest following is Jesse Jane's. She's @SexyJesseJ and shows off her hot body in tons of pictures and videos. I love the fact that she puts herself out there shares a bunch of hot scenes from shoots that she's done in the past. As for activity, she's got 4,000 posts and 1.7m followers. Needless to say, the girl is fantastic at what she does.
Tori Black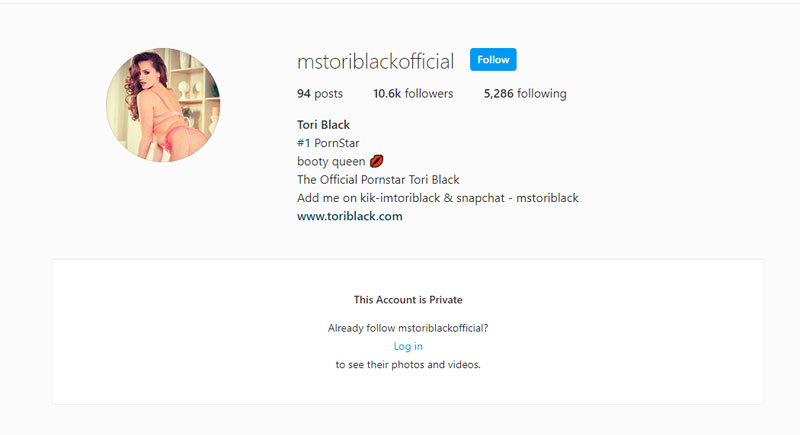 I love me some Tori Black. This is the official Instagram account of Tori and it's quite possibly the most entertaining pornstar account out there on the gram. She's a veteran within the adult industry and literally gains followers by the minute. That's how incredible she is.
If you try and spit negative game at her, then you're getting the ban hammer thrown and blocked immediately. She's been featured in Blacked, Vixen, and Reality Kings. I should also mention that she's a Fleshlight girl. As for followers, she once has close to 2m following her, but the account got banned. You'll have to search Instagram as her account is always getting shut down. You'll find it though if you search.
Misty Stone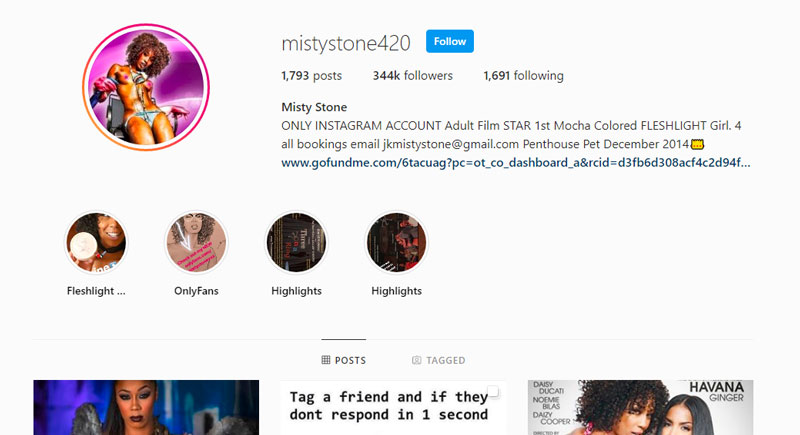 This is another Fleshlight girl and one that I truly adore. She was once a Penthouse Pet and she's a regular performer at the Adult Entertainment Expo in Las Vegas, NV. As for followers, this sexy porn star has 344k people creeping on her every move on IG. With more than 1,700 posts, you'll certainly love what she's got to say and show.
Samantha Saint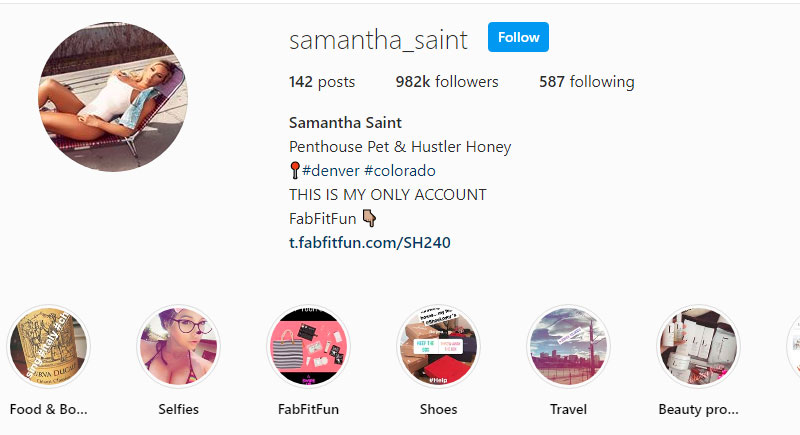 I'm a really big fan of Samantha Saint. She's from Denver, Colorado and is a fit and fabulous pornstar turning heads and making that paper! With 928k followers and less than 200 posts, she's obviously in very high demand. I love the bikini shoots and lingerie shoots that she does. A truly amazing woman that will get your rocks of in a matter of seconds, I promise.
Mia Khalif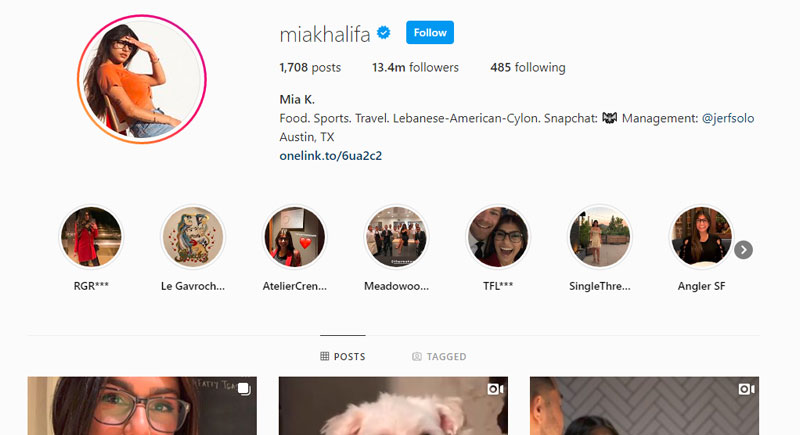 This account is actually run by a retired pornstar, but she's absolutely incredible nevertheless. Mia Khalif basically became famous after taking a ride on the Bang Bus and she's been in great demand ever since. As far as followers go, Mia has 13.4m followers and she's often spotted in Austin, TX. If you live in Austin, then be sure to hit the bar scene on 6th street because she's always bouncing around there.
Well, those are by far the top 5 pornstars using Instagram and as I said, do not ask them to send you nude photos. If you do, they will likely ban you and have your account deleted. Instead, take things over to Instabang and get to banging girls that look like these pornstars instead of simply gawking over their photos.
If that's not enough for you, then start over fresh here.