Sometimes I come across sites that just make me want to puke. This is one of those sites. It's called SuperHookup and there's absolutely nothing super about it. In fact, far as I'm concerned, it's a super scam.
Here's what you need to know about this website and why I suggest dodging it like the plague. I'm not sugar coating anything that has to do with this website and my experience checking the site out. You'll get the raw and uncut review right here, right now.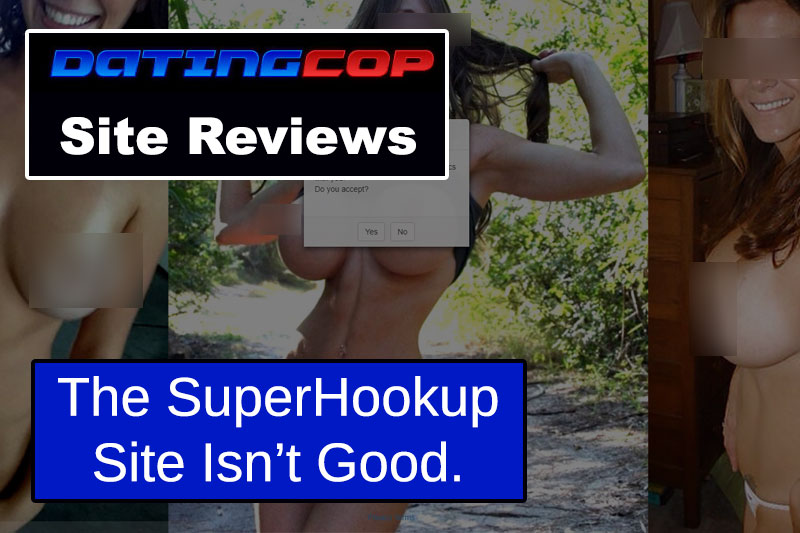 Why Superhookup Is Nothing But A Scam
This is one of those deceitful websites that horny adults flock to because they're so damn horny. They get insanely excited about being able to hook up and then poof, the excitement deflates faster than the footballs that the New England Patriots use to win Super Bowl Championships.
The site is 100% fake. It's literally the fakest dating site I think I've ever stumbled across in my entire life. It's a piss poor approach to taking people's money and running like the wind. Here's what you need to know before you go wasting your money on this service.
The Stupid Questions
The first thing that this site will attempt to do is hit you with a ton of ridiculous questions that mean absolutely nothing at all. The questions to get you to take some basic action and take your mind off of the scam that's about to take place.
They ask foolish questions like if you're willing to have sex with someone nearby. If you're willing to use protection if you respect people's privacy and more. The problem is that they do not capture any of the answers that you leave or provide. It's a common tactic done by those that have very low-quality dating products and straight up scams really.
Banners, Other Sites & More
You'll be sad to learn that the owners of SuperHookup do their best to put as many third-party advertisements in front of your face as possible. Whether it be banner ads, links, submit forms, or whatever, they put them front and center hoping that you'll start clicking like a madman.
If you decide to do so, be ready because they will not be responsible for any damages or costs involved in doing so. What I mean by that is quite simple.
Assume that you click on a link and it leads you to a new dating site or cam site. You sign up and your credit card gets charged thousands of dollars. They don't give a hoot what happens to you or your card. Not a single thing and in fact, they're getting paid for sending you over to the other sites, so don't expect to get your money back from them either.
Fake People All Over
Have you ever seen the movie Avatar? Well, Superhookup and affiliated dating sites all use avatars and fake profiles to entice you to take action. They want you to think that there are more people using this site then there really is and that's about as grimey as it gets. They call these Online Emissaries or computer generated characters or persons. That's the official terminology used here.
Once They Convinced You
Let's assume that you're an idiot and you go through the motions of signing up and taking action. You eventually end up being presented with a dating offer that's a trial period option. This trial is typically for $2.72 for only a short 2-day membership. They do have other options but most people simply take the trial membership to test the waters.
Well, when you forget to cancel that trial you end up being billed hundreds of dollars for as long as possible. Once you're in the member's area, they hit you every which way for an upgrade and messaging with these fake girls.
They Get Paid
One thing I need you to understand about the girls that are actually reaching out to you via chat and messenger here. They are either bots or they are paid to connect with you. So, that being said, they have one objective and it's not to hook up with you but to convert you from a free to a premium member. The girls are paid and the site knows that if they convert just a single user to join for the year, they'll collect $400 from that person. It's worth it for them to hire someone to entice users to pay up.
Conclusion: Superhookup Is Awful, Do Not Join
If you're contemplating on joining the Superhookup website, then I'm going to stop you right there and suggest otherwise. I've never seen more upfront and deliberate dating scam in my entire life. If you want to get laid and you don't want any issues, then give this site a shot.
Otherwise, continue to read the reviews that I write and keep coming back to datingcop.com regularly.