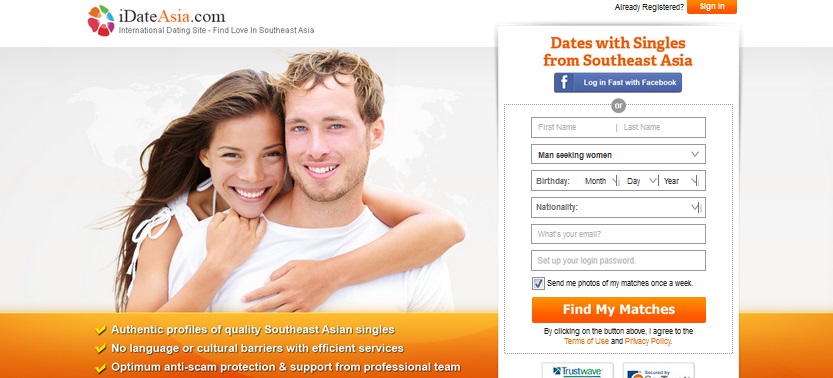 A self-proclaimed most popular international online dating platform, IDateAsia.com promises to allow a safe and easy way for people from different countries to meet and with women from Southeast Asia. But, can IDateAsia.com really provide you with an easy-to-use, legitimate and safe dating experience? We did our research and will explain everything in detail in the following text. So, read carefully and join us for some Q&A in the comments section in the end.
Is iDateAsia.com a legitimate online dating platform?
iDateAsia.com is a sister website with Chnlove.com, CharmDate.com and LatamDate.com, all websites we have previously reviewed and you can find out more about by clicking on each one. This group of websites is owned and run by a company called Qpid Network. Here is what we found about this website through our investigation:
1) On The Authenticity Of Lady Profiles
Women are not responsible for their own dating profiles! Agencies are the ones who provide services and create women's profiles, instead. Women supply their photographs, personal data, descriptions and details, and then these agencies that are somehow contracted with iDateAsia.com display the profiles. The process gets tangled and there are simply not enough questions answered on the website.
EVIDENCE EXCERPT: "iDateAsia.com provides an online communication platform and the profiles listed on the site are submitted by local agencies with whom we cooperate. The authenticity of ladies' profiles are primarily in the control of the agencies."
2) What Are "Agencies" And What Do They Do?
The whole model of doing business on iDateAsia.com is suspicious. Who says that if you are from Southeast Asia you need a translator to communicate? It takes just a little digging to discover that you are basically never in direct contact with the women and all communication with a language barrier goes through the translation agency.
It is all done for money! This site requires you to purchase CREDITS, while they offer minimum quotas for you to be able to contact the girl directly. In the mean time they throw as many girls at you as possible, so you can buy more credits. They even start you out for free so you will have to buy their credits to continue talking to the supposed interested girl. If this was a real dating platform they'd be working on helping you be together with your match! Ripping you off while you buy credits for months, and not allowing private contact outside of the website points towards scam!
EVIDENCE EXCERPT: "Agencies (service providers):iDateAsia works with trustworthy and reputable local dating agencies in Southeast Asia. Agencies are legally and economically independent from iDateAsia, but their professionalism and enthusiasm in providing services to our members is not sacrificed. The agencies carry out special roles, including providing professional translation services and relationship consultations."
3) Disclosure Of Your Information
Be cautious! iDateAsia.com has the legal rights over all information from the moment you post or upload them on the site. Then, they have an exclusive right to do whatever they want with your photographs (distribute them to other dating services, modify them in any way, etc.) and even transfer them across border where they pass under other countries' law system.
EVIDENCE EXCERPT: "Some of the uses and disclosures mentioned in this Policy may involve the transfer of your information to various areas around the world that may have levels of privacy protection different from that of your residence country. By submitting your information via iDateAsia, you consent to such cross-border transfers notwithstanding the restrictions imposed by applicable law / rule / regulation to the contrary."
4) iDateAsia.com Will Cost You Big Time
From $3.99 to $7 per credit, available for the lowest purchase price as 3 credits for $21, iDateAsia.com works to slowly and gradually max out your credit card without really providing genuine matchmaking services. There are also other options, and bigger purchase packages. Here is a complete list of how much credits will cost you on iDateAsia.com:
$21.00 to buy 3 Credits
$30.00 to buy 4 Credits
$52.00 to buy 8 Credits
$96.00 to buy 16 Credits
$179.00 to buy 32 Credits
$299.00 to buy 60 Credits
$399.00 to buy 100 Credits
The verdict on iDateAsia.com
When exploring an online dating site don't be fooled by what the majority of people say online. We had great expectations about iDateAsia.com based on the many positive reviews and great testimonies online. But, they can be easily posted there by marketing agencies who are paid to make a website sound great, when in fact, there are a lot of underlying issues.
All things aside, iDateAsia.com should be a dating platform; however they do nothing else but make the dating process more difficult. There are many other, more secure and more efficient ways to meet gorgeous Asian women online and in real life, as opposed to paying endless amounts of money for credits to speak with a translator, and not really know whether the women you are chatting with really exist.
iDateAsia.com Scam Questions
Got any other questions that were left unanswered? We welcome you to post the in the comments section below and we will try to provide a personal and prompt answer to all legitimate inquiries. Also, feel free to share any personal experiences with using iDateAsia.com, since your story may help prevent other from falling into the hands of this scamming site.
iDateAsia.com Contact Info
Address: P.O. Box No. 74476 Kowloon Central Post Office Hong Kong
Email Contact: Contact Page
Phone Number: N/A
Report and File a Complaint
Contact the Better Business Bureau and file a complaint if you feel that you have been scammed or ripped off.
Now, if I were a betting man I'd say that you'd be kinda pissed off if I didn't share some sites with you that actually work. In the event that you're looking to meet some Asian girl that will actually have some fun with you and without having to spend all that money, then I've got just the thing for you. My advice is quite simple. All you need to do is click the banner below and that's going to lead you to a new page. That new page lists out all the sites that I use and I highly recommend each one of them. Give one site a shot and see how things go…