Sometimes it's difficult to read women. It's hard enough to tell whether or not they are having a great time with you let alone whether or not they want to bang you. There are some very important takeaways that I'm happy to share with you if you're interested in knowing  what they are.
However, one thing you need to know is that these signs can be misleading from time to time. Some women just take you on a wild goose chase. You want to avoid that shit at all costs if you can. Anyway, I really hope that these pointers help you better understand whether or not a girl want some dick in her life, tonight!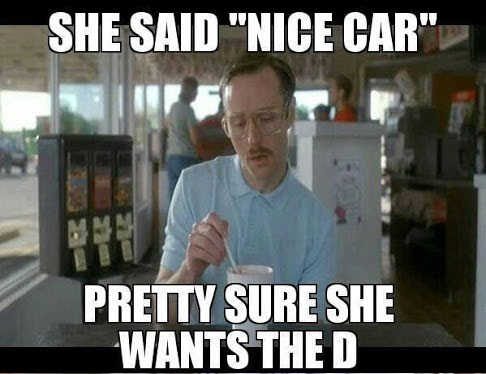 Signals That A Girl Wants To Bang Tonight
Here are some of the most important things to look for if you are trying to determine if a girl wants to fuck. Online dating works and the girls you meet do want sex, you just need to know what to look for to seal the deal.
Her Body Language
Her body will say a lot. Body language might be the most important thing to look for in order to determine if a woman really wants to bang you. If a girl is extremely comfortable around you, then that is a good sign. If she starts touching you, then that is an even better sign! If she lets you touch her body then you're really in for a treat. Most women are very mindful when it comes to giving you access or authority to touch them. If you're not careful, you could find yourself getting slapped for touching her ass. On the contrary, some women may invite that behavior and may want to suck your dick in the restaurant bathroom if you send the right signals. What you need to understand is that if a girl begins to act very serious or nervous then you're not on the right track. In fact, you may be doing it all wrong.
Another thing you need to look out for is whether or not the girl you are with is constantly licking her lips. If she's doing that then there's a good chance that she is attracted to you. That's a form of seduction and it works like a charm. Once a girl starts licking her lips, I encourage you to start touching her body in very intimate places. If she gives you the vibe that she doesn't like it then discontinue.
Laughing
Feed the girl you're on a date with a few stupid jokes. If she laughs and reacts positively to it all then you're in luck and she may dig you. Women love to laugh and have fun. It's her way of showing that she's into you. I've gone on so many dates where the girls just laugh uncontrollably because they are so into the current situation. You want that to happen. Laughing leads to getting lucky in the bedroom. I can almost guarantee that.
Flirting
Girls spend most of their time flirting with guys and they do it just for the fuck of it. However, if a girl that you are with or are seeing on a date starts sharing intimate sex stories with you then it's pretty much safe to say that she wants to fuck you. That holds true even more so if you met this girl using an adult dating site. You need to know what to look for with regards to the level of flirtiness. If you find that the flirting is getting a bit heavy then I strongly suggest that you try and fuck the girl because that's what she ultimately wants.
These three tips should help you identify if she wants to bang tonight. Take them seriously and do as I've stated. You might actually get some pussy.