Meeting a girl online sometimes means that you need to get creative in order to get into her head. That means you need to know what sex questions you need to ask in order to get in her head. I've spent time with so many women that I've first met online and before I even get them on a first date, I pretty much have a great idea of what they are like and who they are. What I do is ask a lot of questions and most of them are the types of questions that make them think. The idea is to understand the type of person the girl is so you know what they like and just how to please them in the event that you get the chance to fuck them. Here are a few sex questions that I typically ask each of the girls that I start conversations with before meeting them in person.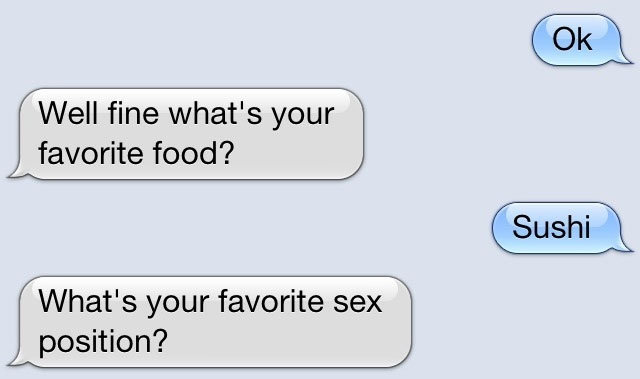 Dirtiest Thing
I want to know what the dirtiest thing is that the girl has done. I love honest women and if she tells me that she's had a gangbang, I'm not going to get mad. In fact, I'm going to be excited because that's the type of girl I'm looking to meet when I use casual dating sites.
Yoga Pants
I always ask if a girl likes to wear yoga pants. Most girls love them and if you say that you don't like them, then I'm a bit skeptical. However, if a girl answers stating that she rather be naked then she gets extra points!
Sensitive Body Parts
I want to know the most sensitive parts of her body. I ask this well in advance of our date because I want to know that part of her body to focus on in the event that I get her into the bedroom. Most women will reply with neck, clitoris and nipples as being the most sensitive parts of their body. I like to know in advance before I get them in the bedroom or simply before I start fucking them.
Sex In Public
I want to know if a girl has had sex in public. Girls that like to bang in public are daring and adventurous. Most adventurous girls are great in bed and if I find out a girl is adventurous then it's going to turn me on and attract me even more. For example, if I'm at a college party, I want to know if I'm going to be able to fuck a girl at the party of if I have to take her home.
50 Shades Of Grey
I always ask if a girl has read 50 Shades of Grey and if so, what she thought about it. I actually don't care whether they've read the book or not. What I'm trying to do is learn whether or not they like rough sex or BDSM stuff in the bedroom. I love hardcore sex with girls I've just met online and this is a perfect round about way to ask a very sexual question to a girl.
There are plenty of other questions that I ask girls but these are the main sex questions that I try and ask during every call, sexting conversation or on-site messaging conversation before meeting for a first date. Try to start asking them and let me know where it leads you!