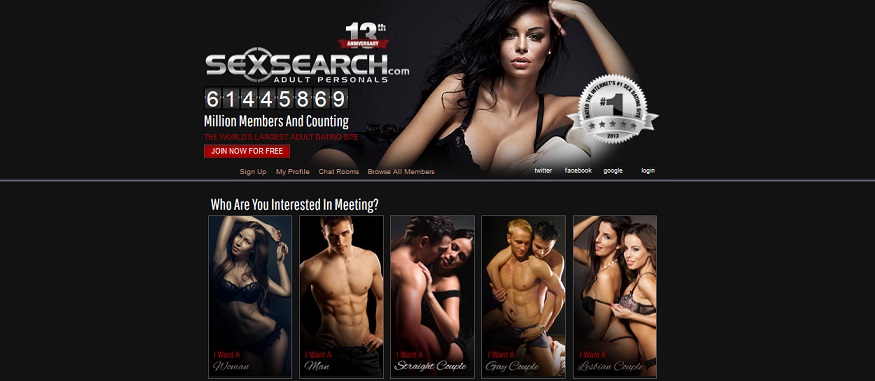 SexSearch.com is a dating site we have previously found out is associated with other scamming sites including, AdultHookups.com, XxxConnect.com, SocialSex.com, FuckBookNet.net, etc. Owned by the same company, this site uses the same scamming fashions to deceive members and rip them off. We invite you to continue reading our review and learn what we found in our investigation on SexSearch.com.
Questions about SexSearch.com in need of answers
Does this site also fabricate the dating profiles of women?
Are you sent automated communications from computer software?
Do you get contacted by employees of the site who pretend to be real members?
Do they scam you in any way when you pay for a subscription upgrade?
Is SexSearch.com a legitimate dating site?
Spotted scams on SexSearch.com
It all started with us creating our profile on the site. It didn't even take a minute before we started receiving email and chat messages from these gorgeous women. Some were saying we look handsome, but we hadn't attached a photo yet and our profile showed no personal information. Too good to be true? Yes, that's we thought too. So, we continued researching and this is what we discovered in the SexSearch.com Terms of Service agreement:
#1 Dating Profiles of Women Are Fabricated
These profiles are completely fraudulent and the people you see are fictitious. You won't be wrong if you think that no single information in these profiles is real. SexSearch.com needs to fabricate profiles to fill up the site with members, simply because there are no real women looking for dates on SexSearch.com. The fake profiles are connected with the "Online Emissary" service, which has its own section in the Terms and Conditions of Use document we found and read thoroughly (look for Section 14).
TERMS OF SERVICE EXCERPT: "SexSearchcom.com UTILIZES VIRTUAL PROFILES THAT DO NOT CORRESPOND TO ACTUAL MEMBERS: An ONLINE EMISSARY may be a digital actor, an avatar or a synthespian (e.g. a computer generated "person" or "character"). You acknowledge that You understand that some of the profiles and Members displayed on them are not actual members of the site. ONLINE EMISSARIES are not associated with any other user of the site."
#2 Computer-Automated Messages Are Sent
Another trick SexSearch.com hides up the sleeve are the computer-generated and completely automated messages sent to you and other site users. But, stay aware that all communications sent to you by the site's profiles are completely fake and require no human involvement. So, even if you get a reply back from an Online Emissary, you will be basically communicating with a software program and soon the correspondence will make no sense.
TERMS OF SERVICE EXCERPT: "The ONLINE EMISSARY services can include the posting of information, pictures and/or communications directed to You. Such messages may take the form of any communication currently permitted on the Website. Additionally by accepting these Terms, you understand, acknowledge, and agree that, the ONLINE EMISSARY may contact both free Members and paid Subscribers via text based communication either within the site and/or via email notifications."
#3 Employees Have a Job to Communicate With You
As unbelievable as it may sound, it is the absolute truth. SexSearch.com hires and pays employees to contact you and interact with you. The need for employees is the same fact that computer-generated messages start to make no sense, so more natural flow of conversation is needed to keep you on the site. For as long as you can keep paying, they will keep the scam going.
TERMS OF SERVICE EXCERPT: "ONLINE EMISSARIES may be employed by sexsearchcom.com or a third party to enhance Your online experience. "
#4 You Have to Pay to Use the Site's Services and Features
Let's say you have no experience in how online dating sites operate and are not familiar with the way they scam you. You come to SexSearch.com and see all these gorgeous women and they are actively messaging you. When you try to send someone a message, or try to read an email you've received – YOU CANNOT DO IT and you are automatically taken to a payment page! So, the site redirects you to a different page where they ask you to choose a payment plan and provide your credit card info. Here are the offered choices:
Silver Membership
$1.95 for a 3-day trial membership period
$29.95 for a monthly subscription (automatically renewed)
$59.95 for 3 months of subscription
Gold Membership
$34.95 for 1 month of subscription
$69.95 for 3 months of subscription
$149.95 for 12 months of subscription to the site
#5 SexSearch.com Is Not a Legitimate Dating Service
We wonder SexSearch.com can even call themselves a "dating site" when they are completely aware that you can never meet anyone of the people you encounter on the site, and they confess to this in their terms of use document.
TERMS OF SERVICE EXCERPT: "You fully understand, acknowledge, and agree that any response or exchange between the ONLINE EMISSARY and You is solely for entertainment purposes, and will not result in an physical meeting between the ONLINE EMISSARY."
The verdict on SexSearch.com
It's obvious this site is all about getting your money without providing you with the services you paid for. Instead, you are served a bunch of lies. SexSearch.com may state that it's all done for entertainment purposes, but we do not find it entertaining to get scammed and ripped off, while being misled that you are talking to real women who like you. So, our kindest and most sincere advice is to not use SexSearch.com if you'd like to avoid many headaches.
SexSearch.com Scam Questions
Got any questions for us? If something was left unanswered in our review and you'd like to get a response or find something out, feel free to post your comments and questions in the section below. Also, you are welcomed to share your personal experience if you have ever used SexSearch.com.
SexSearch.com Contact Info
Address: Kamparri Trading Ltd. 42 Dositheou Street, Strovolos, Nicoisa 2028 Cyprus
Stallion.com FSC Limited 48 Constant Spring Rd, Kingston 10, Jamaica
Kitts Kat Marketing PO Box 1058 Basseterre, St. Kitts, East Caribbean
Email Contact: support@sexsearchcom.com or Contact Page
Report and File a Complaint
Contact the Better Business Bureau to report the site if you feel you have been deceived, scammed and/or ripped off.
Are All Dating Websites Fake?
No, all of them certainly are not fake. In fact, I wouldn't go as far as saying that they're fake period. However, what I will say is that some don't work as well as others. At least not for me. If you want to know what does work, I suggest that you check this short list out below. Many of the sites (especially the top four) are ones that I use literally every single day.