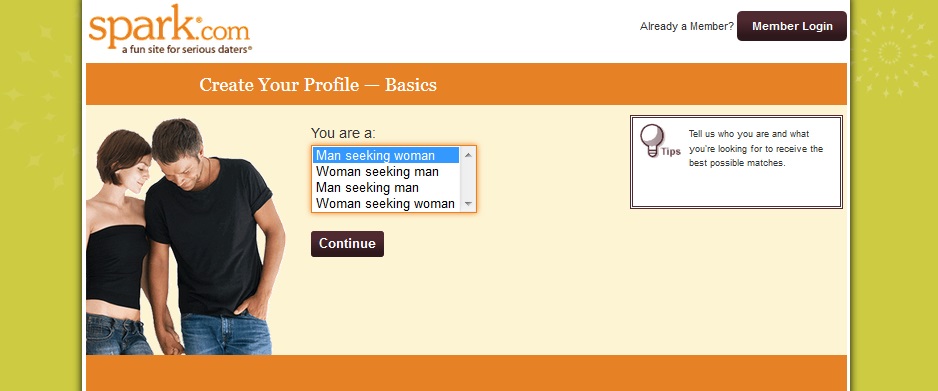 One of many other scamming websites, Spark.com will use all available tools and tactics to get to peoples' money. They claim that the site is free, but if you register with a basic membership you need to be careful not to get scammed or ripped off. Spark.com is affiliated with other dating sites including ChristianMingle.com, JDate.com and BlackSingles.com.
In this review, we will explain the scamming mechanisms Spark.com uses and provide solid evidence why this site is an illegitimate dating service.
What you should know about Spark.com
1) Spark.com Takes and Reuses Your Information
This sounds scary because it is. In the terms of use page we read a paragraph in which it explains that you are giving Spark.com all rights to take, reuse, copy, translate, distribute, broadcast, and sublicense all personal information you attach and post on your dating profile. This includes your personal photographs, name, 'chat up lines', description, description of interests, ect. Your personal info can be freely reused and shared on any other dating services or networks affiliated with Spark Networks – the company that owns Spark.com and other sites.
FROM THE TERMS AND CONDITIONS: "By posting information, photographs or content on any Service, You automatically grant, and You represent and warrant that You have the right to grant, to Us and other members, free of charge, an irrevocable, perpetual, non-exclusive, royalty-free, fully-paid, worldwide license to use, copy, perform, display, promote, publish and distribute such information, content and photographs and to prepare derivative works of, or incorporate into other works, such information and content, and to grant and authorize sub-licenses of the foregoing."
2) Spark.com will ask for your money
Spark.com members that use the service for free and are subscribed at a basic membership won't be able to use all features of the site. You will be required to upgrade to a paid membership to be able to find detailed information about the women on the site, check out multiple photographs, search according to your preferences, send and receive messages, join chat rooms, etc. Put simply, Spark.com services are not free and you will be charged big time to be able to use the site. Here are the offered payment options:
Standard Membership
$24.99 for 1 month of subscription
$44.97 for 3 months of subscription
$71.94 for 6 months of subscription
Premium Membership
$29.99 to pay for 1 months of subscription
$51.99 to pay for 3 months of subscription
$77.94 to pay for 6 months of subscription
3) You Are Paying For Computer-Automated Messages
From the very moment you sign up and create your profile, you receive email messages in you inbox, "Flirt" notifications, chat messages, invitations for friendships, etc. This is all marketing strategy of Spark.com to lure you into believing there are a lot of people using the site actively. It's actually computer programs that send you these automated messages, not other site members. And, this tactic is also used with one only goal in mind-Your Money!
We detected this conning trick because we would get so much social engagement on Spark.com, but we were never able to respond to any messages, or read the content of the emails that was sent to us unless we chose a payment plan. However, we know that many fraudulent dating sites use this tactic to lure people in and take their money. But, after you pay you will no longer be getting any messages because the site's owners got their money.
4) Fabricated Member's Profiles
If you believe the computer-automated messages and get deceived, a big reason may be that all of the profiles Spark.com uses to send you communications through – are fabricated and created by the site's owner. These profiles contain images, data, names, etc. from other people's profiles from other dating sites and networks. When they take your information they have the exclusive right to do whatever they want with them and the same happens to other people's personal info. This only explains why the site has a need to collect your profile data and points out that they will distribute them on other affiliated sites or share with contractors. Just think about it: Who is behind the dating profiles posted on other networks if it's not you?
The verdict on Spark.com
We believe we can safely say that Spark.com is a complete scam. We hope this review will help you avoid getting conned and ripped off, and don't forget to so warn your friends too. One tip from us is to always read the Terms and Conditions of use before you start using, or at least when you give your credit card info to a site on the internet.
Spark.com Scam Questions
If you have any further questions and would like to know more, feel free to post your questions in the section below. Also, if you have a personal experience using Spark.com, we welcome you to share it with other readers. You never know who when someone might find your input useful.
Spark.com Contact Info
Address: 11150 Santa Monica Blvd. Suite 600 Los Angeles, CA 90025
Email Contact: Contact Page
Phone Number: 1-888-854-3803
Report and File a Complaint
If you feel you have been deceived or ripped off you can contact the Better Business Bureau to file a complaint and report the site.