Not all dating sites are created equally. There are some that cause more harm than good. That's exactly what Spdate does for its users. In fact, I can confidently say that nothing good comes from using Spdate.com. If you're the type that likes to research dating networks before joining, then superb to hear! If so, then you'll eventually find out one way or another that this site is not worth your time or money.
I guess if you're here on the Datingcop.com, then you've taken a step in the right direction so that's a wonderful start. Now, time to get down to brass tacks and let loose on this so-called Spdate website. Whatever you do, please do not stop reading this to check it out. Just take my word for it not being worth your time or money! Here's why…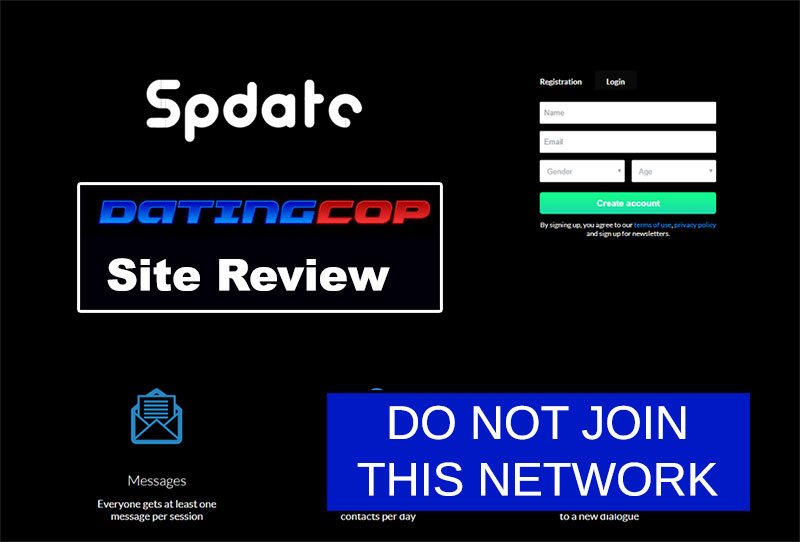 What's Wrong With Spdate – EVERYTHING!
I'm going to break things down for you right here, right now and share everything that's so damn wrong with this website. Seriously, it's got my blood boiling just thinking of what they do and why they do it.
But first, I should tell you why I joined:
Basically, I joined this site for no other reason other than attempting to get laid, simple as that. It's what I'd like to refer to as a typical dating site where you'd go to mix and mingle with local ladies. The problem is that there are no real ladies using this site. I'll get to that soon enough, first let me give you a rundown of the so-called features that they boast of on the website.
Messaging – Sure, they have a way to view messages. Sounds awesome but it's pretty standard.
Activity – This section allows you to see who's viewed your profile and taken an interest in your account.
Top Users – This section shows popular users that are using the website.
Likes – You can keep track of who "Likes" your profile, another standard feature.
Visitors – You can see who's visited your website.
Contacts – This is nothing more than a simple list of people who you've contacted and connected with on Spdate.
Profile – You can edit and update your profile information accordingly.
That's all, literally!
Now, what you really need to understand is that this is nothing but a network cover-up meant to push you to other dating sites. How so?
Well, take a look around and you'll see that this site has nothing but ads all over it. There are literally four banner ads on a single profile page. What does that tell you?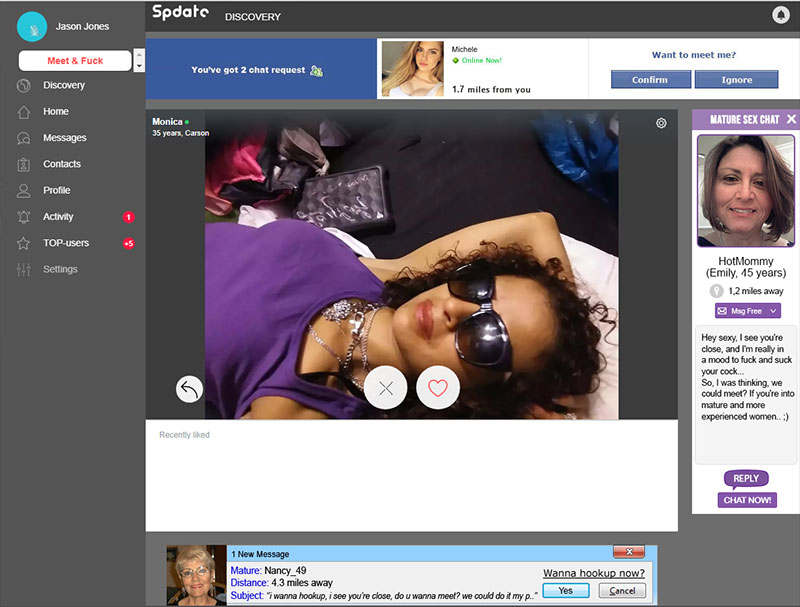 It tells me that the site is doing nothing at all to help its users succeed in finding a date. Instead, they're taking your email address, sending a bunch of email offers to you and on top of that, they're feeding you all these sex dating offers from fake messaging banners.
If there's one thing I don't tolerate is being bombarded with ads featuring old ugly women that I'll never want to hook up with. In fact, I wouldn't be surprised if some of these women didn't even know that they were being used to bait horny guys in to join other dating sites.
That's just scratching the surface of this mess!
It's Totally Free But Why?
The reason this Spdate website is free is for one reason only. They're hoping that people join and click out to the banners more than anything. Also, given that it's 100% free to use, it only makes sense that the company operate on a lower budget. Meaning they likely don't have the security and safety that most premium style sites are able to provide. The problem with that is that the real people joining this site could be just about anyone. Oh, and the messages will follow, trust me.
Email Messages Come Quick
Like I said, this site is free to use and you'll likely get lots of free messages. In fact, when I first joined the site, I noticed that I was receiving an incoming call from some hot blonde lady. Oddly enough, she was calling me without me even filling out my profile at all.
Coincidence? I think not. It was a fictitious call and that being said, most of the messages are from fictitious users. To be blunt, there are scammers on this site that send users messages trying to get them to send money. It's the typical Nigerian romance scam that gets so many time and time again.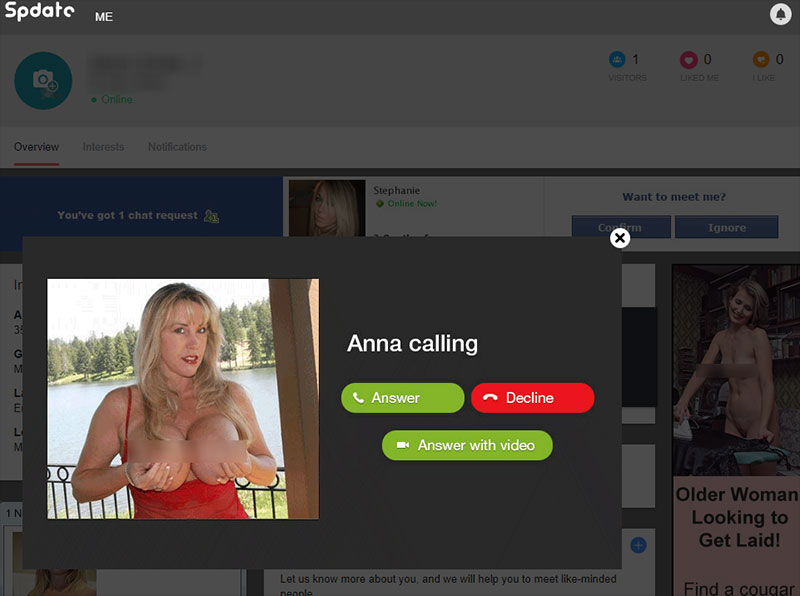 They Might Steal Pics Too
I'd also like to mention that this company may utilize or approve of the use of stolen images by romance scammers and all in the name of money, nothing more. Unfortunately, if you take a peek at some of the images being used on the site and do a simple reverse image search, you'll find that they are pretty much stolen. Don't be surprised if you find some photos of celebs here as well. It's common for that type of thing to happen.
Conclusion: Spdate.com Is Not Going To Help
I guess the bottom line is simple if you've got an empty profile with nothing but a profile name and you continue to get contacted by girls, best believe that those are fake as can be. A real dating site doesn't do that to its users. Not even by a long shot. Don't even waste your time trying to contact support asking further questions.
Chances are that'll get you nowhere fast. Instead, what I suggest you do it check out the sites I've praised here. There a reason I use them all and have for years. It's because they work better than the rest. Trust me, you're far better off using a premium dating network then the one I've just reviewed.