Assuming you're looking to hook up with some locals, then there's a good chance you've been searching the Internet looking for options. One of the things that people frequently do is they head to search engines and just start typing in things like Instabang, Instafuck, Instasex and other things of that nature.
I did the same. Trust me, my efforts at times have been very fruitful, but not always. In fact, when I came across Instafuck, I knew it was a total scam. I'll go ahead and share all the reasons why this site totally sucks. It's a marketing scam that I absolutely cannot let slide. Sure, some gimmicks and tactics I "let go," but this one isn't slipping by today.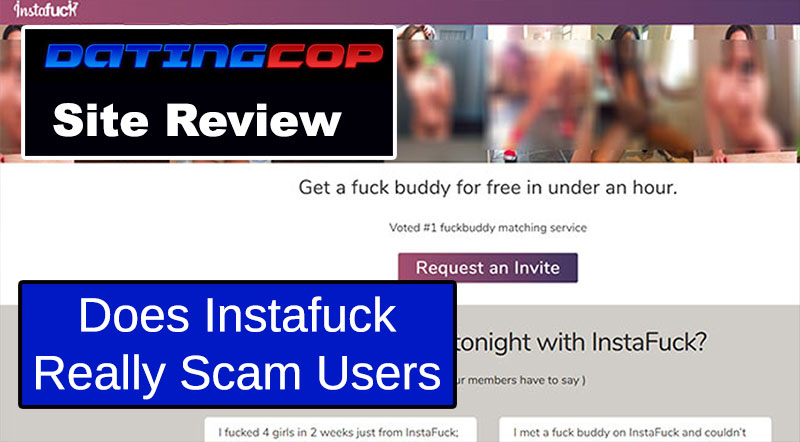 Why Instafuck Is A Scam And A Half
No beating around the bush here. Instead, I'm sharing everything you need to know about this dating website. Well, it's not a dating site but a marketing scam to lure users in. Rather than provide a bulleted rundown of things, I'm going to dive right into this…
Here's what you need to know about this website:
Not Real Members
If you take a look at the scroll at the top of the homepage, you'll notice a bunch of selfies. Yes, they are all naked women. No, they are not real members of Instafuck.com. Not even close actually. The site likely searches the Internet for naked pics and uses them as marketing material.
False Claims
If you take a look at Instafuck, you'll notice that the site claims to be able to find you a "fuck buddy for free in under an hour." What I've got to say about that is that it's completely false. There's no way that you can find a fuck buddy in under an hour using this site. Reason being, there are not any real members that use Instafuck.
Request Required?!?!
I hate how this site says that you need to "Request an invite" to use the site. There's no need to request anything at all. In fact, that wording is nothing but a way to get you to take action.
Member Comments
The member comments on the website are completely fake! Each of the images are from a template and the users do not exist at all. In fact, they are nothing but stock images.
Is Space Really Limited?
You'll notice that the site makes claims that spaces are limited but there's no way in hell that they're turning down any potential members looking to join. The only reason they state this is because they want you to think that there's a need for taking action right away. Truth be told, it's complete crap.
If you stubbornly decide to click on any of the join buttons, you'll be redirected to another page. This page showcases a bunch of topless gifs rotating. Each gif shows that the women are within a mile from your location and that they were online just a couple of minutes. Don't let these rotating gifs fool you. None of these women are real members of the Instafuck.com site.
Stupid Questions
You'll eventually be put through the pain of answering questions that mean nothing at all. Your answers do not matter. You'll be hit with a "congrats" and eventually, they'll try and get your email address to feed you a bunch of dating offers.
Once you enter that address, you'll be redirected to Instafuckdates.com which is the biggest scam ever. That's my personal opinion on it, at least.
More Pop-ups
I hate how the site throws pop-ups at you to get you to action quicker action. This tactic typically works for those that get nervous when filling out the questionnaire. My suggestion would be to completely avoid filling this out completely because it's not going to get you anywhere.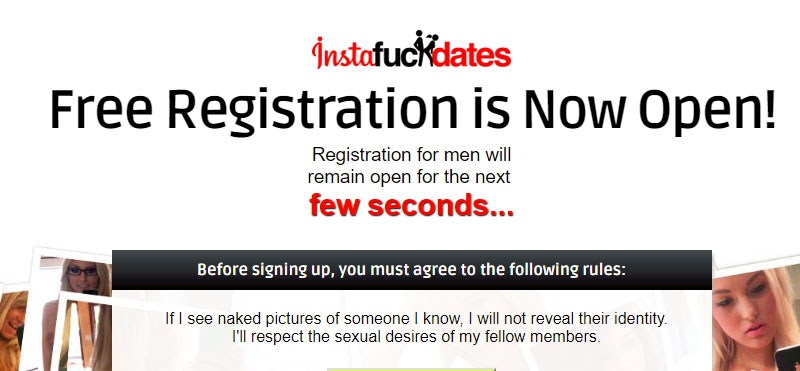 Conclusion: Instafuck Does Not Work
If you're trying to get laid using Instafuck, then your best plan on trying to get laid for a while. That's because it's most definitely not going to happen when using this website. It's not effective and simply doesn't work the way you think it does. If you're looking to get laid, then my suggestion would be to check these sites out instead. They're far more effective than Instafuck.