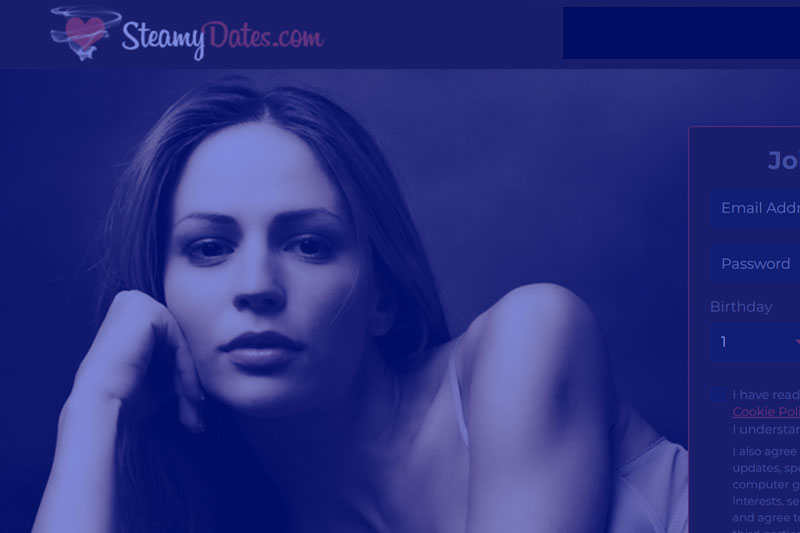 Steamy Dates Review
Steamy Dates is a dating website that caters to individuals seeking casual encounters and sexual relationships.
With a diverse user base and several features aimed at enhancing the dating experience, Steamy Dates aims to connect like-minded individuals in a discreet and secure environment.
In this review, we will delve into the site's features, pricing, mobile compatibility, anonymity, and effectiveness in preventing fake profiles.
Features: Finding Connections Made Easier
Steamy Dates offers a range of features to help users find potential matches. One notable feature is regional searches, which allow you to find people interested in dating within your specific location.
This feature helps narrow down the pool of potential matches, increasing the chances of finding someone compatible.
Additionally, the site offers a paid Priority Listing option, enabling your profile to gain more visibility in search results and increasing your chances of attracting attention.
Advantages: Live Chat, Profile Privacy, and More
Steamy Dates offers several advantages to its users. Firstly, the site includes a live chat feature, allowing members to engage in real-time conversations and build connections more efficiently.
Additionally, the ability to block selected members from contacting you is a useful tool for managing your interactions and avoiding unwanted attention.
Another notable advantage is the site's commitment to privacy, ensuring that profiles remain private and anonymous payment methods are available.
Disadvantages: Lack of Mobile App and Identity Verification
One notable disadvantage of Steamy Dates is the absence of a dedicated mobile app. While the site provides an optimized mobile version, a standalone app would have offered a more convenient user experience.
Another drawback is the lack of a thorough identity verification process, which may raise concerns about the authenticity of profiles.
Pricing: Membership Plans and Payment Methods
Steamy Dates offers three membership plans with different durations and costs:
1 Month: $34.99
3 Months: $69.99
6 Months: $116.99
Accepted payment methods include credit cards and Paysafecard, providing users with flexibility in their payment options. It's important to note that the membership plans are recurring, and users need to cancel their subscriptions to stop payments.
Mobile Compatibility: Optimized for On-the-Go Dating
While Steamy Dates lacks a dedicated mobile app, the site offers an optimized mobile version for users accessing the platform through smartphones or tablets. The mobile view ensures that users can browse profiles, engage in conversations, and access site features conveniently, even on the go.
Anonymity and Privacy: Balancing Discretion and Exposure
Steamy Dates provides a basic level of privacy by not allowing non-registered individuals to view profiles.
However, it's worth noting that all members can see your uploaded photos, limiting the level of control over who can access your visual content.
Unfortunately, the site lacks a panic button feature that redirects users to another website, which may be a concern for those seeking enhanced security.
Fake Prevention: Moderation and Verification
Steamy Dates employs moderators and animated members to encourage conversations and premium memberships. While this practice may raise questions about the authenticity of interactions, the site takes measures to prevent fake profiles.
All pictures must be approved by a moderator before they are visible on the site, reducing the chances of non-genuine or inappropriate images being uploaded.
Users also have the option to report suspicious accounts for further investigation, ensuring a safer environment for all members.
Deleting Your Account
Deleting your Steamy Dates profile is a straightforward process. While the site does not offer a deactivation option, you can choose between two alternatives to manage your profile.
The first option is to deactivate your profile, which temporarily hides it from other members. With this choice, you can log in at any time and reactivate your profile, allowing you to return to the site whenever you wish.
If you prefer a more permanent solution, you can close your account. By closing your account, your profile will be permanently deleted from the site. It's important to note that once your account is closed, you will need to create a new profile if you decide to use Steamy Dates in the future.
Closing your account on Steamy Dates is free of charge, ensuring that you have control over your online presence. Additionally, you have the option to unsubscribe from any email lists or distributions associated with the site, further allowing you to manage your preferences and privacy.
Whether you choose to deactivate your profile temporarily or close your account permanently, Steamy Dates provides the necessary tools to maintain control over your online dating experience.
Conclusion: Final Verdict
Steamy Dates offers a platform for individuals interested in casual encounters and sexual relationships to connect with like-minded individuals. The site's regional search feature, live chat, and profile privacy contribute to an engaging and discreet dating experience.
While the lack of a mobile app and identity verification are drawbacks, Steamy Dates provides a range of features and pricing options that cater to different preferences. As with any online dating platform, it's crucial to exercise caution and report any suspicious activity to maintain a safe and enjoyable experience.