One thing we all wish we could have is a simple NSA sex relationship. One that we can easily maintain without any headaches or hassles. The NSA or "no strings attached" relationship can sometimes seem a bit complex. However, it's actually rather simple to maintain so long as you put forth effort in the right areas. Good news for you, I'm a pro when it comes to having NSA fun and I can pretty much guarantee you'll be able to safely maintain one of these relationships if you read my blog post.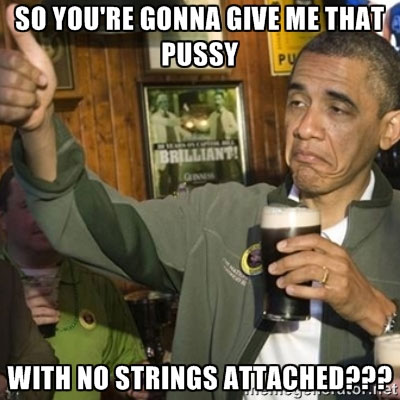 Maintaining An NSA (Sex Only) Relationship
Here are some tips to help keep your no strings attached relationship just that. It can be a real downer when someone gets too attached. These tips should help prevent that from happening.
Be Clear About Sex Only
One thing you need to do is set the tone for sex only. It's best to establish a connection with your sex partner and come to an agreement that you both want the same thing. If she doesn't want to just fuck then you need to end things right there. Either that or she'll end up like one of the typical clingers. Set the same sexpectations and you'll both be happier.
Never Hang Out
If you're not having sex then you're not hanging out. Simple as that really. This is an important rule that you need to establish. I suggest you not call your sex partner to hang out unless you have intentions on banging. If you being calling to hit the movies or go to dinner then you'll find yourself moving out of the NSA zone and into the serious relationship zone. Don't let that kind of thing happen. No dinner and drinks, no sleepovers, no meeting the family. None of any of that stuff.
Use Protection
Want to end an NSA fun time that you have scheduled like clockwork? Give the girl an STD. That's a surefire way to end things fast. Sex can be great, but if you don't use protection and she gets a disease, you'll find yourself up shits creek and alone.
Know When To Fold Em
If things start to get too serious, you need to know when the best time to fold or in other words, throw in the towel and call it quits. If one party is too lovey dovey then you need to end things right then and there. People will start to get hurt if you don't. It's your duty as the other party in an NSA relationship to do so. Say goodbye to that booty call or bang buddy and move on to the next one.
These tips should help you better maintain or know when to call of an NSA sexual relationship. In the event that you run out of local girls to hook up with you can always join one of the dating sites I recommend. The recommended sites are the only sites that have worked for us. If you have any intentions of just fucking girls then stay away from the shitty sites like Plentyoffish.com and other mainstream sites. They aren't going to get you laid ever. Not to mention, some of the members of POF are literally crazy. Steer clear from anything that I have not suggest you join.