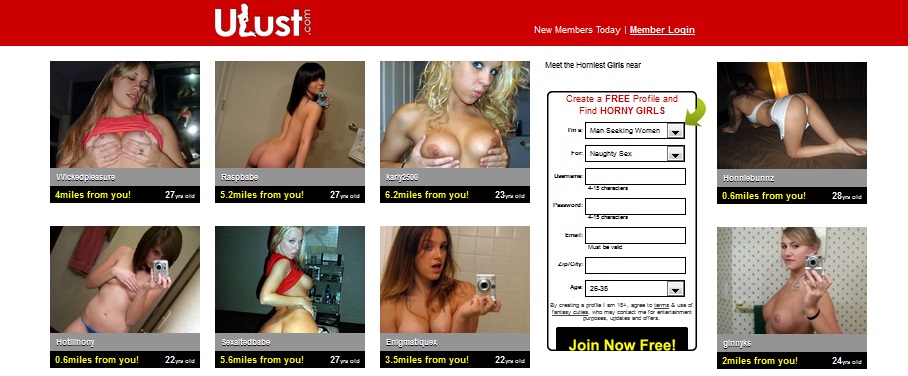 For this review, we set out to explore the working and legitimacy of ULust.com. We will serve the results of our investigation here, so we invite you to continue reading to learn whether you can trust this online dating site or not.
In this review we answer:
Can you really use the dating service for free?
Are the profiles on ULust.com real people?
Who is sending you chat and email messages?
Does the site employ people to interact with users?
Is meeting someone from the site in person possible?
Facts ULust.com doesn't want you to find out
We signed up, didn't create a full profile because we only wanted to explore the site, not find dates. After a very short time, the first signs of scam became obvious to us. But, we didn't have solid proof to back up our suspicions – until we carefully read through the ULust.com Terms of Service document. Here is what we found.
1) Not A Free Dating Service
When ULust.com claims that the site is free to join and use, it's only speaking half-truth. While signing up and creating your own personal dating profile is free, you need to pay for every next move. If you see someone you like and would like to connect with – you need to upgrade to a paid membership. When you receive a message – you are taken to a payment page where you are required to fill in your credit card info and choose a subscription period. Here is the ULust.com pricelist:
Gold Membership
$32.46 to buy monthly subscription to the site
$47.97 to buy 3 months of subscription to the site
Platinum Membership
$35.70 to buy 1 month of subscription to the site
$54.90 to buy 3 months of subscription to the site
2) Fabricated User Profiles
It is too weird that there are that many gorgeous women from our area who have profiles on ULust.com. We come from a small city, and there was just no way there were that many local women on the site that we have never met. Plus, the physical appearance of these women brought another question in mind: Why would such beautiful ladies be seeking dates online when they can simply go to a bar tonight and meet a lot of potential partners? In the terms of service we found a section that explains that many of the site's profiles are fabricated by the site.
These profiles are called "Fantasy Cuties" and you can spot them because they are labeled with a little yellow star which has the letters "FC" imprinted inside. This means that everything on these profiles is completely made up information and the photographs belong to other people who have never used ULust.com.
PROOF OF SCAM: "THIS SITE UTILIZES FANTASY PROFILES IDENTIFIED AS FANTASY CUTIES. You comprehend, acknowledge, and agree that the interactions, profile information, and content utilized by Fantasy Cuties profiles do not originate from any actual Site member. Any similarity between Fantasy Cuties profile information or interactions to any real person is purely coincidental and fictitious."
3) Computer-Automated Messages And Replies
Next question in our mind was "Who is sending us messages if all the dating profiles are fabricated?" Plus, we found that getting so many chat and email messages seemed a little too pushy. There is simply no way we got so many women to write to us when our profile was intentionally left without a photograph. Then, we found the following text in the ULust.com terms of service page.
PROOF OF SCAM: "You further comprehend, acknowledge, and agree that, Fantasy Cutie profiles may contact both free users and paid users with computer or human generated interactions for the purposes listed above. These interactions may be initiated to several users simultaneously or in a small time frame. Should a user respond to an interaction from an Fantasy Cuties profile, said user may receive one or more human or computer generated replies from the Fantasy Cuties profile."
4) Hired Staff And Contracted Third Parties
To our great surprise, in the terms of service we also found evidence that ULust.com hires and pays real people who are employees of the site to act like site members and pretend like they are looking to hook up. We suspect the site's owners have realized that computer-animated messages cannot keep people paying for more monthly subscription, since computerized messages tend to make no sense after a while. That is why they need real people to string you along and make sure you don't notice the scam on time.
PROOF OF SCAM: "You comprehend, acknowledge, and accept that some of the profiles listed on the Site may be operated by our Site or third party contractors and are fictitious. Interactions originating from Fantasy Cuties functionality could be computer generated or could be created by the Site or third party contractors hired by the Site. Staff of Site or third party contractors hired by the Site could operate multiple Fantasy Cutie profiles and associated communications features."
The verdict on ULust.com
ULust.com is one illegitimate dating service, whose owners have invested a great deal of time and effort to make it look as genuine as possible. Unexperienced people may get deceived and carried away in the hopes of meeting someone real on this site. However, judging by the evidence we have gathered, ULust.com is one site that is only interested in getting your money without helping you find your match. For your own safety, we advise you to always read the terms and conditions of use before paying a subscription fee.
ULust.com Scam Questions
Now it's your turn. Do you have any additional questions that you'd like answered? We invite you to post the in the comments section below and we'll try to provide a personal and prompt response. Also, your feedback is greatly appreciated, so tell us if you found this review helpful and feel free to share any personal experience you had as a user of ULust.com.
ULust.com Contact Info
Email Contact: support@fastdatingsupport.com or info@ulust.com
Phone Numbers: 844-399-9749 or 925-264-3473 and+1-619-900-1607 Outside USA