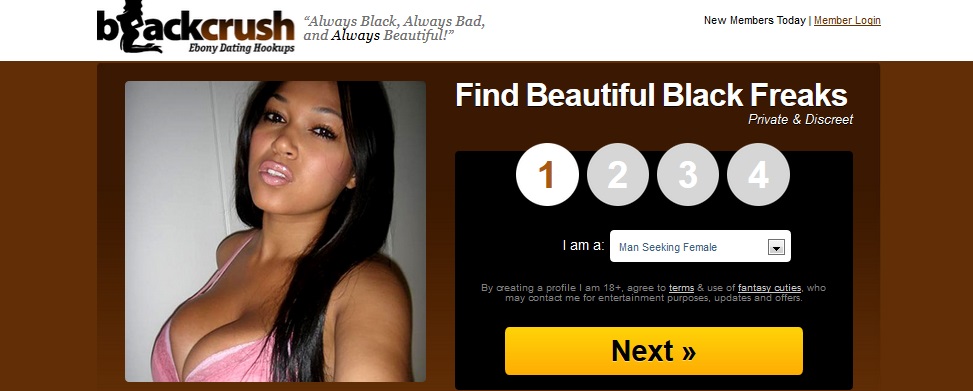 BlackCrush.com is another online dating service we came across and set out to investigate its legitimacy. We have seen the same story with many other dating sites aimed at helping black people meet online and find a perfect match for long-term dating or one night stand. Continue reading this review to learn if BlackCrush.com made it as a legitimate dating site or was proved to be just another fraudulent website.
Details about BlackCrush.com
BlackCrush.com is NOT a Free dating site
Women's profiles on BlackCrush.com are fabricated
Fantasy Cuties service send communications to real members
You get computer automated chat, email, and quickie messages
Hired and paid employees act as real members to stimulate conversation
There is no meeting in person with anyone you encounter on BlackCrush.com
Black Crush Reviews
In the following text, you will read about our experiences while using the site, followed by excerpts from the Terms of Use agreement to show you evidence of fraudulent actions and scamming tools used to rip you off.
Scam No.1 – Fantasy Cuties Service
These fabricated profiles are completely made-up and created using other people's information. They are called 'Fantasy Cuties' and are created with the purpose to fill up the site with dating profiles. The reason BlackCrush.com needs fabricated profiles to fill up the site is because there aren't any real people who are members and using the service. Everything you see on the Fantasy Cuties profiles, from photographs, to age, name, location, personal interests and information, etc. is completely fraudulent.
EVIDENCE OF SCAM: "THIS SITE UTILIZES FANTASY PROFILES IDENTIFIED AS FANTASY CUTIES. You comprehend, acknowledge, and agree that the interactions, profile information, and content utilized by Fantasy Cuties profiles do not originate from any actual Site member. Any similarity between Fantasy Cuties profile information or interactions to any real person is purely coincidental and fictitious."
Scam No.2 – Computer-Sent Communications
The "Fantasy Cuties" program is a deception used not only to fill up the site with member's profiles, but to also send computer-automated email and chat messages. Even the women on the live cams are models that are hired and paid by BlackCrush.com. They do their job because of a compensated payment they receive. If you are not careful, you can easily be deceived by these automated communications and believe they are coming from genuine people. Do not forget that all communications directed to you are coming from computer software programs that use automated email messages and send them to all free members on BlackCrush.com at the same time or at different periods of the day.
EVIDENCE OF SCAM: "Interactions originating from Fantasy Cuties functionality could be computer generated or could be created by the Site or third party contractors hired by the Site. You further comprehend, acknowledge, and agree that, Fantasy Cutie profiles may contact both free users and paid users with computer or human generated interactions for the purposes listed above. These interactions may be initiated to several users simultaneously or in a small time frame."
Scam No.3 – BlackCrush.com Membership Is Costly
BlackCrush.com is not a free dating service. In fact, you will be asked to provide your credit card information and choose a payment plan in order to access many of the site's features and use BlackCrush.com services. In a way, BlackCrush.com extorts your money by not allowing you to open, read or send email and chat messages unless you upgrade to a paid membership. They will even send you the computer-automated messages to stimulate you to upgrade to a paid membership. Here is how much will a full membership cost you:
Basic Membership
$8.90 for a 3 day trial membership period
$29.95 for a monthly membership
Gold Membership
$49.90 for 2 months of membership (+1 month free)
$59.95 for 3 months of membership (+3 months free)
*Note that any one of the available subscription periods you choose from are not a one-time subscription and are recurring subscription, which means that you will be automatically billed at a monthly subscription rate until you notice that your membership has been automatically renewed each month and cancel your membership.
Scam No.4 – Hired And Paid Staff Members
We believe that BlackCrush.com hires and pays employees to help the scam by making it much more natural and believable. You see, computer-automated messages are only useful to start the conversation and get you to pay for a membership, but they won't keep you on the site for long since you will soon realize that they make no sense. That's why employees, whose job is to string you along and keep you paying membership fees, will pretend to like you and flirt with you.
EVIDENCE OF SCAM: "You comprehend, acknowledge, and accept that some of the profiles listed on the Site may be operated by our Site or third party contractors and are fictitious. Interactions originating from Fantasy Cuties functionality could be computer generated or could be created by the Site or third party contractors hired by the Site. Staff of Site or third party contractors hired by the Site could operate multiple Fantasy Cutie profiles and associated communications features."
The Final Verdict on BlackCrush.com
Although BlackCrush.com seems honest and genuine –it's not. In fact, the site's owners are doing their best to hide the scam away and keep you paying for membership while they know that you can never meet anyone real on the site. It is clear that BlackCrush.com is not a real matchmaking service and we kindly advise you to be careful and always do your homework of researching a dating site and reading the terms of use before providing your credit card information. It can save you a great deal of trouble and headaches in the future.
BlackCrush.com Scam Questions
Did we answer all you wanted to know about BlackCrush.com? If you have more questions, you can post them in the comments section below and we'll try to find a suitable answer promptly. We also welcome your feedback, as well as any personal experiences you can share with others if you are a past BlackCrush.com user.
BlackCrush.com Contact Info
Address: 101 North East Avenue #1500, Ft. Lauderdale, FL 33301
Email Contact: support@fastdatingsupport.com
Phone Number: 877-551-3268 and 844-399-9749 or +1-619-900-1607 (Outside USA)
Report and File a Complaint
Contact the Better Business Bureau to file a complaint and report the site if you feel you have been scammed and/or overcharged.
Meet Local Black Girls That Will Bang
Not gonna lie, I've got a few tricks up my sleeve if you're looking to meet local ebony babes that want to bang. Even though Black Crush is a total bust, that doesn't mean that all others are the same. There are plenty of local black girls out there in your area looking to connect and smash. How do I know, because I do a few on the regular at least once a week. Black girl booty calls are my specialty and it all happens through the use of my top three dating sites.