Looking for the ideal Ukraine wife? Well, perhaps Victoria Brides is the dating site for you. However, before you jump right in and give them your credit card information, I want you to read this entire review. This site certainly isn't for everyone and I'm going to share a few reasons why I've opted to never use the site in general.
Don't take my word for it though. Instead, you'd be much better off reading this review, validating my findings and using an alternative option or two if you're daring enough to do so. I'll kick things off by explaining everything that I know about Victoriabrides.com and whether or not it's a reputable matchmaking site that you should think about joining.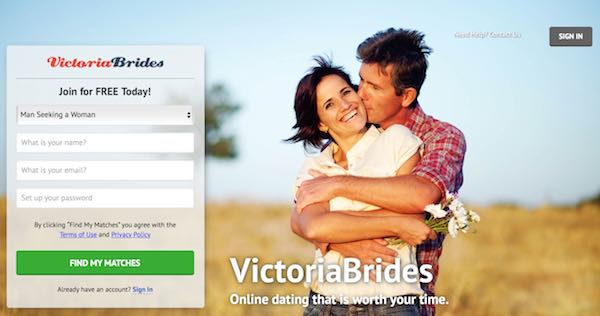 In-Depth Victoria Brides Dating Site Review (Must-Read)
I'll cover all the important aspects of this dating website and let you know whether or not you're wasting your time using it. But first, let me get down to the nitty gritty details and share everything I know. Some of the details that I'm about to cover about this dating site are as follows:
The Features
The Cost
The Profiles
The Emails
The Company
I'm going to share some of the features of the website, but before I do, I want to make it clear that you should not head over to the site right away after reading about these features. Instead, read the entire review and then make a decision.
Site Features
Some of the features of Victoria Brides are similar to other features that may or may not scam visitors. First thing you need to understand is that this site is primarily for hooking up with Ukraine women. They's got a few features such as Searching, Messaging, Corresponding, Credit Purchasing, and Faces section. I'll start with the search function.
You guessed it, the Search function allows you to search for females from Ukraine using location and age to connect with them. Another feature is the messaging where you can send gifts, winks, messages and all that fun stuff, supposedly. You can send and receive messages from Ukraine ladies. They've also got a feature called the Faces Feature which allows you to choose women that you like on the site. The last feature I want to share with with you is the ability to purchase credits in order to communicate with these Ukraine women.
Cost To Join
This dating site runs on a credit-based system. What that means is that you need to pony up cedits whenever you want to take action on the site. Most services offer a flat monthly membership rating, but not Victoria Brides. The credits can cost anywhere from $1.99 for 15 credits to $199.00 for 750 credits. You'll need a bunch if you want to actually talk to real women on this site.
Profiles
Okay, so here is where everything seems to go really south. After joining and taking a closer look at the site, you'lll notice that even a completely empty profile is going to get views. Why is this something to take note of? Simple, why the hell would any real woman want to view a profile that's completely empty? Be wary of this and any site that shows this type of activity. Real women don't do this and they won't care about your profile unless you've got a real photo and bio filled out.
Emails
Those profile views led me to look into the emails that I was getting. Turns out that I had received what I personally believe to be automated emails. These are emails that get sent to profiles regardless of the data that's been shared on the site. Real women will not message or email someone unless they've got a full profile filled out. Auto messages are not going to get you laid one bit, keep that in mind.
Many people have not even realized that the company shares very important information in their terms and condition. Guess what, the website admits to creating fake female profiles. The company openly creates and manages fabricated profiles which they own and operate. They create these profiles to make it look like there are more real Ukraine women on the site than you think.
What you need to understand is that most horrible dating sites create dating profiles because they can't get enough real people to join the sites. I'll tell you right now that I've never had a successful time using any site that created profiles internally.
The Company
The company that owns Victoria Brides is called, Comunitainment Inc. and they can be reached by calling 1-844-818-0664 or you can email support@victoriabrides.com.
Conclusion
Whether or not you want to meet Ukraine women to marry or date, you're not going to have a good experience doing so on the Victoria Brides website. There are so many other sites out there that don't waste your time with fake profiles. You've got to use sites that are the real deal. No one wants their time wasted with fake messages and women (which is why I only use scam free sites today). Screw that! Instead, go for a site such as those listed below. Feel free to message me and ask any questions about them. I know they work because I use them all everyday.