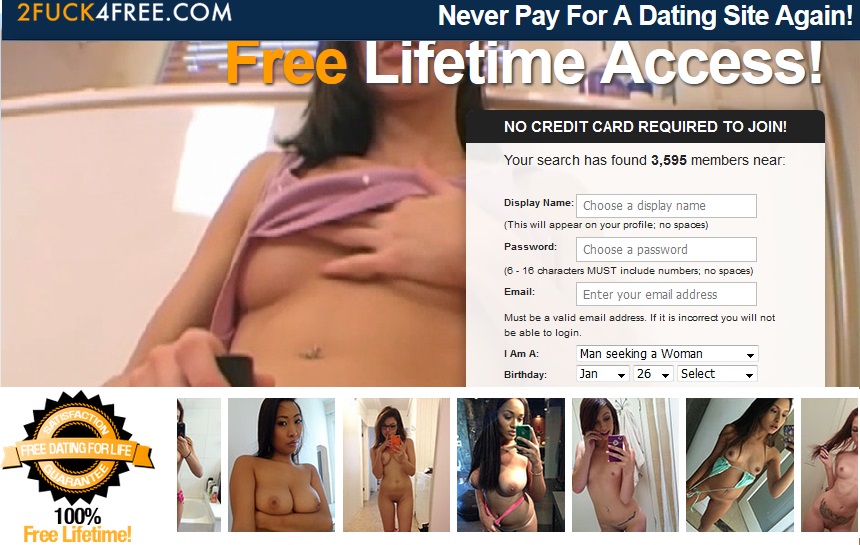 Can you really find members on this dating site completely for free, that want to find others to hook up with? Well, it should be as easy as it sounds, after all the name of the site is "2Fuck4Free". But, it isn't really that simple! We investigated 2Fuck4Free.com and came up with some big deal-breakers regarding this website's way of working. We'll let you know more in the following text, and you can join us for some Q&A on this topic in the comments section at the end of the page.
Here are some questions you should ask yourself when signing up:
Does this site really offer a 100% free lifetime membership?
Are women's dating profiles genuine?
Who is contacting you through chat and email messages?
What is illegitimate on 2Fuck4Free.com
Based on our previous research on the website, when we used the service as a free member for several days, and carefully reading through the terms of use and privacy policy, we concluded the following:
1) No Free Dating
Don't let them fool you! Using 2Fuck4Free.com is not free of charge.
In fact, you are distracted so that you won't notice that you are being charged monthly membership fees on 2Fuck4Free.com from your credit card. 2Fuck4Free.com pressures you into submitting your credit card information to them and choosing a subscription plan by blocking your ability to open or read received communications and to contact someone you like…UNLESS you upgrade to a paid membership. Note that each subscription is automatically renewable and you will be charged until you cancel your membership. Here is how much using 2Fuck4Free.com cost you:
$49.95 to buy a monthly subscription to 2Fuck4Free.com
$39.61 to buy a monthly membership to VibeVideo.com
$28.87 to buy a monthly membership to VideoErotic.com
2) Fabricated Dating Profiles Called "Love Stars"
"Love Stars" dating profiles are completely fabricated and have no real people using them. Basically, nothing in these profiles is real, including their pictures, personal information, descriptions and interests. The fabricated profiles are created by the company who owns and runs 2Fuck4Free.com, in order to fill up the site with gorgeous women (when in fact there are none) and to use these profiles to send you computer-automated messages (to make it look like women are trying to get in touch).
EVIDENCE OF SCAM: "You understand, acknowledge, and agree that some of the user profiles posted on this site may be fictitious or models or bots related to our "Love Stars" (LS) program. Our LS work for the site in an effort to stimulate dialogue with users and to stimulate user participation on the Website and Services, advertisement of the Website and Services, and the creation of user profiles. You understand, acknowledge, and agree that the information, text, and pictures contained in the LS profiles do not pertain to any actual person or member, but are included for entertainment purposes only."
3) Electronic Email Messages And Communications
You'd say that receiving email messages from local women on a dating site is not a bad thing. And, we'd usually agree! But, only if these emails didn't look so fake… It's actually not that easy to detect fraudulent messages if you are unexperienced at detecting this kind of frauds, but it was pretty obvious to us. It was only a matter of minutes after we signed up on the site that we started getting emails.
Did you think that the instant and email messages you receive on 2Fuck4Free.com are real? Well, it turns out that they aren't. 2Fuck4Free.com leads you to believe that the messages sent to you are coming from honest and real women who are looking for online fun. But, you shouldn't fall for these scams! The messages are in fact, sent from Love Stars profiles and through computer software programmed to interact with members.
EVIDENCE OF SCAM: "You further understand, acknowledge, and agree that, from time-to-time, LS may contact Website and Services users and members via electronic messaging, including for example, email, instant messages, and SMS, for purposes of encouraging further or broader participation in our site's Services and/or to monitor user activity."
The verdict on 2Fuck4Free.com
A site that is not free, there are no real members – just fake profiles, and there will never be any hooking up since the only real reason why 2Fuck4Free.com exist is to extort your credit card info and charge you repeatedly for as long as you don't notice the scam. 2Fuck4Free.com is not an online dating service! It's rather an online dating scam that will rip you off and not provide the services you pay for.
2Fuck4Free.com Scam Questions
Want to know more? Send us your questions through the comments section below and we'll provide a personal and prompt answer. You are also welcomed to share your personal experiences with 2Fuck4Free.com and help others by sharing your story.
2Fuck4Free.com Contact Info
Address: Stasinou, 1 Mitsi Building 1, 1st floor, Office 4 Plateia Eleftherias, Nicosia Cyprus 1060
Email Contact: cs@2fuck4free.com and legal@nautellcapitalltd.com
Phone Number: 877-597-3436
Report and File a Complaint
Contact the Better Business Bureau to file a complaint and report the site if you feel you have been deceived, scammed or ripped off.