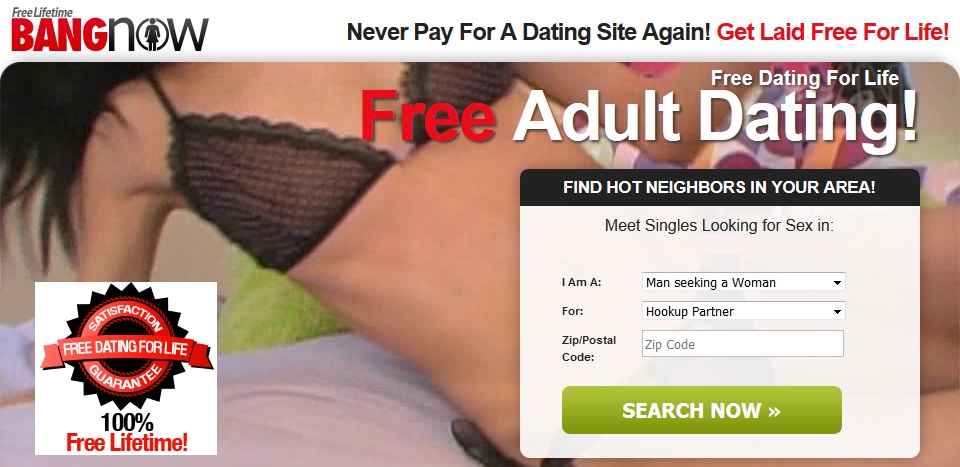 FreeLifetimeBangNow.com is an online dating service who's owned and run by the same company who runs CasualGirlfriend.com, FlirtingCheaters.com, FreeDates4Life.com, CitySex.com, MilfCheaters.com, FuckSwipe.com, MillionaireDates.com, etc. So far, each and every dating site that we looked at that is owned and run by Nautell Capital Ltd. uses the same scamming techniques to rip you off.
Will we spot the same conning tools on FreeLifetimeBangNow.com? We invite you to continue reading this review, but also check out the other site's reviews to get a better understanding of how this whole network of scam sites operates.
Scamming facts about FreeLifetimeBangNow.com
There are hundreds of beautiful women on FreeLifetimeBangNow.com that post nude photographs and contact you through the site's chats and messages almost immediately after you create your basic membership profile. Does it sound too good to be true? Well, the terms and conditions of use agreement displayed on the site confirmed all our suspicions. Here is what we found out.
1) You No Longer Possess Your Profile Information
Be aware that FreeLifetimeBangNow.com gains all legal rights over any personal data you post or uploaded to a public area of the website, from the moment you upload them on the site. Then, FreeLifetimeBangNow.com has an exclusive right to do whatever they want with your information, including:
alter you photographs and reuse them in any way they want
distribute them to other dating services
mix-and-match your data with other people's data
modify them in any way
reproduce and display your submitted data
All these actions are done without notifying to you, and you won't even know what has been happening unless you read the terms and conditions of use, or someone you know joins another dating website and asks you about it.
TERMS AND CONDITIONS OF USE: "By posting Content to any public area of FreeLifetimeBangNow, you automatically grant, and you represent and warrant that you have the right to grant, to FreeLifetimeBangNow an irrevocable, perpetual, non-exclusive, fully paid, worldwide license to use, copy, perform, display, and distribute such information and content and to prepare derivative works of, or incorporate into other works, such information and content, and to grant and authorize sublicenses of the foregoing. Specifically you agree and acknowledge that your profile and related information and content may be utilized and displayed on other sites which are owned by related companies or authorized services providers ("Network websites")."
2) Your Credit Card Data Is Required
You may not notice the previous scam taking place, but this should be your red alarm No.1! Usually, when an online dating website requires you to submit your credit card information "to verify your identity" or to make sure you are "over 18 years of age", you shouldn't fall for it. Even though they are flaunting their words about "Free Dating For Life" or "Free Adult Dating" or "100% Free Lifetime", you should know that it's a scam. Just look on the right side of the FreeLifetimeBangNow.com payment page and read the text to find out that not only are you charged monthly membership fees on this site, but for other websites too. Here is the price-list:
$49.95 for a monthly subscription to FreeLifetimeBangNow.com
$39.61 for a monthly membership to VibeVideo.com
$28.87 for a monthly membership to VideoErotic.com
3) Fabricated Profiles Send You Electronic Messages
Another use for your profile data, once they belong to FreeLifetimeBangNow.com is to fabricate dating profiles of members. These profiles are a part of the service and are called "Love Stars". The next logical thought in our mind was "If my profile data are used to re-create dating profiles, which ones are real people that I can actually meet?" Well, we checked a lot of dating profiles on FreeLifetimeBangNow.com, and each one was labeled with the LS logo – signifying a Love Star profile. If you are wondering why an online dating site needs such profiles, there are usually two main reasons:
To fill up the site with women because there simply aren't any.
To use these profiles for

sending out electronic messages and lure you into paying

.
This means that no one is actually sending you emails, messages, chats or requests. It's all computer software created to cheat you and make you reach for your credit card. The trick is – if you want to communicate with anyone, you need to pay and upgrade your account. Also, if you want to open and read a message you've received – you will be automatically taken to the FreeLifetimeBangNow.com payment page.
TERMS AND CONDITIONS OF USE: "You understand, acknowledge, and agree that some of the user profiles posted on this site may be fictitious or models or bots related to our "Love Stars" (LS) program. Our LS work for the site in an effort to stimulate dialogue with users and to stimulate user participation on the Website and Services, advertisement of the Website and Services, and the creation of user profiles. You understand, acknowledge, and agree that the information, text, and pictures contained in the LS profiles do not pertain to any actual person or member, but are included for entertainment purposes only."
TERMS AND CONDITIONS OF USE: "You further understand, acknowledge, and agree that, from time-to-time, LS may contact Website and Services users and members via electronic messaging, including for example, email, instant messages, and SMS, for purposes of encouraging further or broader participation in our site's Services and/or to monitor user activity. Messages from LS will contain the uniform designation "LS" or "Love Stars" to notify the user or member that a message has been received from Love Star(s)."
The verdict on FreeLifetimeBangNow.com
One thing is for certain – There will never be any physical encounters between you and anyone you meet on FreeLifetimeBangNow.com, simply because all the dating profiles are fake and the messages are completely electronic. If you do not notice the scam, FreeLifetimeBangNow.com will keep sending you messages and keeping you entertained for as long as they can charge your credit card. We kindly advise you to always read the terms of use on such sites in the future to protect yourself from scammers.
FreeLifetimeBangNow.com Scam Questions
If you have any further questions and would like to know something that wasn't covered in our article, feel free to post your inquiries in the section below. Also, if you are a past user of FreeLifetimeBangNow.com, feel free to share your personal experiences with other readers. You never know who when you may help someone else.
FreeLifetimeBangNow.com Contact Info
Address: Stasinou, 1 Mitsi Building 1, 1st floor, Office 4 Plateia Eleftherias, Nicosia Cyprus 1060
Email Contact: cs@freelifetimebangnow.com and legal@nautellcapitalltd.com
Phone Number: 877-597-3436
Report and File a Complaint
Contact the Better Business Bureau to file a complaint and report the site if you feel you have been deceived, scammed or ripped off.