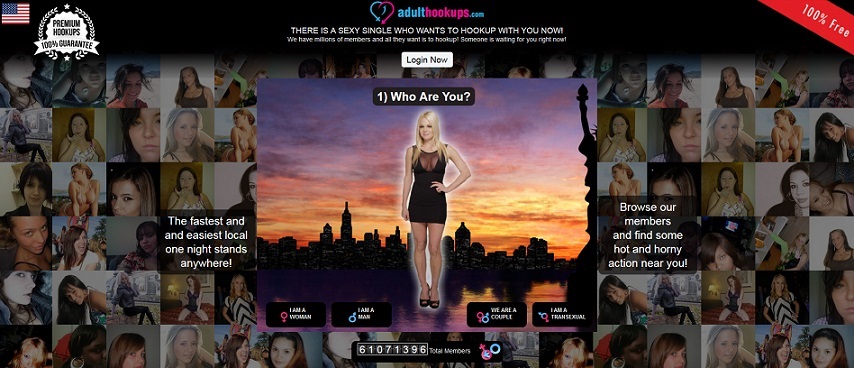 AdultHookups.com is the online dating service that we will review in this article. While we will get into the details about the scamming fashions in which this site is run, we have to mention that from the first moment we opened AdultHookups.com it reminded us of other fraudulent dating sites we have already reviewed. Later, we uncovered that the same company that owns this site, owns other well-known sites that we have revealed are a rip-off.
Continue reading to learn in which ways AdultHookups.com is deceiving you in order to get to your money. We invite you to ask question or share your personal experiences at the end of the review.
AdultHookups.com alarming signs of scam
AdultHookups.com says 100% FREE – it's not free
This site is associated with XxxConnect.com, SocialSex.com, FuckBookNet.net, SexSearch.com, etc.
Fake women's profiles are fabricated by the site and are called "Online Emissaries"
These fabricated profiles are used to send computer-automated messages to real users
Online Emissaries may be employees, hired and paid by AdultHookups.com
No actual dating or hooking up in real life will ever take place
AdultHookups.com scams and cons review
For us, it was weird that this site was associated with so many other dating sites, some of which we have reviewed, and which are proven as complete frauds. Then, we found it weird that this site who claims to be "100% FREE" takes you to a page where you need to fill up a chart and provide your credit card info. So, we opened the AdultHookups.com Terms and Condition of Use to read carefully and found the proof for all our suspicions. We break down the facts in the text below.
1st Sign of Scam: The Credit Card Info
Although AdultHookups.com says it's for age-verification purposes, they are actually asking for your credit card information so they can charge you. There is a little check box which is automatically checked for you, and which confirms your consent to be charged. If you haven't seen it, that's because we all tend to not bother and read the small letters. So, for your "NO COST LIFETIME MEMBERSHIP", you are charged:
$1.00 for a 2-day trial membership period to VideosZ.com
$39.97 for every 1 month to VideosZ.com (automatically renewed after the 2 days trial and for every next month)
2nd Sign of Scam: Fabricated Profiles
AdultHookups.com fabricates women's profiles and makes them look real by providing made-up personal information, interests, pictures, etc. The truth is, nothing on these profiles is real. They are a part of the "Online Emissaries" Service and are used to reinforce the other scamming tools AdultHookups.com uses to deceive you. Here is how it works:
a) Online Emissaries are used to fill up the site with gorgeous and provocative-looking women and make you believe that you can find someone here.
b) Automated computer messages are sent using these Online Emissaries profiles, so when you get a fake message it looks like a real person is trying to communicate with you.
PROOF OF SCAM: "AdultHookups.com UTILIZES VIRTUAL PROFILES THAT DO NOT CORRESPOND TO ACTUAL MEMBERS: An ONLINE EMISSARY may be a digital actor, an avatar or a synthespian (e.g. a computer generated "person" or "character"). You acknowledge that You understand that some of the profiles and Members displayed on them are not actual members of the site. ONLINE EMISSARIES are not associated with any other user of the site. By accepting these Terms you further acknowledge and agree that any information or pictures displayed to you via an ONLINE EMISSARIES profile does not relate to an actual person."
3rd Sign of Scam: Employees of AdultHookups.com
It turns out that not only does AdultHookups.com create its own profiles; it also hires and pays employees to interact and flirt with you. The purpose is to keep you as a member of the site and continue charging their monthly fee until you realize this is all a cams and that you've been ripped off.
PROOF OF SCAM: "ONLINE EMISSARIES may be employed by adulthookups.com or a third party to enhance Your online experience. The ONLINE EMISSARY services can include the posting of information, pictures and/or communications directed to You. Such messages may take the form of any communication currently permitted on the Website."
4th Sign of Scam: Computer-Sent Messages
AdultHookups.com uses the fictitious dating profiles they create to send you email and chat messages. Same as the dating profiles, all messages and communications are completely fake. It's actually computer programs and software that sends you these automated messages, not women.
PROOF OF SCAM: "You understand, acknowledge, and agree that, the ONLINE EMISSARY may contact both free Members and paid Subscribers via text based communication either within the site and/or via email notifications. You appreciate and understand that any communications from the ONLINE EMISSARY may be sent to multiple Accounts at the same or similar time(s)."
5th Sign of Scam: Not a Legitimate Dating Site
It is only logical to conclude that since all AdultHookups.com actions are aimed solely at deceiving you, so this leaves no room for any actual meeting of people or hooking up or dating them outside of the site. If the women's profiles are fake, your communications and interactions are stimulated by computers, and if any real people you encounter are paid employees who further scam you, how can this site be an "online dating service"? Moreover, they are aware of this fact and they state the same in their terms of use document.
PROOF OF SCAM: "You fully understand, acknowledge, and agree that any response or exchange between the ONLINE EMISSARY and You is solely for entertainment purposes, and will not result in an physical meeting between the ONLINE EMISSARY."
AdultHookups.com Scam Questions
If there is something you'd like to ask and find out about this site, that we didn't manage to explain in our review, feel free to post your questions in the section below. We also welcome you to share your personal experiences with AdultHookups.com and help prevent other from falling for the conning tactics.
AdultHookups.com Contact Info
Addresses: PO Box 21508 Seattle, WA 98111
Babrow Building The Valley Anguilla, British West Indies
Email Contact: support@adulthookups.com
Report and File a Complaint
Contact the Better Business Bureau to file a complaint and report the site if you feel you have been deceived and overcharged.