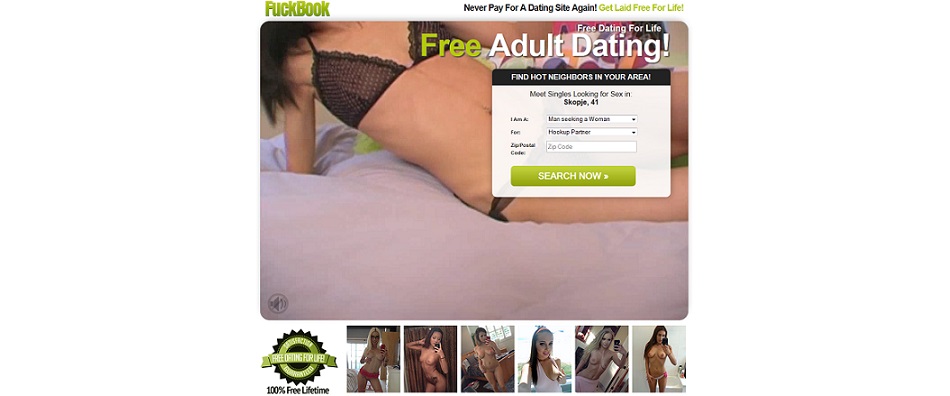 FreeLifeTimeFuckBook.com is one of many other websites that are using all tools and tactics at disposal to get to your money. They claim that the site is 100% free, but if you signed up and created a free profile, you need to be careful not to get scammed or ripped off.
In this review, we will explain the scamming mechanisms of FreeLifeTimeFuckBook.com, so that you will be careful not to fall in the hands of such online dating scams.
What is suspicious on FreeLifeTimeFuckBook.com?
The words "100% Free Lifetime Membership" are flaunted throughout the site
You get computer-automated messages and chats from bots
Women's profiles are completely fake and created by the site
You are taken to a page that requires your credit card information
FreeLifeTimeFuckBook.com is NOT free
You cannot meet anyone in person since this site is not a matchmaking service
Backing up the FreeLifeTimeFuckBook.com suspicions
Most of our solid evidence that prove FreeLifeTimeFuckBook.com to be one big scam that only rips off real site members were found in our investigation of the site. During our investigation we also found many valuable evidence in the Terms and Conditions of Use page. We will provide excerpts from these terms of use, to show you that this site admits to all the scams.
1) FreeLifeTimeFuckBook.com is NOT Free
Although this site tends to claim over and over again that it provides you with a free membership for life, this is far from the truth. When you are taken to the payment page and asked to fill in your credit card information, this is not required for security reasons. FreeLifeTimeFuckBook.com claims this information are needed to ensure you are above 18 years of age, which is a true hoax, and your credit card info will be used to charge money off your credit card for as long as you don't notice.
FreeLifeTimeFuckBook-GOLD
2 day FREE trial membership
$49.95 automatically renewable monthly membership fee
FreeLifeTimeFuckBook-VIP
$1.96 for a 2-day trial period to VibeVideo.com
$39.61 for each month on VibeVideo.com (automatically renewed)
$28.87 for each month on VideoErotics.com (automatically renewed)
2) Computer-sent Chat and Email Messages
Minutes after creating your account, you start getting emails, chats and other communications from other members of FreeLifeTimeFuckBook.com. However, the only information you can see is who sent the email and the subject line. When you try to open the messages or respond, you are once again asked to pay for a membership upgrade. These computer-sent messages are yet another mechanism FreeLifeTimeFuckBook.com uses to get to your money by deceiving you.
EVIDENCE FROM THE TERMS OF USE: "Our LS work for the site in an effort to stimulate dialogue with users and to stimulate user participation on the Website and Services, advertisement of the Website and Services, and the creation of user profiles. You further understand, acknowledge, and agree that, from time-to-time, LS may contact Website and Services users and members via electronic messaging, including for example, email, instant messages, and SMS."
3) Fabricated Women's Dating Profiles
First we revealed that the communications on the site were completely fraudulent, only to find out that the women who are sending you messages are also NOT real. Actually, nothing is real on these profiles, from their pictures, personal information, descriptions and interests, everything is completely made-up. The fabricated profiles are called "Love Stars" and are created by FreeLifeTimeFuckBook.com to fill up the site with gorgeous women (when in fact there are none) and to use these profiles to send you computer-automated messages (to make it look like women are trying to get in touch).
EVIDENCE FROM THE TERMS OF USE: "You understand, acknowledge, and agree that some of the user profiles posted on this site may be fictitious or models or bots related to our "Love Stars" (LS) program. You understand, acknowledge, and agree that the information, text, and pictures contained in the LS profiles do not pertain to any actual person or member, but are included for entertainment purposes only."
The verdict on FreeLifeTimeFuckBook.com
FreeLifeTimeFuckBook.com is an online dating site that has no interest in helping you find dates or meet real people. On the contrary, this site will trick you and deceive you in every way possible to get to your money. They go about claiming that they offer a free membership for a lifetime, but they are actually charging big money from your credit card. We advise you to be careful and always read the small letters and investigate the terms of use page when using an online dating site from now on.
FreeLifeTimeFuckBook.com Scam Questions
Are you interested to learn more or have a particular question regarding online dating scams? Feel free to let us know and post your inquiries in the comments section below. Also , if you are a past member of FreeLifeTimeFuckBook.com, we welcome you to share your experience and help other readers avoid scam.
FreeLifeTimeFuckBook.com Contact Info
Addresses: 1 Stasinou Ave, Mitsi Building #1, First Floor, Office 4 – Plateia Eleftherias, Nicosia Cyprus 1060
29 Moorlands, Blackhill Consett County, Drurham DH8 0LQ, UK
Email Contact: cs@freelifetimefuckbook.com
Phone Numbers: 877-597-3436 and 866-952-1215
Report and File a Complaint
If you feel you have been deceived and overcharged by this site, there is something you can do. Contact the Better Business Bureau to file a complaint and report the site after you cancel your paid membership.
The Best Things In Life Aren't Free
Honestly, the best dating sites don't market themselves as being free for a lifetime. Come on, if you believe that then you've lost your marbles! I pay for high success rates and not that much either. Trust me when I say that paying for a dating service that's honest and up front about their services is the only way to go. Check out the sites I've ranked below. I can 100% guarantee with confidence that you'll get lucky using any one of those listed.