Are you familiar with Facebook, (no, not Fuckbook)? How about Myspace? Well, these were the two most popular social networks on the planet in the beginning. Which pretty much sparked others to want to follow such as Adultspace.
There are a few things that I want you to know about adult space and why it's not as great as you think. Trust me when I say that I'm capable of successfully judging this book by its cover. I did and I was right. Here's the scoop on AdultSpace.com and why you should ultimately avoid it at all costs.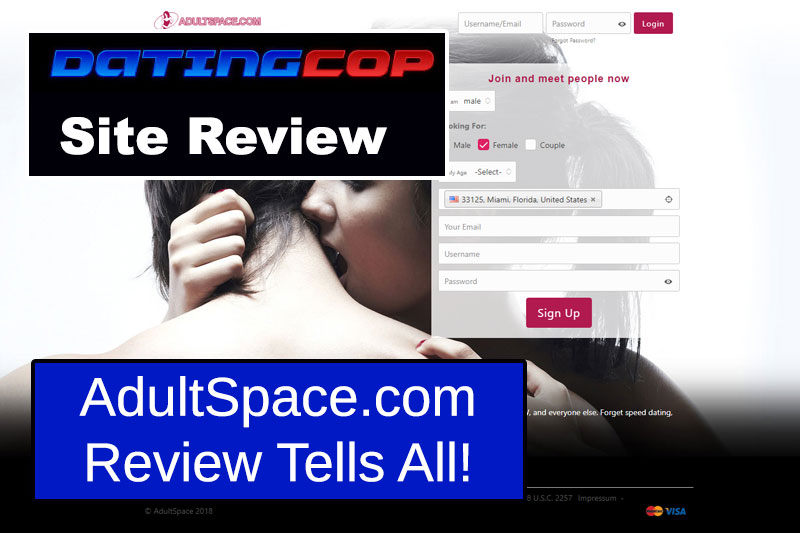 All About AdultSpace (My Review)
Okay, so here's what I know about this website and why you might want to consider avoiding the site if at all possible. But before I get into that I want you to know that you're free to make any decision that you care to make, meaning that you're not obligated to stay away from the site but I advise that you do.
They'll try and pawn the service off to you as operating since 2009 and even being a YNOT award winner in 2014 which all might be true but that doesn't mean it's a great site. Those industry awards are all political and all I care about is facts and successfully getting laid. Neither of which things are associated with adultspace.com.
Overview About AdultSpace
Here's what I can tell you about this site. First off, they try to act like they're the biggest swingers community in the country and you and I both know that's not the case. Sure, perhaps there are more than one million people registered on this site, but that doesn't impress me given the sheer amount of volume that some of these mega sex sites have in terms of members. I mean, Fling.com (and other great sites) have literally tens of millions of users and those members are always looking to swing with one another, I can promise you that much.
Swinger Centric
Like I said, this site attempts to market itself as the swinger network that you need in your life, but really you don't even need that today. The way that so many of these more advanced dating apps and sites are, there's no need for Adultspace to even exist. It's so antiquated and simply cannot compete with the big players within the industry.
Verification In Question
I personally question whether or not they truly have a verification process for verifying that members are in fact who they claim to be. Too many sites out there put up a front as if they're some super high-tech and secure site with credit card verification steps but it's really all just a load of crap.
Lack Of Value
The way I see things on AdultSpace.com is that there is zero value in using this site. Absolutely none and if you're going out of your way to use it, then you'll be sorry that you did. I see no value in Myspace.com and I see no value in Adultspace.com. That's how that goes right there!
Contacting The Company
I know I haven't mentioned costs yet but if you've stubbornly joined adultspace, then you're going to want to cancel by contacting the Netherlands based company at 1-213-955-7577 and support@adultspace.com. Do it now if you joined before they bang your credit card once again.
The Cost
If you end up paying for an upgraded membership on this awful website, then you'll end up spending between $9.96 and $89.97 depending on the type of membership that you choose.
They've got three tiers which they offer: Free aka Silver, Gold, and VIP. The gold membership claims to give you better placement and profile visibility above the free members, 24/7 support and more. Truth be told, it's all a huge waste of time, so do not bother, really.
The GUI
I hate the user interface. Honestly, the site is so cookie cutter that it literally looks like it was created by some bad web designer without any idea as to how to build a decent looking site. The image on the homepage looks like a bad stock photo that you'd come across at one point or another.
Co-Branded Sites
So, if you read the terms and conditions of this site carefully you will quickly learn that this site makes you agree to push your profile out to all the co-branded websites associated with Adultspace.com.
Now, this normally wouldn't be much of a problem, but given the fact that the company doesn't disclose the sites or any information about the co-branded sites, it's your obligation to do your research. Instead, you're better off not taking any action at all and simply skipping the site entirely.
Live Cams
Watch out for the live cams that you find on this website. They're not free and they will cost you a boatload of cash if you're not careful! Having said that, you've got plenty of other dating sites out there that offer video snaps, live chats, and all that other good stuff without asking for additional money. Unfortunately, adultspace.com has no shame in their game.
Conclusion: AdultSpace.com Is Not Worth Joining
If you're contemplating joining the AdultSpace network, then you best think again. Doing so is a really bad idea and it's bound to cause you a bunch of trouble in a sense that you'll end up having to cancel your membership and calling your bank for a refund. There's a good chance you will not get laid using this. In fact, you're better off trying to hire a local escort on a site versus using this self-proclaimed swingers community.