Do you know why they call me the Dating Cop? It's not because I arrest people for doing illegal things and behaving badly. The reason they call me D.C. is because I investigate things and report the truth, nothing sugar coated at all. Which brings me to the topic at hand today – escort sites.
I'm spilling the beans after months of secretly investigating escort websites. What that means is that I'm revealing ALL the WORST escort sites that I've ever come across and why you should ultimately do everything in your power to avoid these sites as they can land you in legal trouble even.
Now, rather than just scare the heck out of you about using these call girl forums and directories, I'm going to give you a list of sites to try as an alternative.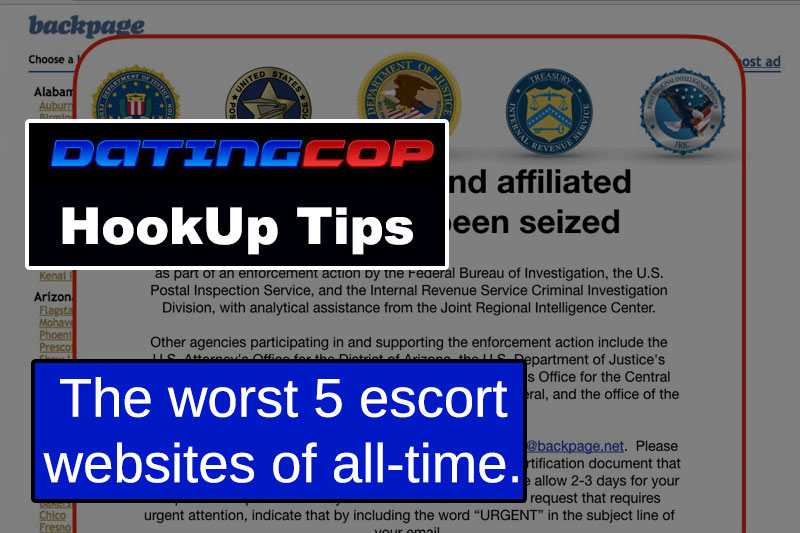 5 Worst Escort Sites On The Internet
But first! Allow me to share the details of these escort websites and why you should avoid them.
USASexGuide.info – This site doesn't even exist in the United States anymore because it got shut down for being too shady. It doesn't matter though as it's one of those terrible escort forums that can often lead to getting set up by cops in a sting. Not to mention, you shouldn't be hiring gross hookers anyway. I would not be okay with this website having my personal information, I'll tell you that right now. For a complete report – click here.
USAEscortGuide.com – The USA Escort Guide is just another marketing scam given that the site is literally less than a dozen pages deep. You'll find that they may try and take your money for nothing or even worse, send you to another website that costs a ton of money to join. The worst part is probably the fact that you'll never get laid here.
UtopiaGuide.com – The Utopia Guide was once a self-proclaimed prominent escort forum on the web. Now it's nothing more than a redirecting Internet scam guaranteed to bleed you dry. Your wallet will soon be empty if you take action and join this site, so don't do it! Read the review here.
Cityvibe.com – You also need to avoid the Cityvibe directory because quite frankly, it is garbage. Between the lack of terms, the excess banners, and the shady women, there is nothing worse than this site. Not to mention, there's a strong chance you may even catch a life-long disease from these women here. You've been warned.
EscortDirectory.com – This site likes to think it's a big deal, but it's a small fish in a big pond and one you must avoid. The photos seem to be unverified, there are ads everywhere and I'm convinced that it may even be a completely fake website. Read the full review here and learn why I suggest staying far away.
Backpage-Escorts.net – This one is the works of them all I'd say. They have literally gone from ripping the original Backpage website to making false claims, to eventually making it all about webcams. It's never going to help you find a casual date. If anything, it's going to cost you money and perhaps lead to trouble with local law enforcement. Please, don't be that guy.
TheEroticReview.com – The motherload of all horrible things about escort sites, TheEroticreview.com is the one site that you without a doubt need to avoid at all costs. I heard so many horror stories of people meeting escorts and getting robbed, beaten, taken advantage of and even arrested, all for some booty. Now, I'm not saying that I can validate that they were on The Erotic Review but that's the type of people I feel use this site. It's a huge liability and waste of time in my humble opinion.
I'd also like to add that Backpage.com is a site that was horrible but one you no longer need to worry about since the owners got arrested on trafficking charges. Don't even type that into your browser, trust me.
The last thing I can say is that ALL of the sites above are 100% bad escort sites and they do not work. Your personal intentions are not a part of the site owners agendas I guarantee that.
If you want to get laid, then use one of the sites below: