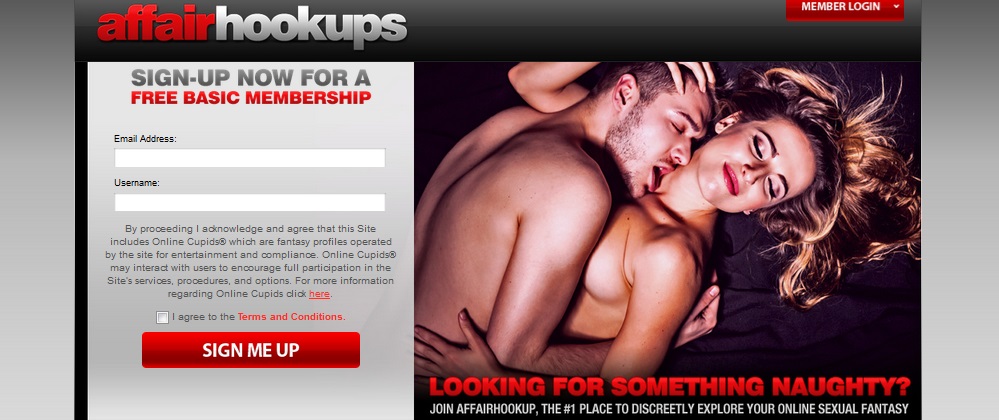 AffairHookups.com is one of the many online dating websites that go above and beyond to get to peoples' money. If you register for free, you need to be careful because AffairHookups.com is already working on deceiving you and getting your money. We did a thorough investigation of the site and in this review we will explain the scamming mechanisms that AffairHookups.com uses. We hope that you can read this on time and not get scammed or ripped off.
Short facts about AffairHookups.com you should know
AffairHookups.com fabricates women's dating profiles
The site uses the "Online Cupids" service to communicate with users
All messages sent through these profiles are computer-automated
You are charged big money and not provided with the services you pay for
Real people on the site are employees, hired and paid by the site
You can never actually meet anyone on this "dating service"
Reasons to avoid AffairHookups.com
1) The Fabricated Profiles Are Used To Lure You In
If you click on the Terms and Conditions of Use on AffairHookups.com, you can read and find solid evidence that back up our suspicions. Not only are the dating profiles of women completely made up, they are fabricated by the site for two reasons:
To fill up the site with gorgeous-looking women, because there are actually no real women using the site. AffairHookups.com is aware that a dating site without women to meet is a failure, so they have to fabricate them.
To use these profiles and send you automated communications that will deceive you into thinking that a genuine person is trying to get in touch with you.
PROOF FROM THE TERMS AND CONDITIONS: "THIS SITE USES FANTASY PROFILES CALLED ONLINE CUPIDS®: You understand, acknowledge, and agree that some of the user profiles posted on this site may be fictitious and operated by the Site or its contractors. You understand, acknowledge, and agree that the information, text, and pictures contained in the Online Cupids® service profiles do not pertain to any actual person, but are included for entertainment and educational purposes only. Life events, experiences, interests, and geographic locations are fictitious. Nothing contained in any Online Cupids® service profile or message is intended to describe or resemble any real person – living or dead."
2) The Chat, Email and Instant Messages Are Automated
Minutes after signing up and setting your free account and while your profile is still empty, you start getting emails from other members of the website. But, the catch is that the only information you can see is who sent the email and the subject line. However, you are unable to read the content of any communication or send a message to another site member – unless you upgrade by purchasing a paid membership. In our dictionary this act is called extortions. Plus since we know that the women sending you these messages are fraudulent "Online Cupid" profiles, this site is one huge scam.
PROOF FROM THE TERMS AND CONDITIONS: "Messages sent from our Online Cupids® service may be automatically generated with no human involvement. You further understand, acknowledge, and agree that, from time-to-time, Online Cupids® profiles may contact both free users and paid users via computer-generated Instant Messages or emails for purposes referenced above. These messages may be transmitted to multiple recipients at the same or similar time(s)."
3) AffairHookups.com Is a Rip-Off
We already mentioned a couple of times in the text above that the site will ask for your credit card information whenever you try to use any of the site's services and features, which makes this site NOT FREE. We found the price list offered on AffairHookups.com and will number the payment plans you can choose from when upgrading your membership. Keep in mind that these membership fees are automatically charged every time your subscription period is due.
$29.95 for every 1 month of site subscription
$69.00 for every 3 months of site subscription
The verdict on AffairHookups.com
We can be certain when saying that AffairHookups.com is an online dating scam ready to take your money and not provide you with the services it promises. Instead, the site serves you with a bunch of lies and uses different scamming tools to string you along while regularly charging your credit card. It is clear that it is a waste of time and money, and we do not recommend this site to anyone.
The only real people on AffairHookups.com are the women on the live webcams, but they are also employees of the site who are hired and paid for this job. The truth is, you will never find a date or meet in real life with anyone you meet on this site.
AffairHookups.com Scam Questions
If you have anything else you'd like to know about AffairHookups.com, feel free to post your questions in the comments section below. If you have a personal experience with the workings of this site that you believe could be valuable information for others, please post them in the section below.
AffairHookups.com Contact Info
Addresses: Agias Fylaxeos & Zinonos Rossidi, 2 1st floor Limassol P.C. 3082 Cyprus
Dositheou, 42 Strovolos, P.C. 2028, Nicosia, Cyprus
Email Contact: support@affairhookups.com
Phone Number: 1-888-649-9178
Report and File a Complaint
If you feel you have been deceived and overcharged by AffairHookups.com, you can contact the Better Business Bureau to file a complaint and report the site.